Welcome one and all to our first live updates of the 2023 season! EN is delighted to be bringing you all the action from the $50,000 Grand-Prix Eventing Festival at Bruce's Field, presented by Taylor Harris Insurance Services, and it looks like we're in for a very exciting finish today.
29 pairs will leave the start box this afternoon and for maximum excitement, they'll be running in reverse order of standing. The top 5 are separated by 10 seconds of time penalties, so it's likely the winner will be determined by who can ride the swiftest and the smoothest over this twisty-turny 4 minute, 16 second track. Our leaders, Doug Payne and Starr Witness, have only one second in hand over Liz Halliday-Sharp and Miks Master C, currently sitting in second place. Hot on their heels and are last year's champions Boyd Martin and Federman B sitting pretty in third.
Take a peek at the course right here and get some insight on the track from EN's boots on the ground. The first horse leaves the start box at 12:30 p.m. EST. You can find all the info you need to follow along below in our collective of links and you can also watch along yourself via the live stream on H&C+ — you can subscribe or purchase a one-time pass to watch this event here. Otherwise, keep refreshing this page for down-to-the-minute updates and as many GIFs as I can muster.
GPE at Bruce's Field: GPE Website, Entry List, Ride Times, Live Scores, Team Scores, XC Map, XC Order of Go, Facility Map, H&C+ Livestream, Ride for Charity Public Vote, EN's Coverage
3:00 PM: What a day at the office for Liz Halliday-Sharp. She was the only rider today to make the time and she did it on not one, but two horses. She takes top honors aboard Miks Master C, who she's only had the ride on for less than a year still, and also finishes fifth with Cooley Quicksilver. Here's a look at your top 10. Thanks so much for following along with our live updates today. Stay tuned for a full report and photos coming along soon!
2:55 PM: It's going to be Liz for the win! Doug didn't leave anything to chance today, but Liz was simply too fast to catch. Doug stops the clock at 4 minutes, 21 seconds. That's 5 seconds over the optimum time. It won't give him the win, but he'll hang on to second place.
2:53 PM: Whooooaaaa Doug has work for it through the angled one-stride!
2:52 PM: Doug gives Starr Witness a forward ride to fence 8.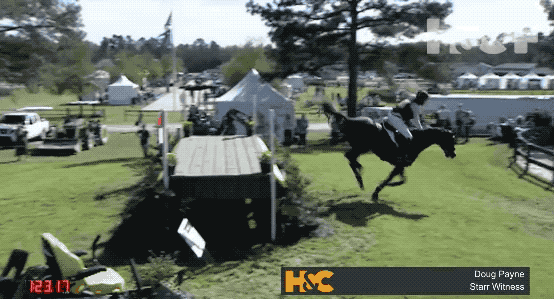 2:51 PM: Alright, here we go. Doug and the Ginja Ninja are now on course. Can they do it?
2:50 PM: And she has! Liz and Miks Master C put the pressure on Doug Payne and Starr Witness. Doug will have to come home no more than a second over time to clinch the win.
2:50 PM: Well, the clock on the live stream hasn't been working for the last few rounds, but judging by Liz's reaction looking at her watch it looks like she's done it!
2:48 PM: Just look at Miks Master C skip through the bank:
2:46 PM: Here's Liz and the always fun to watch Miks Master C. Right from the get-go they have the crowd gasping at their gusto. This pair is going for the win!
2:44 PM: Ack! Two seconds over for Boyd and Bruno! What a ride, it's hard to believe that round wasn't quite fast enough. They'll still keep their slot ahead of Phil and Z though, so they'll finish the competition no worse than third.
2:41 PM: So far so good for Boyd and Bruno. Bruno has a huge stride, but what clever feet to be so nimble through the bounce:
2:39 PM: And now onto our top 3! Reining champs Boyd Martin and Federman B have left the start box.
2:39 PM: No, they're over time! It was a fast-looking round, but Phil and Z collect 1.2 time faults. That still slots them into the clubhouse lead, however, over Liz and Cooley Quicksilver.
2:38 PM: This is looking good for Phil and Z, a very smooth ride so far. I'd expect nothing less from this seasoned pair, of course.
2:36 PM: Phillip Dutton and Z are now out on course and once again, Phil is wasting absolutely no time.
2:33 PM: Goldie really gives it his all through the keyhole and good thing Collen ducked! Also a good thing Colleen's other mount, the over 17-hand Vermont didn't jump it like that.
2:31 PM: Nooo! Goldie get's a funny distance and pops over the Palmetto Golf Course, which doesn't set them up well for the bounce. He doesn't get his eye on it and puts on the breaks. Colleen brings the gelding around again for another try instead of taking the long route, and they make it through the bounce easily on the next try. Ah well, you win some and learn some!
2:28 PM: Ah, just one second over! That'll put Will and Pfun in provisional second now. And Colleen Loach and FE Golden Eye are next out on course.
2:26 PM: WFP is so complementary of Will and Pfun's ride, which is so forward and light in the bridle: "He looks as if he could run about in a head collar," says WFP.
2:23 PM: Just look at the expression on this horse's face. He's a total pro.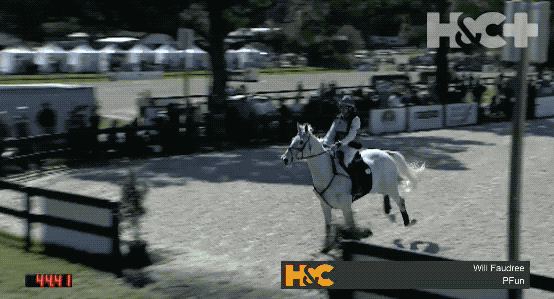 2:22 PM: Woods and Contendro come home safely and Will Faudree and Pfun head out on course next, riding a little out of order.
2:19 PM: Whoops, more problems for poor Woods. Contendro comes to a stop at the Battle of Aiken cannon, so they have to do a little improvising to continue the course.
2:18 PM: Uh oh, it looks like Woods dropped a rein in the first water and loses straightness to the next question, so he opts for the long route.
2:17 PM: Long spot alert! Contendro is looking eager as ever and leaves one out.
2:16 PM: Our next on course, Woods Baughman and C'est La Vie 135!
2:15 PM: So close! They cross the finish 2 second over. Sara will be so pleased with that ride though, as will William apparently! Don't forget to hug your ponies, everybody:
2:13 PM: William says that he's given Sara strict instructions not to pull on the reins and she's doing a bang up job. She's got a chance to catch the time!
2:12 PM: Whoa! Look at how catty Rubens is after getting a close distance to the bounce:
2:10 PM: It's unicorn time! Sara Kozumplik and Rubens D'ysieux are sailing around and wasting no time. They get a nice forward ride through the first question on course.
2:07 PM: Boyd and Thomas don't quite catch the time, unfortunately. They're four seconds over so they collect 1.6 faults and they'll slot into provisional third place behind Phillip and Azure. Of course, we'll see Boyd on course again as well with Federman B.
2:04 PM: Boyd and Tsetserleg are now storming around the course, garnering huge cheers from the crowd at every turn.
2:02 PM: They've done it! Liz and Cooley Quicksilver come in three seconds inside the time! They'll finish no worse that 5th place today and no Liz knows exactly what she needs to do aboard her next ride.
2:02 PM: Oop, Cooley Quicksilver slips a little in between the two arenas on their way to the last two fences. It doesn't seem to have bothered him, but that's something to watch as the riders later try to go faster.
1:59 PM: William Fox-Pitt joins Holly Hudspeth in the commentary box for this session. He said he likes the course, thought it was fair, and thinks the time should be gettable. Liz and Cooley Quicksilver are looking speedy!
1:57 PM: And we're back! Liz Halliday-Sharp and Cooley Quicksilver kick off our final session. This pair actually sits in 5th place so they're riding out of order since we'll see Liz again as the second to last ride.
1:40 PM: Alright, we have a short break ahead of the top 10. Get yourself a little snack, pour yourself an afternoon cup of tea, and meet me right back here at 1:55 PM. Here are our clubhouse leaders after our first session:
1:39 PM: Ooh, so close! Phil and Azure nearly caught the time — they stop the clock just one second over, but they're our fastest of the day so far.
1:37 PM: A funky distance for Azure at the Palmetto Golf Club, but no matter. They make that bounce look easy.
1:34 PM: That was a nice ride from Shannon! Ideal HX is another horse now on my watch list — he looked super. They collect 4.8 time penalties. Phillip Dutton and Azure are now out on course and it looks like Phil is flooring it.
1:301 PM: Something interesting: riders can choose to pick off fence 6, the only one on turf, off the left or the right lead. As we get further down in the order and the riders are trying to go faster, it might get interesting to see how tight this turn gets.
1:29 PM: We have two more horses to head out on course before we take a 20 minute break ahead of the top ten. Next out are Shannon Lilley and Ideal HX. Colleen and Vermont finish with 7.2 to add to their score.
1:26 PM: Our next pair on course are Colleen Loach and Vermont and they get an absolutely beautiful shot over the table to skinny, fences 7 and 8:
1:24 PM: Sydney Elliott and QC Diamantaire have turned in the second fasted round so far, collecting 2 time penalties. No one has caught the time yet.
1:22 PM: Sydney Elliott and QC Diamantaire, our next starters, look like they've been flying! I'll be interested to their finishing time — Sydney looks like she's going for it.
1:19 PM: Through the keyhole at the last fence for Doug and Camarillo, who pick up 14 time faults. We've also just gotten word that Doug has withdrawn Quantum Leap, so next time we'll see him will be at the end of the day trying to clinch the title aboard Starr Witness.
1:17 PM: Doug Payne and his first and greenest ride of the day, Camarillo, join us next and are about halfway around the course. Doug gives this young horse a great ride through the bounce:
1:14 PM: Sarah and Mr. Cash finish about a minute over time, but Mr. Cash looks VERY pleased with himself. I'm sure Sarah will be very pleased as well to have had a nice spin around this course and give her horse a great experience.
1:12 PM: Here's Sarah and Mr. Cash over the up-bank and the cannon, fences 21 and 22:
1:10 PM: Now on course: Sarah Kuhn and Mr. Cash van de Start. I'm not super familiar with this pair, but Mr. Cash looks like such a game guy. They seem to be making easy work fo the course so far and Mr. Cash's ears are delightfully pricked.
1:07 PM: What a lovely ride William put on this horse — he'll have gained a boatload of experience today and I bet Heather can't wait to get back on him.
1:05 PM: Oh no! Vincent Chase just shies at the first element of the angled one-stride and runs out. There's a lot to look at on the other side of that question. William picks him back up and they easily take the long route out.
1:04 PM: William takes the option at the Palmetto Golf Tees. Smart riding on a horse he's only just gotten acquainted with!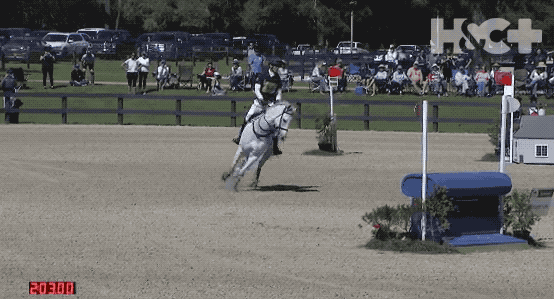 1:02 PM: Amanda and Carson 119 complete their ride with 6.4 time faults and now William Fox-Pitt on his catch ride, Heather Gillette's Vincent Chase, join us on course.
12:58 PM: And we're back! Amanda Beale Clement and Carlson 119 are on course now. The H&C stream is giving such a great look at this massive John Deere Table, which is both fences 5 and 7:
12:53 PM: Erin and Campground have completed their ride with 10.0 time penalties and we'll now have a 5 minute break in the action due to the withdrawal of Mary Bess Davis and Imperio Magic.
12:50 PM: There's something so funny about seeing a horse jumping a tennis net. Erin is giving Campground a nice ride around and giving him plenty of opportunity to read the fences. Liz and Deniro's score is in and they've picked up 4.4 time penalties.
12:47 PM: Liz and Deniro Z are home and we're waiting on their score, while Erin Kanara and Campground, one of only two full Thoroughbreds in the field are out of the start box now.
12:43 PM: Kendall and Audacious are home with 11.6 time penalties, and now we have a very fast and experienced pair on course next: Elisabeth Halliday-Sharp and Deniro Z who are sitting in 15th and riding out of order due to Liz's standings.
12:40 PM: Kendall takes the long route at the angles brushes, making a circle and picking off the last element.
12:38 PM: Next out of the box are Kendal Lehari and Audacious. This is a bit of a luxury for live updates, as there's only one horse on course at a time!
12:37 PM: Our pathfinders are home and 2 sends over time. That was a really first round of the dayQ
12:35 PM: Boing! Through the angled fences for Emily and the high-jumping Barry!
12:32 PM: And we're off! Emily Hamel and Corvett are out on course!
12:30 PM: We're nearly ready to start, but we do have a last minute withdrawal to report: Mary Bess Davis and Imperio Magic will not run XC.
12:20 PM: We're 10 minutes away from the start! Our pathfinders today will be Emily Hamel and Corvett.
GPE at Bruce's Field: GPE Website, Entry List, Ride Times, Live Scores, Team Scores, XC Map, XC Order of Go, Facility Map, H&C+ Livestream, Ride for Charity Public Vote, EN's Coverage