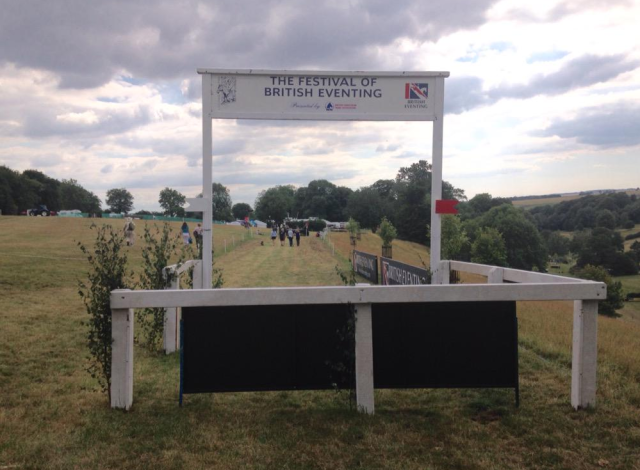 Oliver Townend had a bang up day yesterday at the Festival of British Eventing, taking home wins in the Novice and Intermediate Championships. After a show jumping course that shook up the leaderboard, Oliver now finds himself in first place once again aboard Mr Hiho heading into this afternoon's cross country. He's not got any breathing room, however, as Sam Griffiths and Paulank Brockagh are tied for the lead.
Mr Hiho, an 11-year-old KWPN gelding owned by Patsy Mason, earned a 32.6 in the dressage to lie second and added four penalties this morning in show jumping to overtake the first place tie. Paulank Brockagh, a 12-year-old Irish Sport Horse Mare owned by Mr. and Mrs. S. Posford, Mrs. J Carter and Sam, added nothing to their dressage score of 36.6.
Overnight leaders Andrew Hoy and Rutherglen sadly picked up 12 penalties to move them down into 15th.
Surprisingly, William Fox-Pitt withdrew 2014 Rolex winner Bay My Hero prior to show jumping today. This pair is slated to contest Burghley this fall, so we're keeping our fingers crossed that the reason for withdrawing is not serious. We'll provide more information as it becomes available.
Also withdrawn are Jock Paget's Clifton Lush as well as Emilie Chandler's Coopers Law, both of whom were also in the top 10 after the dressage.
The absence of clear rounds from the leaders paved the way for many others to move into the top 10 going into show jumping. 2014 Badminton winners Sam Griffiths and Paulank Brockagh moved into their tie for first up from eighth with a double clear round, followed by a one-two punch from Andrew Nicholson in Perfect Stranger and Cillnabradden Evo. William Fox-Pitt also has two more entries in this division and will take fourth and fifth into cross country with Luxury FH and Fernhill Pimms.
Cross country is set to kick off at 9 am EST, so tune into the fabulous British Eventing live stream by clicking here. I believe the stream may have had some issues earlier in the day, so hopefully those will be resolved for this division. We'll be back later with a recap from the afternoon's events, and don't forget to check out the CIC3* course below courtesy of our friends at CourseWalkApp!
British Festival of Eventing: [Website] [Times] [Schedule] [Live Scores] [Live Stream]
Comments