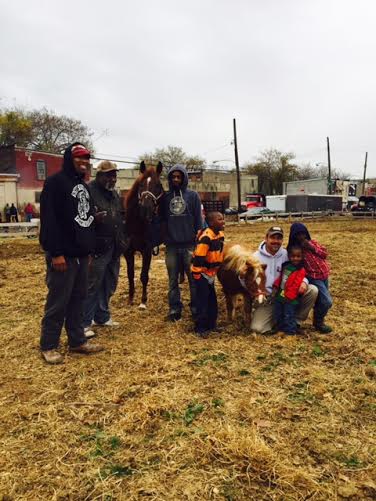 Traveling into downtown Philadelphia to visit the Fletcher Street Urban Riding Club is a far cry from the preserved open space in Chester County that is just a short hour's drive from the city.
Juxtapose the bucolic rural equestrian countryside that surrounds the city which is home to many world class riders, trainers and breeders … to the backdrop of this urban riding club.
The city streets of Strawberry Mansion in North Philly are scattered with litter, graffiti, and abandoned homes, and this is where residents live at the poverty level.
The community has fallen victim to unemployment, inner-city violence, and increased drug trafficking. This isn't where one would expect to find a counter culture of families and individuals who come from several generations of devoted horsemen.
The History of Fletcher Street Urban Riding Club
For decades, the Fletcher Street Urban Riding Club has offered local youth the opportunity to learn positive life lessons through caring for and riding horses that live in this urban environment.
The Club gives children and young adults the alternative to a life dominated by drugs and crime, the pervasive socio-economic situation that plagues the area.
Everyone here is drawn together by their love of horses and their passion to preserve the legacy of this urban riding culture created by previous generations. It is rumored that riding clubs in this area have existed for 100 years, and city land maps show stables dating back to the 1940's.
There is an interesting backstory and unique history on the Fletcher Street Urban Riding Club. Ellis Ferrell is the Grandfather of the club, and he and his family have been championing the cause for this group for the past several decades.
He is a large man with an even bigger heart, who has often saved many horses from the kill pen at New Holland in order to provide partners for these kids in need. This is truly a story of horses and humans saving one another.
Philanthropic Spirit to the Rescue
Susan Jordan, who literally stumbled across the area three years ago while researching information on the city, was shocked to see a horse stable and riders on the streets of Philadelphia.
She became emotionally drawn to understand more about Fletcher Street, and began to look for more information on the history of inner-city riding clubs.
In 2011, Ellis was forced to move out of his old stable on Fletcher Street into an open garage around the corner due to increased building rental costs. She approached Ellis wanting to get involved and to spearhead efforts to save the club.
Susan began researching property ownership information on the community riding area (nicknamed "Fletcher Field") where all the surrounding stables exercise and turn out their horses.
At that point, Susan coordinated the approval of the 501C3 and their official fundraising site. She also helped negotiate the donation of the open building lot on Fletcher Street after it was purchased by someone at Sheriff's auction, so Ellis could have a place to rebuild.
They were able to get the building lot donated in 2014, and that land was officially deeded to Ellis Ferrell in the name of the Fletcher Street Urban Riding Club's 501C3. She worked with Sean Eisele, a young filmmaker who produced the short featured film on Rally.org, and Susan and Sean also created the Club's Facebook page to raise social awareness.
They were perched to clear the lot and to start rebuilding, but fundraising had stalled. With funds dwindling, Ellis was forced to move the horses to another part of the city, and the future of the club was looking bleak.
The Next Chapter of Giving
The next chapter of help began when a documentary film maker connected with Karen Raach, owner of Rock Solid Stables in Limerick, PA., in need of hauling horses during the film shoot.
Discovering the plight of the club and their horses, Karen quickly started organizing efforts to help Fletcher Street, and through tireless efforts and updates via social media, a core group was formed.
Dominique Damico of Ramble On Farm in Berwyn joined forces with her boyfriend Dan Aquilante of Aquilante Construction, who quickly organized a work crew to go into the city to level and clear the lot so there could be a new location for the stables.
Aquilante, who comes from a family of 16 siblings, understands the meaning of giving back to those less fortunate. When he originally contacted Ellis Ferrell and his family, the Ferrells were skeptical of the community outreach because they had been let down in the past.
Aquilante, anxious to prove his sincerity, delivered Thanksgiving dinner with his mother to serve 25 members of the Ferrell family on Thanksgiving Day! Due to his large family upbringing, he lives by the motto "Invest in yourself and don't forget to give back".
Raach made a call to 6 ABC Action News about the efforts being made over the holiday, and they were on site on Saturday, November 28th to report on the initial rehabbing efforts of the club's donated lot.
Fletcher Street Urban Riding Club Is An Island of Hope and They Need Our Help
Lisa Thomas, founder of Mid-Atlantic Equestrian Services, had previously read about Fletcher Street Urban Riding Club through an article on Horse Nation that was published back in 2014.
Thomas, who is a friend of Karen Raach's, saw her outcry for support on Facebook, and volunteered to coordinate the current fundraising efforts and PR with national equestrian media outlets. The following video is from her visit to Fletcher Street this past weekend:
The club is an approved 501C3 (EIN # 46-3515556) and donations (monetary, services and in-kind) are tax-deductible.
Funds need to be directed through their official 501C3 fundraising site, where you can view the video interview with Ellis which is very informative.
The lot clearing and stone base will be completed within the next week through the generosity of Aquilante Construction. The next step is to raise funds to buy supplies for the club to build their stalls, shelter and storage areas. During this season of giving, please consider donating to this worthy cause.
Please also show your support by liking the riding club through their Facebook page.
Comments