Dressage is in session at Galway Downs International, with the CCI4*-S taking to the centerline yesterday followed by the CCI3*-S this morning. The two divisions will sync up for show jumping tomorrow with a cross country finale on Sunday. CCI2*-S dressage is still underway, and we'll update this report with those results as they come in.
Kentucky-Bound Frankie Thieriot Stutes and Chatwin Best CCI4*-S Dressage
Frankie Thieriot Stutes and Chatwin have a big month ahead of them and they're greasing the wheels in this weekend's CCI4*-S, gearing up for their CCI5*-L debut at the Land Rover Kentucky Three-Day Event.
Judges Andrew Bennie of New Zealand and Tim Downes of Great Britain officiated the seven-pair CCI4*-S field. Frankie and Chatwin took the early lead, landing a score of 28.8. The 11-year-old Oldenburg gelding (Contendro I x Oktav, by Oldtimer), owned by the Chatwin Group, has proven himself a real powerhouse in all three phases and had a banner 2018, winning the Fair Hill CCI3* and Rebecca Farm CCI3* and finishing 2nd at last year's Galway International CIC3*.
Emilee Libby and Jakobi, a 10-year-old Belgian Warmblood gelding (Ustinov x Expression, by Coriano) owned by the rider and Linda Libby, laid down a 32.9 for 2nd place. It's a personal best dressage score for this pair at the level. They finished 2nd in the CIC2* at this event last year.
Rounding out the top three is Tamie Smith with Wembley, a 16-year-old Dutch Warmblood gelding (Lester x E-VIP, by Cantus) owned by Kevin Baumgardner, on a score of 33.1. This pair's last FEI outing was at Kentucky last year, where they finished 14th.
Fourth-placed James Alliston and Pandora, the 9-year-old palomino Swedish Warmblood (Prostor x Camellia E, by Comefast) owned by Laura Boyer, won the CCI2* at Galway in November.
It's a Tamie Smith Trifecta in CCI3*-S Dressage 
Tamie Smith took the top three spots in CCI3*-S dressage with Mai Baum, Danito and En Vogue respectively.
Tamie and Mai Baum, a 13-year-old German Sport Horse (Loredano x Ramira, by Rike) owned by Alexandra and Ellen Ahearn and Eric Markell, posted a ridiculously low score of 21.9. Good grief, this pair!
Tamie is hot on her own heels in 2nd with Danito, a 10-year-old Hanoverian gelding (Dancier x Wie Musik, by Wolkenstein II) owned by Ruth Bley. They scored a 24.1. She is also 3rd with En Vogue.
Erin Kellerhouse sits 4th with Woodford Reserve.
Meg Pellegrini Owns CCI2*-S Dressage
The final international division of the day to run was a 30-horse strong CCI2*-S field. Meg Pellegrini laid claim to the top spot with RF Eloquence on a score of 26.8.
Lilly Linder and Tucker Too are 2nd on a 27.0.
James Alliston and Cassio's Picasso sit 4th on a 29.8.
Meg is also 4th with superpony Ganymede on a 31.3.
All systems are go for an exciting weekend of sport at Galway Downs, which continues to one-up itself with improvements with the support of generous sponsors and the direction of organizer Robert Kellerhouse. Nilforushan Equisport Events, along with Footing Solutions USA, have brought fantastic footing through their sponsorship of the Grand Prix Arena and warm-up ring, and a new jumper ring and cross country warm-up area. Becoming host of the entire six-week Adequan West Coast Dressage Festival is an additional source of upgrades, as is the ongoing hosting of equestrian competitions almost every weekend of the year.
Robert notes that many of the most recent improvements are things "that you won't notice until you notice." In the process of adding infrastructure that will expand the venue's capacity to host bigger events, major upgrades to the power and water systems, RV facilities and permanent and portable stabling have been underway all winter.
Many thanks to the brilliant Sherry Steward for the photos! And also to press officer Kim Miller, who shared these great candids and is helping keep us in the loop throughout the weekend.
Gratitude also to Galway Downs' sponsors:
Presenting Sponsors: Equine Insurance, Devoucoux, CWD, California Horse Trader and the USEA
Gold: Sunsprite Warmbloods
Silver: Temecula Creek Inn, SmartPak
Bronze & Friend: AHTF-Horse Trials Foundation, Auburn Lab (APF), Geranium, Ride On Video, Voltaire, Symons Ambulance Service, San Dieguito Equine
Galway CCI4*-S Dressage Results: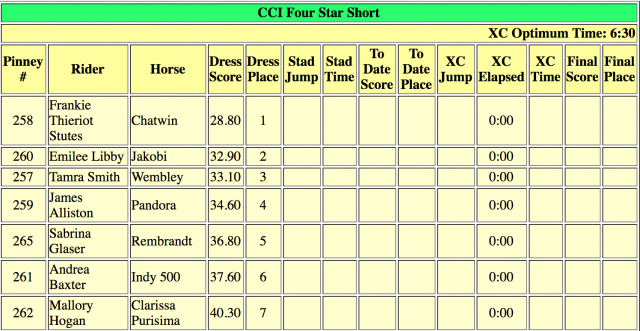 Galway CCI3*-S Dressage Top 10:
Galway CCI2*-S Dressage Top 10:
Galway Downs: Website, Entry Status, Ride Times, Live Scoring, Live Stream, EN's Coverage
Comments