Links: Live Scores, Schedule, Ride Times, USEF Network, Guide to Rolex, Contests
Check back tomorrow for a new open thread for cross-country. All .gifs are courtesy of the USEF Network. All score reports are provisional, so be sure to click on the above link to the scoreboard for official scores.
—
Buck Davidson and Ballynoe Castle RM score a 52.2 and that concludes dressage. On to cross country tom. #eventinglive #rk3de

— Eventing Nation (@eventingnation) April 25, 2014

Phillip Dutton and Mighty Nice – Phillip and "Happy" showed how much their partnership has developed over the past few years. A 51.8 gives Phillip 3 horses in the top 20 going into XC.
Rolex Rookies Libby Head and Sir Rockstar score a 63.8. Big smiles from this first-timer. #eventinglive #rk3de

— Eventing Nation (@eventingnation) April 25, 2014

Oh yeah! Your new Rolex leaders.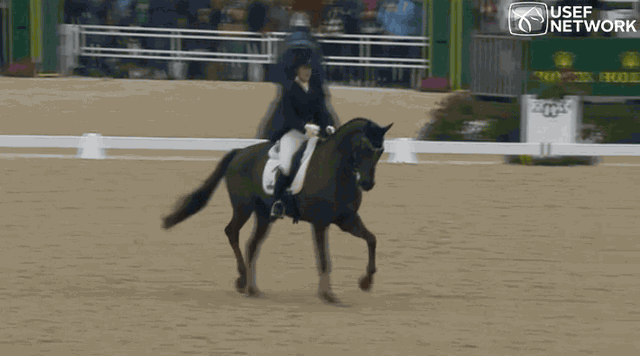 Allison Springer and Arthur – Karen O'Connor said it best: "That. Was. Awesome." The crowd roared in support of Allison Springer and Arthur as they scored 39.5 to take the lead with just a few rides left. I have seen Arthur move with a bit more expression than he did today, but that expression usually came with a bit too much spookiness. On an afternoon when horse after horse has lost their concentration, Allison and Arthur showed their veteran partnership and stayed together throughout the test. The comeback stories roll on here in Kentucky. Go Arthur!

What did Allison's cheering section think?
Kristin Schmolze & Ballylafin Bracken have a 58.3 #rk3de #eventinglive

— USEF Network (@USEFNetwork) April 25, 2014

Sharon White and Wundermaske – The atmosphere of late Friday afternoon dressage in the Kentucky Horse Park arena claimed another pair. Sharon worked so hard to calm Wundermaske, but the horse stayed spooky throughout the test – and on the way out, shown above scattering the cameraman. It's so fantastic to see Sharon here this weekend with two lovely horses. Sharon is a fan favorite for good reason, and all of us here at EN will be cheering her on tomorrow.
William Fox-Pitt and Bay My Hero provisionally score 44.0 to take the lead #eventinglive #rk3de

— Jenni Autry (@jenniautry) April 25, 2014

William Fox-Pitt and Bay My Hero (GBR) – Leave it to WFP to show up on Friday afternoon and show everyone what true relaxation, impulsion, and accuracy look like. The stingy Rolex Ground Jury found their 8's on the scoring pad and gave William 44.0 to put him into 1st place with several rides left to go.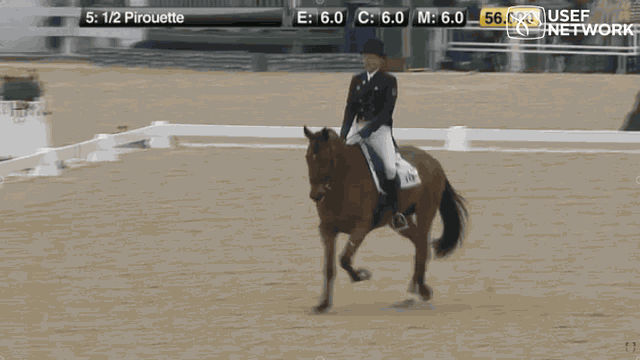 Peter Barry and Kilrodan Abbott (CAN) – "Eddie" is my unabashed favorite horse in the field. This pair encountered the tough scoring that all pairs have felt from the Ground Jury this week. However, ask Karen noted on the USEF Network broadcast, the key is to look at where your test finishes as a percentage of the field beaten. Peter and Eddie will head into the XC with a 63.5.
Such a classy couple: Peter Barry & Kilrodan Abbott for Canada; 2 nicer guys you couldn't hope to meet pic.twitter.com/LRbvFyb3Rh

— PRO Event Riders (@PROEventRiders) April 25, 2014
Hoping Bay My Hero & William @foxpitteventing appreciate the decidedly British weather @RolexKentucky this afternoon #wind #chilly #drizzle

— samantha clark (@samanthalclark) April 25, 2014
Think the riders are worried about the technicality of Derek Di Grazia's course? Look at what they are schooling this afternoon at the Horse Park. Jon Holling and Zatopek.
Short break before final grp. Still on top Lauren Kieffer and Veronica. @Jeep rider William Fox-Pitt's 2nd ride upcoming. #rk3de #Jeep

— Eventing Nation (@eventingnation) April 25, 2014

Jennifer McFall and High Times – This up and coming west coast pair had everyone in the Kentucky Horse Park grand stands riding along with them. High Times showed incredible athleticism with every movement, but Jen just couldn't package him in this atmosphere. After a bit more experience, this pair is going to be extremely powerful in the dressage. Can't wait to watch them jump over the weekend.
Jennifer McFall looks like she might have her hands full with High Times. Hats off to her for riding through the nerves and wind.

— U.S. Eventing (@USEventing) April 25, 2014

Now THIS is how you salute after your dressage at Rolex. Selena O'Hanlon and Foxwood High of Canada worked well together to finish with a 56.6.
What does the "Silver Fox" think about his chances agains the Rolex field this weekend?

Andrew Nicholson and Avebury (NZL) – The joke all week has been that this all-lady Rolex Ground Jury didn't have a chance against Andrew "The Silver Fox" Nicholson's charms. Andrew's score improved and improved throughout the test and he finished right in the thick of things with 51.7.
An elegant performance gives Marilyn Little and RF Smoke On The Water 52.5 penalties

— Eventing magazine (@eventingmag) April 25, 2014

Mark Todd and Oloa (NZL) – Oloa was overwhelmed by the atmosphere around the Kentucky Horse Park grandstands today and just never settled for Sir Mark Todd. Mark stayed as quiet as possible with his body, but they finished on 61.5. Mark now has a decision to make about whether to take this horse around Rolex on that score or re-route to another three-day with the hopes of having a better dressage test. Oloa shown in the walk out of the arena above.

Caitlin Silliman and "Hoku" left a few points in the arena with a 59.7. The crowd will be cheering this comeback pair all the way around tomorrow.
Dana Widstrand & Relentless Pursuit bring us back from the #rk3de lunch break with a 60.0 #eventinglive

— USEF Network (@USEFNetwork) April 25, 2014
Dana Widstrand crying happy tears after her test with Relentless Pursuit in their @RolexKentucky debut #eventinglive #rk3de

— Jenni Autry (@jenniautry) April 25, 2014
I want to give the entire USEF Network crew a huge shout-out. John Kyle and Karen have done a fabulous job commenting throughout the dressage. John will be joined by Liz Halliday in the first section of the afternoon session.
The man behind the @USEFNetwork magic:@JohnKyleSpeaks aka the tubby talker. Sorry ladies, he's taken – @PippaRoome pic.twitter.com/qDqDs1vt04

— samantha clark (@samanthalclark) April 25, 2014
Lunch break report from day 2 of dressage at @RolexKentucky: http://t.co/5yHPVwtntI #eventinglive #rk3de

— Jenni Autry (@jenniautry) April 25, 2014
Comments