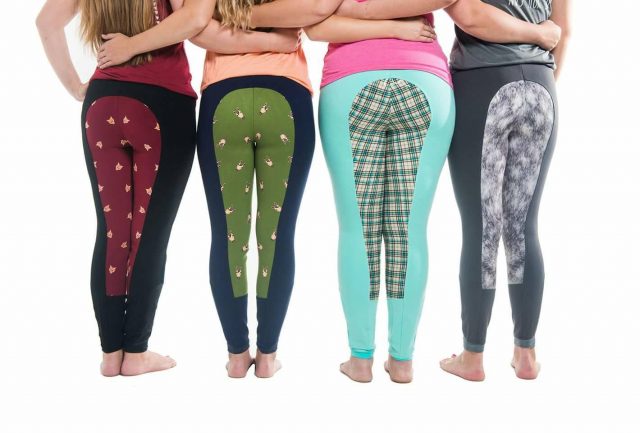 "Tan or white breeches, belt, shirt of conservative color…" We all know the rules.  But when schooling, riding with friends, or hanging at the barn, why shouldn't breeches be FUN?  Introducing Buckwild Breeches!  The brains behind Buckwild Breeches are riders too, and were not only tired of ill-fitting breeches, but also wanted materials and prints that showed some personality!  These are by far my favorite breech … here's why you'll love them:
You love expressing your own style.  You have certain colors and matchy matchy saddle pads, wraps, and accessories for your horse.  Maybe you love bright colors, luxurious tones, or fun patterns. Here's a way to show your personality in a beige world!
You hate being "pinched" by breeches. I personally have a pair of breeches I absolutely hate.  They poke me in the side with the side clasp, and bruise me after a full day of riding. Others are so long that as a short rider, I have to fold the Velcro at my ankle, causing more bruises in my boots. Why do I torture myself with a horrible fit?  Buckwild Breeches are built to fit ALL body types — I'm built like a short, dry piece of spaghetti. The bottom of the breech has a silky "sock" portion, which folds neatly in my tightest boots with absolutely no pain whatsoever for short riders. But it's long enough for the tallest riders. The stretchy material fits like a glove gives the illusion of feminine curves in my square body. If you're built like me and you've ever had breeches that are too big where they sag in the booty, the "diaper effect" is super embarrassing. Buckwild fits great. They also have a "curvy mare" section, for those riders with voluptuous body types and excellent stretch.
You show. You need a white competition breech that is grippy and washable, that won't have the dreaded "I messed my pants" look when your white breeches get wet and pick up color from your saddle on cross country. The black seat with silicone grips is my absolute favorite. Or you need a tan competition breech that has more stretch than those that cost twice as much, and these don't give you the wrinkled bunchy front when you sit in the saddle (you know exactly what I'm talking about).
You like the security of extra grip in the seat.  You'll love "grip technology seat" as they call it … it's like a silicone grippy seat that gives me excellent stickability on the most exciting rounds!
Can they hold up to my abuse? I've used the white competition breech in every show, and even took them for a swim (accidentally) in a Prelim water complex in Kansas City when my horse misjudged the water and fell.  Horse and rider were both fine, but my Buckwild Breeches were a bit mucky.  I threw them in the washer, a bit of bleach, and amazing! Good as new.
The word on the street is that Buckwild Breeches will be expanding in 2018, so be on the lookout for new products in addition to their breeches.  And, their super soft winter breeches are amazing for places in the Midwest or East Coast that have, well, winter.
Good news!  You can get 15% off your order by using this link for Buckwild Breeches!
**Keep in mind, these breeches run a little large.  Generally order one size smaller than normal will do the trick, but they do have a handy sizing chart to help.**
Final Review
Cost: $$
Excitement: **** 4 Stars
Durability: **** 4 Stars
Variety: **** 4 Stars