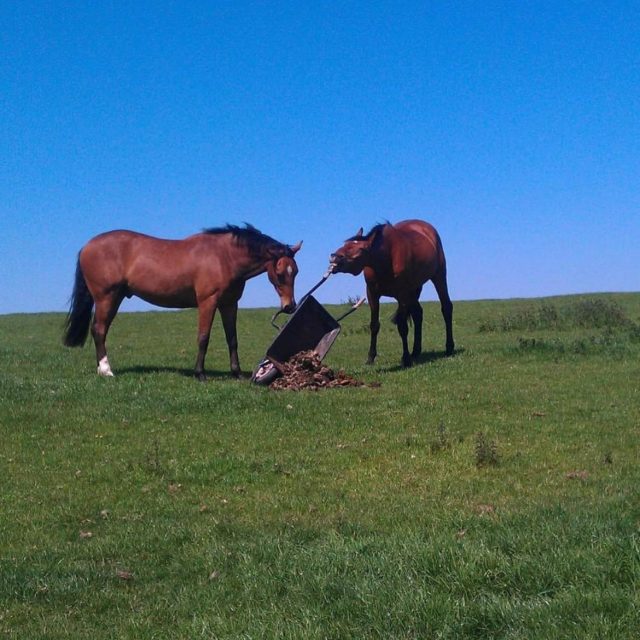 Sometimes in the horse world, you have to take pleasure in the small things of every day life, because the never-ending daily work of it can get tiring. Right now, and I know this sounds silly, but in Virginia it's been cool and we've had what I call a blackberry spring, and at the moment, all the blackberry bushes and the honeysuckle are blooming at the same time. I'm lucky enough to have access to a few thousand acres of wilderness hacking, and there is nothing more satisfying than taking a ride down by a river in the shade and smelling the honeysuckle and the blackberries. Like I said, it's the little things.
U.S. Weekend Preview:
Chattahoochee Hills H.T. (Fairburn, Ga.): [Website] [Entry Status] [Ride Times] [Volunteer]
Flora Lea Farm H.T. (Medford, Nj.): [Website] [Entry Status]
MCTA H.T. at Shawan Downs (Hunt Valley, Md.): [Website] [Entry Status] [Volunteer]
Otter Creek Spring H.T. (Wheeler, Wi.): [Website] [Entry Status] [Volunteer]
Spring Gulch H.T. (Highlands Ranch, Co.): [Website]
News From Around the Globe:
Seven horses are in the running for the Holekamp/Turner Grant for Le Lion Championships this fall. Camarillo is the only horse in the U.S. with full qualifications already under his belt, but six more horses are on his heels looking to get that travel grant. American-bred horses receive $17,500 to travel to Le Lion, while horses bred outside of the US receive $8,000, thus incentivizing U.S. breeding programs for promising young horses. Read about each horse here.
Have you heard? We just launched an epic giveaway in partnership with SmartPak to get you all kitted out in rain/mud gear. For your chance to win over $400 worth of rain-ready gear, you'll definitely want to check out this fun contest here.
Holly Hudspeth has been around some of the biggest eventing tracks in the world, but now she knows the real meaning of nerves as she watches her 9-year-old daughter Hailey tackle eventing at the lower levels. Paired with the unicorn Cookies N' Cream, the duo recently picked up their first win at the maiden level at the Carolina Horse Park for the War Horse Series. For some seriously cute photos and an adorable story, look no further. [Young Eventer Follows in Five Star Mom's Footsteps]
Gypsy Vanner horses aren't something we usually think about in the eventing world, but now they're a subject in the equestrian community at large. The Gypsy Vanner horse has become the subject of recent online debate as the sensitivity of the term "Gypsy" faces a cultural reckoning. But getting to the bottom of the name—and whether it harms or helps the people it describes—is a thorny issue with an extraordinary history at its heels. [Is It Time for Gypsy Vanner's To Find a New Name?]
Video: 
Comments