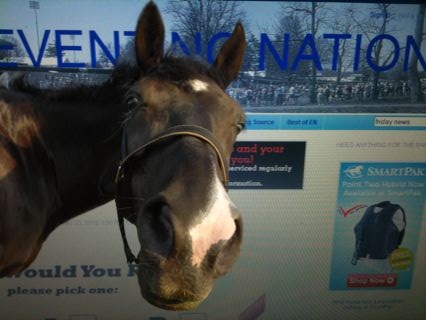 I'M reading Eventing Nation. What are YOU doing??
I've been following the news all day, and I just can't come up with anything much more exciting than the new release of Horse Lovers Camera. It's a new iPhone app that allows you to superimpose photos of adorable horses on pretty much whatever you want. We did a full test-run of the app over here at Horse Nation, and you can download it here.
On other fronts:
–The FEI says you can't use the calming supplement Carolina Gold anymore. But then, you probably weren't using it anyway. Visionaire has got the 411 here. The Carrot chimes in on the subject in "Top of the Tweets" below.
–Jon Holling is riding naked for charity. Actually, he's lying. He just wants you to read his update on the rider rep program. Made you click! [US Eventing]
–Voting is now open for the Best Trainer in the Retired Racehorse Training Challenge, which concludes this Saturday at the Pennsylvania Horse World Expo. You can officially cast your ballot until 2:45 on that day. Additionally, if you're interested in purchasing one of the four ex-racers, contact info is listed on the site. [Retired Racehorse Training Project]
–Do you want to learn how to whisper sweet nothings into your horse's ear like Peter and Henny? Learn this and other riding skills at the Peter Atkins clinic hosted by Champagne Run in Lexington, KY, May 11-13. [Atkins Eventing]
–The Kentucky Horse Park has announced the opening of a Kids' Barn next month. The new attraction is the first at the park to be dedicated solely to children, including hands-on activities like grooming, reading and jumping over a miniature show-jumping course. [Horse Talk]
–Top riders including Mary King, Sharon Hunt, John Whitaker and Lucinda and Clayton Fredericks are auctioning off lessons to raise funds to get a British team of farriers to Egypt, where equine well-being has suffered as a result of low tourism. [Horse & Hound]
–With a March 1 cutoff date for securing Olympic ranking points, it's a race to the finish for Ireland, which is hosting its final qualifier Ballindenisk Horse Trials this weekend. Ireland currently has three riders in qualification position and four more within striking distance. However, only 13 places are available and with another qualifier taking place in Italy this weekend, Ireland could find all their riders displaced by rivals from other countries. [HorseTalk]
–A British author who has written several books about equine care and behavior has been charged with causing unnecessary suffering to four horses. A RSPCA inspector said that when he visited the stables belonging to Lesley Skipper, the stalls were piled so high with old bedding that the horses heads nearly touched the ceiling. Three of the horses reportedly had to be put down. [HN]
–Remember the story of that Pennsylvania horse trainer, Kelsey Lefever, who took in over 100 ex-racehorses, promising to give them a good home, and then sent them all to slaughter? Here's something totally messed up: Lefever isn't even going to jail. [HN]
–Best of the Blogs: Natalie Reinert spent half her day reviewing videos of the Retired Racehorse Trainer Challenge and sweating over for whom to vote, and in the end she concludes that it should be judged like a leadline class–they all get blue ribbons. [Retired Racehorse Blog]
–Top of the Tweets: We can always count on The Carrot to get its two-cents in when it counts. The Carrot (@carrotsandbute): "Maybe also look at Mr. Carolina Gold's sale of Reserpine on his website, juxtaposed against his USEF-approved Vet status" followed by "Seriously, Go Clean Sport! Get your Reserpine here, no Rx required! doesn't quite work, does it?
-[Pine Top Friday Advanced Scores]
-John is slacking off in Utah this weekend but stay tuned to EN for a great weekend of eventing as things really get underway on both the east and west coast.
Go Eventing or go home.