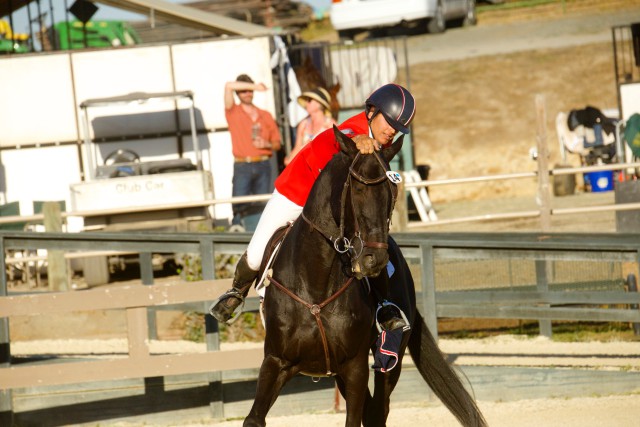 Those west coast eventers sure are handy with a sticky situation! We saw Avery Klunick's Best. Save. Ever. last week at the AECs, but now Gina Miles is giving her a run for her money for that title.
Gina is contesting the CIC3* at Woodside this weekend aboard SVR Ron, who decided to put on the brakes just a few fences from home. Gina nearly fell from Ron as he scrambled backward from the fence, but she managed to stay on. Ron's bridle and ear bonnet slipped off, leaving just the bit in his mouth. Gina was able to keep him calm, although the wayward leather was definitely not his favorite thing, and somehow maneuvered the bridle back into place before continuing on her way.
We're not sure whose save was more epic: Avery's or Gina's? We can't decide – both of these ladies deserve some sort of crazy special award!
Liz Hall was kind enough to send in her photos of this great save. Check out the gallery below to see how it all went down:
And never fear, Ride On Video was on hand to capture this save on video. We applaud you, Gina!
Comments