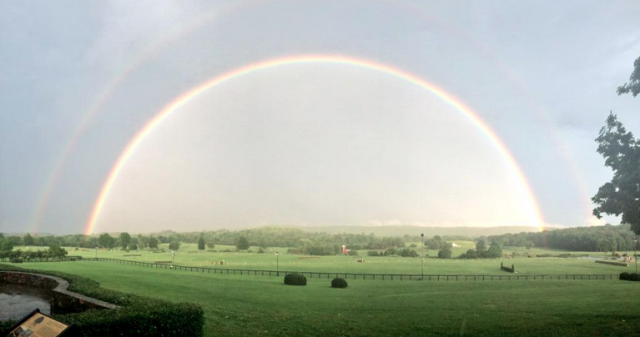 After seeing this afternoon's forecast for predicted severe thunderstorms at the Land Rover Great Meadow International, I think we all agreed it was a good idea when the organizers opted to move up the start of show jumping by an hour and a half to beat the worst of the weather.
The plan worked beautifully, with the rain starting to fall just as overnight CIC3* leader Jennie Brannigan finished her interview in the press tent and the party started in the Beverly hospitality tent. What I don't think any of us expected was just how quickly those storms would turn from bad to worse.
With multiple inches of rain being dropped here in The Plains, Virginia, in less than an hour, the temporary stabling on the grounds quickly flooded, leaving some of the horses standing in water. Everyone from the riders and grooms to USEA President Diane Pitts and the entire Mexican eventing team started digging trenches to get the aisles drained as quickly as possible.
In the meantime, the strong winds shredded some of the smaller tents on the property and whipped others around in a frenzy. Once our media tent started swaying precariously and all our phones kept going off with tornado alert notifications as lightning cracked overhead, the Land Rover USA team quickly came to our rescue.
Deb Sandford, Land Rover USA's National Communications and Events Manager who was stranded in the press tent with us, rallied a convoy of Land Rovers to rescue the journalists from the press tent (which by this point was no longer standing upright) and transport us to safety at Great Meadow's Summer House, which houses the offices for the staff.
The first cell of the storm passed, bringing with it a breathtaking double rainbow that appeared over the cross country course. But with weather radar showing that a second even stronger storm cell was bearing down on The Plains, the organizers made the call to evacuate everyone from the grounds.
The horses whose stalls faced the worst of the flooding were evacuated to nearby Morningside Training Farm thanks to Joanie Morris's quick thinking, and David O'Connor confirmed that the remainder of the horses are all dry and safe in the barns thanks to  the "amazing eventing community — they all came together to make it safe for the horses."
The entire experience was truly unbelievable, and we have to give a huge shout out to everyone who lent a helping hand in stabling and to the amazing Land Rover USA team, who also helped transport spectators to their vehicles to keep them safe in the driving wind and rain. Keep scrolling to see more photos and videos of the chaos. Go #LandRoverGMI. Go Eventing.
Great Meadow: Website, Ride Times, Live Scores, Schedule, USEF Network, EN's Coverage, Twitter, Instagram
---
I was scared

Posted by Tamie Smith on Saturday, June 20, 2015
---
Three star winner @JBrannos digging a trench around the barns at @GreatMeadowVA #tornadoGM pic.twitter.com/dxvtORgm3i

— sinead halpin (@sinead_c_Halpin) June 21, 2015
---
---
---
---
---
---
---
The next wave of the storm is coming. @GreatMeadowVA is being evacuated pic.twitter.com/BcPUSGrkXn — Eventing Nation (@eventingnation) June 21, 2015
---
Comments