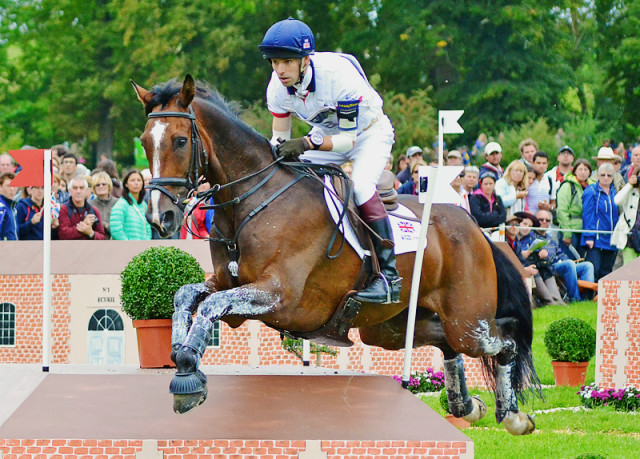 Haras du Pin is reeling with the terrible news that Wild Lone, ridden by Great Britain's Harry Meade and owned by Charlotte Oppleman, collapsed and died shortly after jumping clear cross country at the Alltech FEI World Equestrian Games. Harry and Will Connell, Team GBR chef de mission, attended an emotional press conference immediately after the announcement.
The cause of death has not yet been released; click here for the full statement. "Under FEI rules, the horse will have a post mortem, and that will happen very quickly," Will said. "What I can say is that the team vet was with the horse, as were many other vets, but by the time I got there, it was clear that all that could be done was being done, and it was being handled in an extremely professional manner."
Harry led off his comments by making it clear that he believes the tough going today did not play a part in the horse's death: "In view of the ground conditions at this event and the rain, I felt that played no part whatsoever in what happened to Wild Lone. This was his sixth four-star event. He hadn't missed any work. He was as fit as any horse I've had at a four-star, and he gave me a wonderful ride cross country.
"My only regret for the whole day was possibly from a competitive point of view; he was so well within himself that I could have asked for a little bit more, and he felt extremely comfortable the whole way, and he had plenty of gas in the end. I'm obviously devastated about what happened.
"I wanted to state that I felt the course was a very good course and a very good test, and I would be very sad if anybody was to draw any incorrect conclusions and feel the tough-testing nature of the competition in any way contributed towards what happened, because from the feel I had on the horse, it wasn't connected.
"I'd also like to take the opportunity to thank the organizers and vets on site, who were extremely professional and to know that  although these things are terrible, the horse in no way suffered, and it was all extremely quick."
In response to what "Alf" has meant to Harry's career: "He was a wonderful horse who I've ridden since he was 4 years old. I said when he was 6 years old to my father that one day he would be considered to be the best cross country horse in the world. I think he probably was. He gave me a wonderful ride around Badminton earlier this year to finish third in similar conditions, and today, he felt like he was cross-country schooling the whole way around."
Will made it clear that Alf's contribution to the team will not be forgotten if the British, currently sitting in first, earn a medal tomorrow: "The horse had jumped a wonderful clear round ridden by a wonderful athlete and demonstrating he was very much a part of the British team. Our aim is to stand on the podium tomorrow so Harry can receive his medal along with the other athletes."
While this is a tragic day in the Team GBR camp, Will said he's extremely proud of the effort the athletes put in today: "I've been the chef de mission of Great Britain for 11 years, and what I saw today was British athletes really showing what cross country was all about. They did a fantastic job, and the team is lying in second place, and William is in the lead.
"For me, the memory of today will be of sadness for Wild Lone, but mainly what a fantastic job our athletes did out on the field of play. It was a great day for eventing, though, of course, we're very sad and sorry for what Harry went through. Cheer for the British tomorrow. Let's move forward and remember what a fantastic day's sport it's been and how fantastic the British performed out on that cross-country course, because they made me bloody proud."
The EN team extends our deepest condolences to Harry, Will, Alf's groom Jess Errington and owner Charlotte Oppleman. The mood is extremely somber in the media center, and our thoughts are also with all the British journalists and photographers who knew Alf so well. RIP, Wild Lone.
[Audio of Harry Meade's comments courtesy of Lloyd Bell]