Hazel Shannon and Wendy Ward's Clifford had three rails in hand heading into the show jumping phase at the Australian International Three-Day Event at Adelaide in Australia. They didn't need the breathing room, however, and jumped a double clear round to secure the win in the CCI4* and the pair's third consecutive FEI victory.
"That's Clifford to a tee," Hazel said. "He is not extravagant in any phase – he just does his job and I can't ask for more than that. There is a huge amount of training that has gone into Clifford, but his temperament is such that he allows you to train him. It is not just about raw talent, it is the heart and the mind of the horse that matters and this was just another day at the office for Clifford. He keeps trying and trying, and getting better and better."
Shannon, 24, and the 11-year-old Thoroughbred added only 0.4 time penalties on cross country to secure a final score of 52.5, more than 14 points ahead of the next highest placed horse and rider.
The top three places remained unchanged after show jumping. Will Enzinger had a disappointing three rails down with his 12-year-old Thoroughbred Wenlock Aquifer, taking the pressure off of Hazel and Clifford, but they still finished in second place on 67.0. Will finished also in fourth place on Britannica MVNZ with only one rail down.
"[Wenlock Aquifer] was a bit off today, but I am over the moon," Will said. "Some of the more experienced horses are not here because of the Olympic Games, but we are here and all our horses have made great progress. For us, the Adelaide FEI Classics is the pinnacle of the sport and there is nothing like this in the world."
Andrew Cooper added two rails with Rebecca Zamel's 13-year-old Evergem Perfection but a final score of 67.7 kept him in third place. Four-star first timer Rohan Luxmoore, who declared that he "is living the dream" at Adelaide, jumped double clear in the final phase to finish fifth on Bells 'N Whistles. Stuart Tinney and War Hawk and Tegan Lush and Tempis Fugit were also double clear to finish sixth and seventh, respectively.
Adelaide was the second event on the 2016/2017 FEI Classics™ calendar. The third leg will be at the Rolex Kentucky CCI4* in Kentucky next April, tickets for which are on sale now!
Adelaide Links: Website, Cross Country Results, Show Jumping Order of Go, Schedule, FEI TV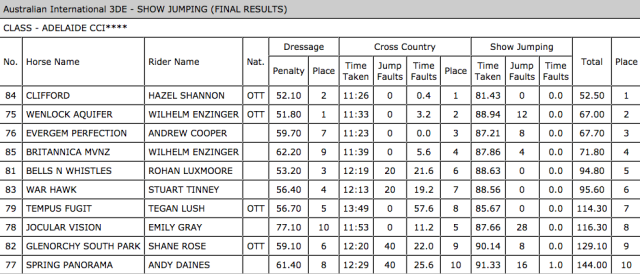 [Just another day at the office for Clifford]
Comments