Hazel Shannon (AUS) and Wendy Ward's Thoroughbred gelding Clifford galloped into the lead after cross country at the Australian International 3-Day Event in Adelaide, Australia, crossing the finish line just one second over the time.
"I could not have asked any more of him," Hazel said. "By the time I got to the end of the course, he did not feel like he had just completed a four-star. He felt as if he could have gone again. Whatever you point Clifford at he will do his best to get over it."
Adding 0.4 time penalties to their dressage score, Hazel and Clifford head into show jumping with a 2.5 margin of error over second place Will Enzinger and Wenlock Aquifer. "He is a careful jumper. We will just go in tomorrow and do our best and whatever happens, happens," Hazel said simply.
Will and Wenlock Aquifer were the leaders after dressage on 51.8, but 3.2 time penalties dropped them to second place.
"He was just on song," Will said. "Everything I asked him to do he did. I was a bit surprised to get time penalties, but there were a couple of times I just balanced a little bit to make sure I got the line and that's the price you pay. He is a happy horse and still fresh and I could not be happier."
The only fault-free round out of 10 pairs to leave the startbox came from Rebecca Zamel's Warmblood Evergem Perfection and Andrew Cooper. With a two-phase score of 59.7, they move up from seventh to third place.
"He was amazing," Andrew said. "He had two run outs in the four-star last year, which was down to greenness, but he has had a full year of three-star competition and that experience showed. He never looks fast, but he is so adjustable and I took a few inside lines. He can just land and go. He was purchased as a showjumping horse, so I can only hope he remembers that tomorrow."
Adelaide Links: Website, Cross Country Results, Show Jumping Order of Go, Schedule, FEI TV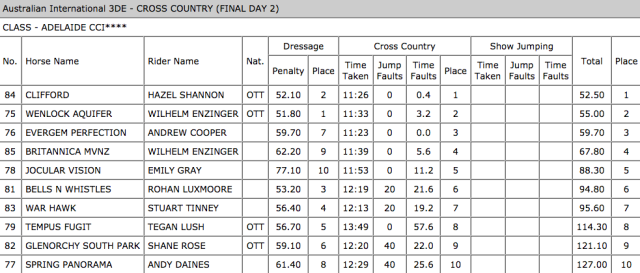 [Clifford Shows His Class on Adelaide Cross Country]
Comments