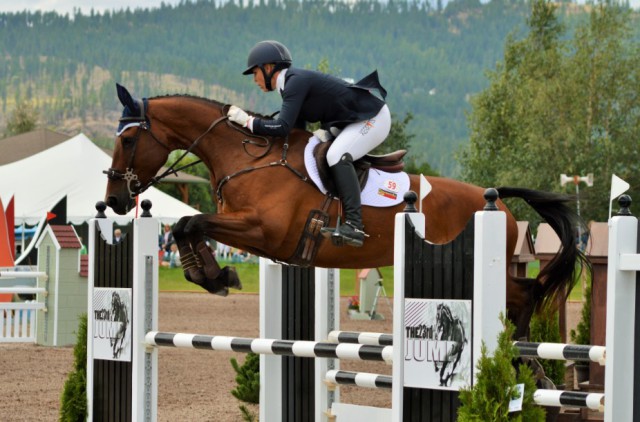 Heather Morris and Charlie Tango, an 8-year-old Irish Sport Horse gelding owned by the Team Express Group, enjoyed a fantastic season in 2015, highlighted by five top-three placings at the two-star level, two of which were victories.
The year wasn't all about the highs, however, as Heather lost her beloved brother, Dylan, to cancer in the fall after a hard fought and emotional battle. In the wake of such a devastating loss, Heather has rallied in honor of Dylan, and her success and hard work were honored at the end of the year with the announcement that Charlie Tango had won the inaugural $25,000 Connaught Grant.
The Connaught Grant was the brain child of the team behind Phillip Dutton as well as his owner Caroline Moran and was designed to honor the memory of Bruce Duchossois, who lost his battle with cancer in 2014. The award focuses on horses competing at the one- and two-star levels that the selection committee feels is a proper candidate to represent the U.S. internationally in the future.
"I actually didn't know we were even being considered," Heather said. "I know he was the USEA Intermediate Horse of the Year in 2015, so that likely narrowed it down. I know the committee talked to my vet and other people who know Charlie."
Unfortunately, the award was overshadowed by some health issues on Charlie's part. The gelding contracted botulism on the way home from the Dutta Corp Fair Hill International, where Heather had to withdraw before dressage in order to return to California to be by Dylan's side. Charlie missed the end of the 2015 season and the early part of the 2016 season while recovering.
Botulism, which can be contracted by consumption of food that contains the bacterium that trigger it, attacks the nervous system of the horse and is often fatal.
"When Charlie arrived home from Fair Hill, his nose was a bit runny," Heather said. "We thought it was a batch of shipping fever. Then he wasn't swallowing his food, so we rushed him to the hospital and he ended up there for two and a half weeks. Botulism basically numbs their whole neurological system."
When Charlie returned home, they started the long road to bringing him back into form. "He was home for a couple of months and then we literally started from scratch," she said. "He had no muscle. He went from being a really fit two-star horse to having no muscle, so he just walked for a month and we treated him as if he'd never been ridden before. We just built it up from there."
Charlie returned to competition in March at Copper Meadows, finishing fourth in the Open Intermediate. "He felt like he didn't miss a beat," Heather said. "He'd been going to some shows and had done some dressage tests and a test ride, but he finally ran cross country at Copper."
Given the fact that botulism is a terrifying illness, it was to Heather and her team's great relief that Charlie made easy work of his return to competition, especially since she initially worried he wouldn't compete again at all.
With the time he's had off, making plans to target a specific competition using the $25,000 Connaught Grant has been difficult, but Heather is nonetheless grateful to have received it and is looking forward to putting it to good use soon.
In the meantime, Charlie is continuing to show he's a very exciting horse for the future. He made his Advanced debut at Galway earlier this month, where he finished second in commanding fashion. He then went on to a second place finish in the Advanced at Twin Rivers.
Charlie's gusto for stepping up a level, even amidst the health issues he has been battling, is further proof of the possibility of overcoming odds when they are stacked against you — he added just time on cross country to his dressage score on both outings.
In spite of the devastating loss of Dylan Morris, his memory lives on every day for Heather. The additional significance of the grant is not lost either, as Heather and Charlie will be riding with additional wings this year, ever honoring those whom we have lost.
Comments