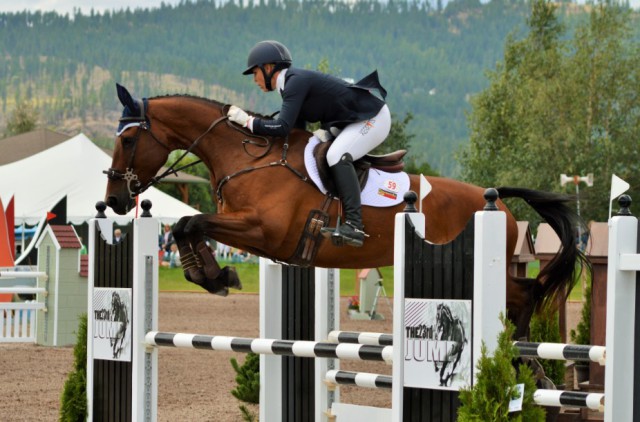 We're going to start calling Tamie Smith "The Pressure Cooker" (or something more funny) because she's certainly good at laying the pressure on thick this weekend. As she did in the CCI*, she once again delivered a double clear round, this time aboard Dempsey, to put the pressure on her business partner and best friend, Heather Morris.
Heather and Tamie exchanged high fives as Tamie exited the ring, and Heather settled an exuberant Charlie Tango for a beautiful round to clinch the win. They did pick up one time penalty, but it was still within the breathing room Heather had to still take first.
Charlie Tango, owned by Team Express Group LLC, now picks up his second consecutive win at the CCI2* level, proving himself to be a very serious competitor for Heather. This pair will finish on a score of 43.7 and will have plenty of celebrating to do this evening.
Tamie and the West Coast Dempsey Syndicate's Dempsey also delivered a clear round to end on their dressage score in his CCI2* debut. This horse finished sixth in the CIC2* at Copper last month and continues to deliver under pressure for Tamie. This pair will take home a final score of 49.4.
Barb Crabo and Over Easy picked another of the double clear rounds today for third place overall on a final score of 52.8. Over Easy is a fun jumper to watch, and this pair made Richard Jeffery's course look like child's play.
The top three are the only to have double clear rounds — the rails were falling for the remainder of the division as the course became bigger and more technical. There was an interesting option at fence two on course consisting of either a narrow vertical or a normal width, set at different angles.
The choice was the riders', and the left hand turn to the next fence, a big oxer, was to be taken into account. I did see a handful of riders take the option (the wider fence) for what were perhaps green or particularly strong horses.
In all, we saw 10 riders complete the division today after Fleur de Lis (Tamie Smith) and Guinness St. James' (Amber Levine) were withdrawn overnight. I'll be adding a gallery from the day to this post later on, so stay tuned for more!
We're set to kick off the three-star show jumping in about 30 minutes. The orders of go have been combined, so we'll be seeing both the CIC3* and the CCI3* riders in reverse order — fifth place and then fifth place and so on. I'll be live tweeting the action over on @eventingnation, so follow along for the latest updates!
#RF: Website, Schedule, Ride Times, Live Scores, EN's Coverage, Instagram, Twitter