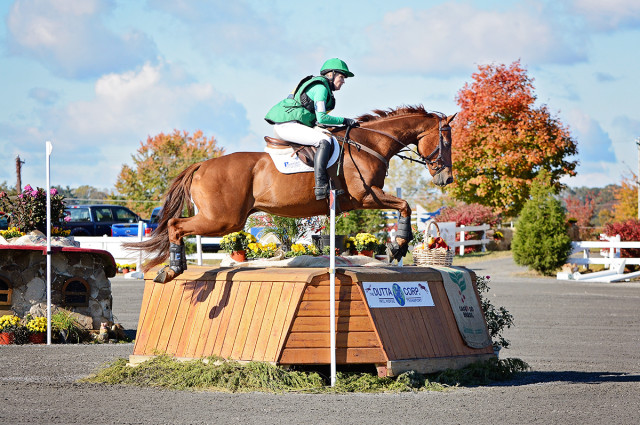 Having a horse to gallop around big Advanced courses has been a long time coming for Kirsten Buffamoyer. No stranger to the concept of having plans go awry when it comes to horses, Kirsten is thrilled to finally have the opportunity of a lifetime with her 13-year-old OTTB gelding, Jim.
It was a chance meeting that brought Jim into Kirsten's life — she was contacted by a gentleman who had acquired some Thoroughbreds, and she originally was going over to look at a gray son of Storm Cat.
"He wasn't what I was looking for, and I was trying to figure out how to graciously decline when Jim came walking down the hill," Kirsten recalled. "He was underweight and had rain rot but he had this huge eye. He was seven at the time and hadn't been ridden in three years, but we put a saddle on him and he cantered off on this little loose rein canter. I bought him on the spot."
Jim has an exuberant jumping style, one that Kirsten worked hard to fine tune as the upper levels approached. "He's always jumped much higher than he needs to," Kirsten said. "He's a crazy good jumper, and as the jumps have gotten higher he's really started to figure it out. We've worked with Peter Atkins a lot right before we moved up to Prelim so we weren't over jumping Prelim fences by three feet!"
"When I ran around my first Prelim, it was just so easy for him," she continued. "He was dead straight, dead honest. The only issues I've ever had are if I don't sit up and steer. If I place the question in front of him and he sees it, there's no doubt that he will go."
After a year of Prelim competition, Kirsten elected to make the step up to Intermediate with her OTTB. She made her move at Pine Top in 2014 and was rewarded with a fourth place finish in their debut as a pair. Kirsten has limited upper level experience prior to Jim, but it was becoming apparent that she may have the real deal on her hands.
Kirsten spent the majority of 2014 and 2015 at the Intermediate and two-star level, putting all of the pieces together while keeping the "big A" in the back of her mind. As with all horses, though, the campaign was filled with plenty of ups and downs, to the point where Kirsten took a moment to consider her options.
"Last fall, I was at the point where I was considering selling him. I have some really nice young horses and I thought, 'Maybe this is what I'm supposed to do, bring along the young horses and let someone else take Jim and enjoy him,'" she said.
Then, Kirsten took a lesson with Bruce Davidson Sr., where he quickly assuaged her thoughts. "Halfway through, he looked at me and asked what my plans were. He said, 'This is a four-star horse, and you're crazy if you sell him.' So I guess when Bruce Davidson tells you that your horse is a four-star horse, you sit up and listen!"
So Kirsten made the decision to keep tugging away, keep chipping away at the pieces. She aimed Jim back at the CCI2* at Fair Hill. "I had two run-bys when I didn't sit up and steer like I should have," Kirsten recalled. "Through all of the hard things, though, he was just so spot on. He just jumped out of his skin. I thought, maybe this is my shot."
Kirsten kept working through the winter, eyeing a move up to Advanced this spring. She made her Advanced debut with Jim at Rocking Horse in February and followed that with two clear cross county runs at Pine Top and the CIC3* at Red Hills, most recently.
Now, Kirsten is allowing herself to look farther ahead — she's tentatively aiming for the CCI3* at Jersey Fresh this spring and then the CCI3* at Fair Hill in the fall. "I think anyone who plays this game at a serious level has the three- and four-star level in the back of their head," Kirsten said. "My goal wasn't necessarily a four-star, but just having the ability to go Advanced and gain experience."
"(Four-star) is hard not to think about though!" she laughed. "It's always kind of there in the back of your head. I guess I've had so many disappointments, you just kind of push it down. It's been the ride of my life, and the dream is definitely still there."