Can't make it down to the south of France because of, you know, pesky pandemics, quarantine regulations, and the world going a bit topsy-turvy all around us? No matter: there are plenty of ways you can get stuck into all the action here at Les 5 Etoiles de Pau, the only CCI5* of 2020.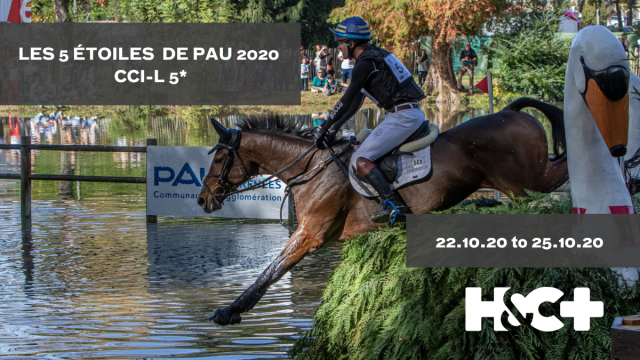 Horse&CountryTV will be exclusively broadcasting all three phases of this smoking hot competition through their H&C+ service – all you need to do is sign up for your membership and you'll have access to every minute of action as it happens, plus a truly eye-watering back-catalogue of previous competitions, training series, horsey documentaries, and much, much more. Equine Netflix for the win, we say.
You can also play along with the competition with EquiRatings' super Eventing Manager app. Rather like fantasy football, it gives you a $10 million budget to pick four horse-and-rider combinations, with a transfer window opening again pre-cross-country. Choose your challengers, cheer them on via social media, and fight for great prizes and, of course, eternal bragging rights. It's our kind of good time.
Finally, make sure you download the official Les 5 Etoiles de Pau app to keep up-to-date with schedules and all the goings-on around the event. The eventing here is working around the World Championship driving competition going on, so this'll be a real help when navigating the often slightly unpredictable timetable here this week.
Here's what we're looking forward to each day:
THURSDAY
Dressage day one: 13.30 local time/12.30 UK/7.30 a.m. Eastern until 17.50 local/16.50 UK/11.50 a.m. Eastern
FRIDAY
Dressage day two: 9.00 local time/8.00 UK/3.00 a.m. Eastern until 11.00 local/10.00 UK/5.00 a.m. Eastern
SATURDAY
Cross-country: From 13.30 local time/12.30 UK/7.30 a.m. Eastern
SUNDAY
Second horse inspection: From 8.30 local time/7.30 UK/2.30 a.m. Eastern
Showjumping: From 15.15 local time/14.15 UK/9.15 a.m. Eastern
Go Eventing!
5 Etoiles de Pau: Website, Entries, Live Scores, Live Stream, EN's Coverage, EN's Twitter, EN's Instagram
Comments