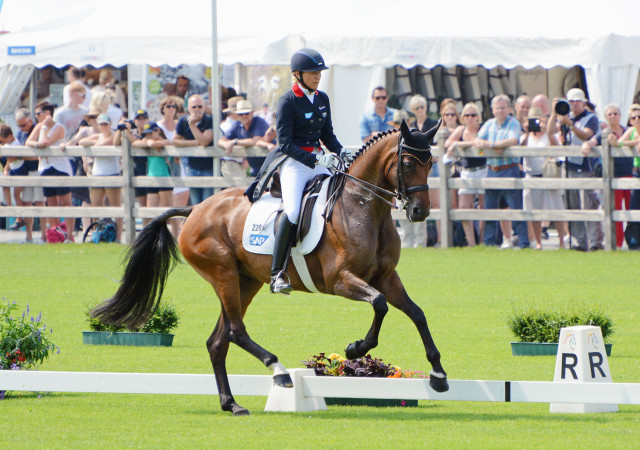 Those watching today's dressage at the Aachen CICO3* were treated to a slew of excellent tests from some of the world's best in the sport, with nearly a quarter of the field cracking the 30s threshold. To even inch into the top five, horses and riders had to deliver a test with both accuracy and flash, and that's ultimately what separated the leaders from the rest of the pack today.
Ingrid Klimke and FRH Escada JS lead at the conclusion of the first phase on a score of 32.1 after delivering a test that was an absolute treat to watch. This 11-year-old Hanoverian mare is coming off a win at Luhmühlen this year and looks to be in beautiful form. Holstein Park Leilani won Aachen in 2013, and Sandra Auffarth won last year, but no female rider has ever won on a mare, so these two will have that on their minds as they look ahead to this afternoon's show jumping.
Ingrid's leading score does not count toward the team competition, as Horseware Hale Bob is Ingrid's mount in the FEI Nations Cup competition; they scored 37.0 early in the day for sixth place currently. But don't worry about the Germans. They're handily holding the lead in the team competition by more than eight points after completely dominating on the flat. (Click here to see the team leaderboard.)
Reigning World Champions and last year's Aachen winners Sandra Auffarth and Opgun Louvo put on a spectacular show in the little white box to score 33.2 for second place. Michael Jung is a bit further down the leaderboard but still very much on the radar, sitting in seventh place with this year's Strzegom CCI3* winner fischerTakinou on 37.2. The Terminator is also in ninth place on 39.9 with his team horse Halunke FBW, which gives Germany three counting team scores in the top 10.
But Great Britain is waiting in the wings thanks to a class performance from 21-year-old Holly Woodhead, who scored 34.3 with DHI Lupison to sit in third place. This year's winners in the Under 25s at Bramham CCI3*, Holly and "Luke," an 11-year-old Irish Sport Horse gelding she brought through the levels herself, are also heading to Blair Castle next month to compete against the seniors in the European Championships at Blair Castle. Watch out for Holly: a very bright star for Britain's future!
Andrew Hoy and Cheeky Calimbo were the last pair to go in dressage today and made it count, scoring 34.5 for the Australian team. The Aussies are down to only three riders in the team competition after Chris Burton withdrew Graf Liberty this morning when he said the horse wasn't feeling quite right at the last minute. That said, the Australian team is still in very good shape after dressage, sitting in fourth place in the team competition behind New Zealand.
Sara Algotsson Ostholt and Reality 39 round out the top five for Sweden on a score of 35.9, which is helping the Swedish team to fifth place in the team standings currently. Jonelle Price and Faerie Dianamo, who finished second at Luhmühlen this year, were second out this morning, scoring 37.4 to sit in eighth place as the highest-placed Kiwi combination.
Stefano Brecciaroli and Apollo VD Wendi Kurt Hoeve, the sole combination competing at Aachen for Italy, scored 39.9 to round out the top 10. This pair finished second at this competition in 2011, the year Michael Jung and La Biosthetique Sam FBW won it. To recap, every single score in the top 10 cracked the 30s, and the quality of the competition is straight-up fierce here at Aachen.
Looking to the rest of the leaderboard, Lauren Kieffer and Team Rebecca's Veronica are the highest-placed combination for Team USA after dressage, scoring 43.6 for 17th place currently. That's the mare's best score at the level since she did a 39.6 with Karen O'Connor at the Jersey Fresh CCI3* in 2012, so Lauren was definitely pleased with the quality of the work.
"It was probably her best trot work she's had all year," Lauren said. "Her canter work was good, and she had good changes. She always scores between a 43 and a 46 without fail." "Troll" has been feeling sassy since arriving in Holland and then Germany for Aachen, and Lauren said she has ridden her a lot more than she usually would, which certainly paid off today.
Kathryn Robinson and Let It Bee are leading the way for Team Canada on a score of 45.1, which has them in 23rd place. Little mistakes in the flying changes and walk knocked points off, but Kathryn said after that she was mostly pleased, though she knows those bobbles proved costly in this caliber of a field.
"He's not the greatest on changes, and I knew that's where I was going to lose marks," Kathryn said. "He's a horse that really wants to please you, and that doesn't always work in his favor because sometimes he listens too much. But I was happy with him; you never know when you go into an arena like that what they're going to do."
Phillip Dutton and Fernhill Cubalawn were the final pair out for Team USA this afternoon, scoring 46.4 for 28th place. He said after the test that Coach David O'Connor told him to really go for it in the trot half passes — which Cuba is super at and always seems to nail in his tests — but unfortunately today they broke to canter in the movement to the left.
"We made a couple simple errors where he cantered in the half pass, and then he thought about changing in the counter canter," Phillip said. "It's easy to say, but I think without that, he would have been pretty competitive. It wasn't meant to be today, but I couldn't be more excited about the horse and where he's going and the improvement that he's made."
Rebecca Howard and Riddle Master went just after Phillip and Cuba and scored 48.5 for 30th place for Canada. "He again did another test that was mistake-free, which has not been the case up until this year. But the horse can do such lovely quality, so it's a bit frustrating when I can't quite produce that in the ring," Rebecca said.
"He did a fine test, but I was a little bit managing him. He warmed up beautifully and had an amazing ride this morning, and then when I switched warm-ups, it just takes a little bit to get him back. So I'm just trying to figure out how I can maintain that quality and get that same consistency back in the ring."
Lynn Symansky was sitting on a fully loaded Flying Deer this morning in Donner, who scored 49.9 for 37th place. "This kind of atmosphere is tough for him — something that's a little more enclosed. Even in high-atmosphere places, he usually does OK as long as we have a little more space to get out of the barns and graze and move around, so he's just been a little more on edge than normal," Lynn said.
"I've actually gotten a lot of good quality work out of him this year in arenas with footing. On the grass, he just felt like he got a little stuck and holding, so we did what we could. I am a bit disappointed, and I think we could have put in a better test, but it was a great preparation for Burghley to come here in this kind of atmosphere and be on the grass in a similar arena. Overall I'll take it, and we've got more work to do."
Colleen Rutledge and Covert Rights scored 50.7 in their debut for Team USA, which is a bit of a disappointing outcome after the excitement of getting her on the team at the very last minute. But the horse has been hauled through countless countries in the past few days, and he just didn't deliver his usual energy and responsiveness in the little white box today.
"He was great in warm-up, but then he went into the ring, and he had nothing," Colleen said. "I had put on smaller spurs to make sure he didn't explode, but then I came out and asked him for the first medium trot, and nothing happened." Colleen will go back to the drawing board in regards to warm-up as she looks ahead to Burghley, but we might have to chalk this one up to the horse having a less than ideal preparation for the event.
Holly Jacks-Smither said she wanted to score in the mid- to low-50s with More Inspiration in their overseas team debut for Canada, and that's exactly what they did, scoring 54.5 to sit in 42nd place. "That's where we've been scoring for the last three or four months. I think you're always disappointed because you want to have your best test at a competition like this, but this is where I wanted to be," Holly said.
"He got a little tense when I first took him around the ring and started doing some flying changes, and so I was a little bit sticky in my counter canters because I was worried about him swapping. Bu he stayed really settled, and I think he got better as the test went on. He's 10 years old, so hopefully another year from now he can get five or six more marks off and score in the 40s."
After the first phase, Team USA is in seventh place in the team standings, with Canada in eighth place. But the general consensus amongst the riders is that this certainly isn't going to be a dressage competition. The course is being set now for this afternoon's show jumping, which starts at 5:30 local time. Click here for the start order.
In the meantime, the riders are continuing to chatter about Rüdiger Schwarz's cross country course, especially that new coffin complex with the angled tractors. While we wait for show jumping to start, you can relive all the action from dressage by scrolling through this open thread, and be sure to check out the full cross-country course preview at this link. There is no live stream of show jumping, but we have been told that tomorrow's cross country will live stream on ClipMyHorse.tv.
#Aachen2015: Website, Ride Times, Live Scores, Team Scores, Schedule, Aachen Preview, Course Preview, EN's Coverage, Twitter, Instagram
Comments