Welcome to the very first episode of Insanity in the Middle, the brand new podcast from Eventing Nation! We're excited to have you with us. We're even more excited about the wine we've stockpiled for recording purposes.
So who are we, anyway? Well, I'm Tilly Berendt, EN's British correspondent, and I'll be (ineffectually) ring-leading this week's episode with my glamorous co-host, EN editor-in-chief Leslie Wylie. We're celebrating our long-awaited launch with a bumper episode of boozy chit-chat, covering such diverse topics as:
Leslie's life of lockdown crime
The exciting extra class planned at Fair Hill's inaugural CCI5*
The role of moustaches in eventing
A theory: does everyone in the sport have an embarrassing story involving Andrew Hoy?
and much, much more!
We're also delighted to welcome our very first guest into the Lockdown Lowdown, an interview series with a twist: each episode, we'll take a person of note from the sport and send them into a hypothetical (and rather lonely) quarantine situation. They'll be stuck in self-isolation with two films, two books, and a horse to keep them company (and all the arena accoutrements they could possibly need – actually, this quarantine sitch doesn't sound too shabby…). They'll also get a free pass for a social distancing dinner with any person they choose. This week's guest? None other than the Queen of Badminton herself, Lucinda Green.
But if you're here reading these notes, it's probably because you've already delved into the episode and want to have a browse of some of the things we chatted about. Things like…
Virtual Eventing, which featured William Fox-Pitt's fake breasts and further insanity. You can rewatch all the action here, or you can read our coverage here.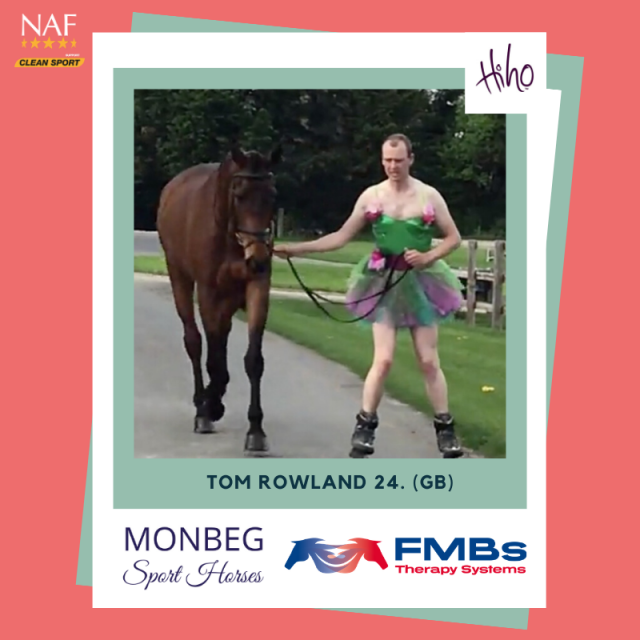 Or maybe you're keen on the idea of Tiny People Attempting Cross-Country, which is the only correct reaction. If so, Merry Christmas to you, and enjoy the bonus Andreas Ostholt – I sure am.
Channel your inner Lucinda Green with this classic scene from The Sound of Music. New pre-cross-country song? Sure:
Or curl up for the evening with Mrs Doubtfire, which truly is one of the greatest films of all time, and also gives us plenty of ideas for future wacky trot-up outfits. You can stream it through Disney+, HBO, or Amazon Prime.
Oh, and you want to see that second fence that made Richard Meade say a bad word? Here you go…
You can also enfootage of the infamous 1978 World Championships, which cemented Lucinda's opinions on eventing as a team sport, here:
Bored of screens and want to tuck into Lucinda's lockdown book recommendations instead? Sure thing. Wild Swans by Jung Chang is a critically-acclaimed bestselling novel that follows the lives of three women: a grandmother given to a warlord as a concubine in her younger years, a mother who begins working for China's Communist party as a teenager, and Chang herself, who documents the harsh reality of her life under Chairman Mao's regime. It's a hard-hitting, fascinating look at the country's Cultural Revolution and an expansive, compelling history lesson, too.
Or, if you fancy some horsey escapism, pick up a copy of Rough Magic, written by Lucinda's niece Lara Prior-Palmer, who set out to tackle the Mongol Derby – dubbed the world's toughest horse race – at just nineteen. She duly won it, and in this book, she recounts the adventures, injuries, and sheer tenacity that filled those 1000km across – and aboard – the wilderness.
If Lucinda could steal the ride on any horse, it would be 1998 Cheltenham Queen Mother Champion Chase winner One Man. Here's a look at the great hurdler in action.
Leslie's spent some time crying over old five-star rounds this week – you can find plenty to dive into on USEF Network, FEI TV, and the Badminton and Burghley websites, all of which have opened up their archives for free during lockdown. Unfortunately, we can't embed Julie Richards and Jacob Two Two's 2004 Kentucky round here, but you can find it on USEF Network. Instead, here's a photo of the pair at the Athens Olympics:
And one of Leslie and Jacob a few years later…
I'm sad to say that there doesn't seem to be anywhere to stream International Velvet online, but I've tracked down a juicy DVD multipack that contains it — looks like it's US only, but I reckon if you're a Mac owner in the UK, you might get away with it. Or, you can rent or buy the digital copy on Amazon (US), or iTunes.
If not, here's Julian Seaman and his dodgy moustache to tide you over:
You can't play Equestriad 2001 online, but you can get it very cheaply here. To McGyver it for your MacBook, you'll need a copy of Porting Kit and a bit of time. Download the 'skin' for Age of Empires and install it on that.
Until next time, folks!
Comments