Jessie Phoenix rode Don Good's Pavarotti perfectly to keep him just under the boil, and produce a test good enough to score 48.1 which currently has her sitting in 4th place. Thanks to Rupert Bell of Lloyd-Bell productions for talking to her immediately after, you can listen to the interview here, but Jessie said that she was rightfully thrilled with Rotti, "I was really happy with him, I think he handled the atmosphere really well, he was really good in the test; other than his first extended trot where he got a little unbalanced I couldn't be happier with his performance today." He slightly broke at the end of his first extended trot, and dove at the changes a bit, but apart from that he looked very impressive, although Jessie handled him just right.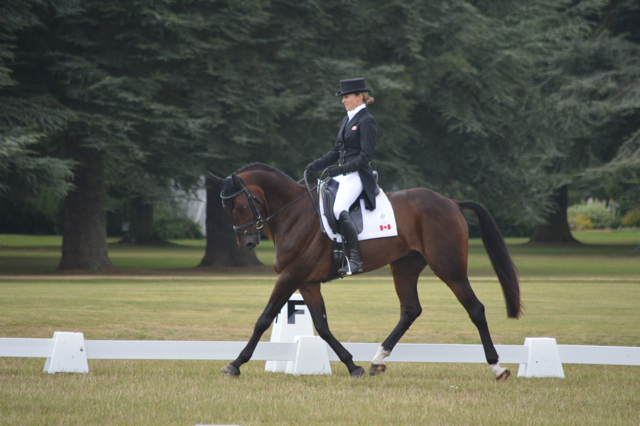 Possibly even more impressive in the warm-up, Pavarotti is an exciting star for the future. Jessie talked to Rupert about competing at the Test Event recently on A Little Romance, "Normandy is beautiful, it's picturesque, it has beautiful scenery and rolling hills. I thought they did a really good job with the footing in all three phases, the people were really happy and they couldn't do enough for us, and I'm really glad that I got to go and experience that leading up to the World Equestrian Games next year."
Clayton and Amanda watch nervously before Jessie went into the arena. Afterwards Jessie told Rupert what she thinks about the course, and the plan for Saturday, "The cross country course looks beautiful, it's extremely well-designed, beautifully presented and I can't wait to get Pavarotti out there on Saturday. We'd love to finish on our dressage score, Pavarotti is a very, very good jumping horse, we've had a lot of good practices leading up to this event and I'm really looking forward to getting out there and try to make time on Saturday." No surprises there then! I'm rushing off to catch Clark, but hope to bring you lots more from the North American riders later, and of course your dressage wrap-up. Go the Fidelity Blenheim International Horse Trials.