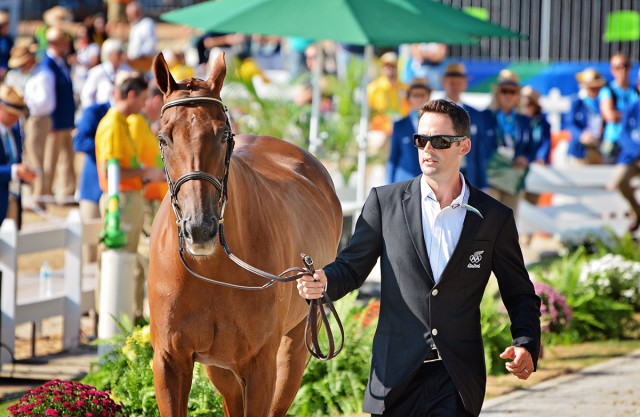 Jock Paget, who has been based in the UK since 2010, is moving home to New Zealand to further his coaching career and will take up the new role of High Performance Development Coach in February for Equestrian Sports New Zealand (ESNZ).
While Jock made it clear he will still be competing at the highest levels of the sport and hopes to land a spot on New Zealand's team for the 2020 Olympics in Tokyo, he also wants to pursue further opportunities in coaching.
"Coaching is something I really enjoy doing," Jock said. "I want to become a world-class coach, and I believe this is the programme to do that in. It is very exciting."
Jock and his wife, Tegan, plan to move to the central North Island later this year, which will also put them closer to their families.
"It makes the most sense to be based near Taupo if possible, and particularly the National Equestrian Centre where there is a lot of exciting development going on, including the brand new world-class indoor arena which will be ready in March," Jock said. "I think it is the place to be."
Clifton Promise, who was formally retired at Badminton this spring, and Jock's three-star mount Angus Blue will both move to New Zealand with Jock.
"Frances (Stead) is very happy that Promise will be continuing his retirement back in New Zealand, and Angus Blue is a very good horse who did his first CCI3* in September. I have every intention of still targeting the major events throughout the world but just with a smaller team," Jock said.
"To do both my riding and coaching properly, I won't be able to have the same size team I have done, so I will now only have ones I think are going to be world-beaters."
Jock will work alongside fellow ESNZ Eventing Performance Programme coaches Penny Castle, Clarke Johnstone, Tracy Smith and Jeff McVean, and ESNZ High Performance Director Sarah Dalziell-Clout said the entire team is excited for Jock's move.
"This is a great development for our eventing programme and an invaluable opportunity for our riders in New Zealand. Jock's experience as a member of our high performance eventing team is an exciting addition to the performance coaching team," Sarah said.
"Having Jock here competing too is also exciting for the domestic competition scene. We will now have two of our Olympic campaigners in Clarke (Johnstone) and Jock competing and coaching nationally. I hope this will further encourage more spectators to attend and support our events in New Zealand."
We wish Jock and Tegan all the best as they make the move back home to New Zealand. Go Eventing.