Kaitlin Veltkamp and Flashpoint D took home the top honors in last week's Copper Meadows CIC3*. Kaitlin had a wonderful experience and took the time to share her thoughts with us. Thank you, Kaitlin, for writing and congratulations on your win!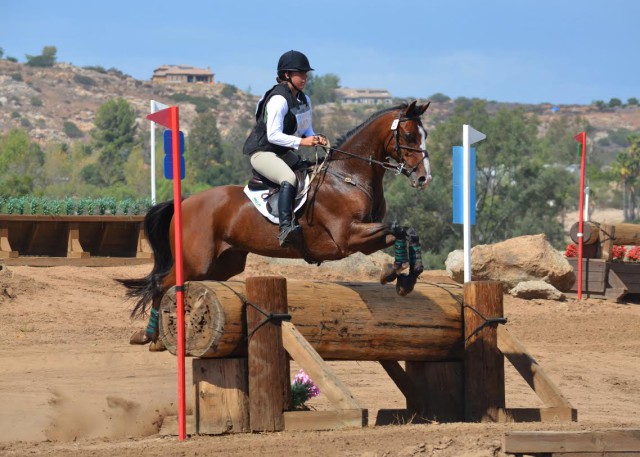 From Kaitlin:
So much work has been done on this venue recently, and it looked absolutely fantastic this year! The FEI dressage ring was very picturesque and private, Jose Nava's show jumping course had a beautiful forward flow, and the footing on Termaine Cooper's cross country course felt like galloping on pillows! Tremaine's course called for forward riding, but definitely demanded adjustability with big gallop fences closely followed by tight combinations. It was exactly the sort of course my 16-hand Dutch horse excels at.
I am thrilled with my horse, having come all the way up from Beginner Novice when I was 11 years old and he was just four, and we are crossing our fingers for many more successful cross country runs to come.
The field this weekend included many a talented horse and rider combinations, Tamra Smith and Matthew Brown being some of the most notable, as each brought home multiple wins at multiple levels. Upper level placings are as follows:
ECLAP CIC***
1. Kaitlin Veltkamp, Flashpoint D
2. Angela Gryzwinski, Novelle
3. Leah Breakey, Master Plan
Western Underground CIC**
1. Pam Fisher, Rigby
2. Tamra Smith, Twizted Syster
3. Alexandra Ahearn, Mai Baum
State Farm CIC*
1. Tamra Smith, Sunsprite Syrius
2. Frankie Thieriot, Chatwin
3. Julie Anne Boyer, Lady Zeyva
Advanced
1. Matthew Brown, Super Socks BCF
2. Ashlynn Meuchel, Morning Star
Intermediate
1. Matthew Brown, Happenstance
2. Rebecca Braitling,Great Bourton
3. Chloe Smyth, C.S.I.
I'd like to give a special shout out to my wonderful trainer, Dayna Lynd-Pugh, for keeping my head on my shoulders and guiding me through my very first CIC3*. Also, a shout out to my two fabulous Flying Tail Farms team mates: Natalie Kuhny and Kelly Pugh! Natalie came in fourth in her very first Intermediate with Case Closed II, and Kelly Pugh is finally back in the saddle (and the top five!) coming in third in Open Preliminary with David and Candace Garrett's D.O.D Rockefeller.
And finally, special thanks to Copper Meadows and all of its wonderful sponsors for putting on such a fun, safe, successful event!
Here's some great recaps of Copper Meadows, courtesy of Ride On Video.
Comments