Katy Groesbeck didn't put a foot wrong today on Ian Stark's demanding CIC3* cross country course and now occupies the top two spots with her Anglo-Arab full brothers Oz Poof of Purchase and Oz The Tin Man after bringing them both home clear and inside the time.  First out on course with 'Poof" they looked super all the way round and seemed to finish full of run. You can find all your CIC3* scores here.
By the time Katy set out on Oz The Tin Man, the last to go in the division, the course had claimed some notable scalps – US Olympians Gina Miles and Phillip Dutton, as well as former USEA president Kevin Baumgardner, and Jeanine Allred. As far as we know all the horses and riders walked back to the barn and are okay.
Emilee Libby and Nonsensical jumped up into third place from thirteenth with the only other clear round inside the time. At this point it's worth noting that both these girls are coached by Hawley Bennet, and that Hawley can also claim seven out of seven clear rounds on the CIC3* course today – you could say that HB Eventing are owning Rebecca Farm right now!
Katie Ruppel and Houdini
After knocking the button on her stopwatch at Fence 4 Katie accrued about 7 time penalties and was kicking herself but told me she was thrilled with 'Huey' nonetheless. They drop down to fourth place overnight.
Kristi Nunnink and R-Star looked super all the way round and notched up some 8 time penalties and change to slip into 5th place
Cavallino Cocktail looked very strong all the way round for Zach Brandt, she was still pulling hard at the last fence. It looked like Zach was trying to hold her and interfere as little as possible but they came home with 7.6 time penalties to finish in 6th place overnight. I'm more impressed by Zach each time I see him ride, and selfishly I'm thrilled that he'll be spending some time training on the East Coast this summer.
Pam Fisher and her OTTB stallion Sea Lion zipped round, adding just 1.6 time penalties to their dressage to lie in 7th place going into the show-jumping
Ellen Doughty and Sir Oberon who were so impressive at Chatt Hills International earlier this spring, jumped clear with 8 time and are currently 9th
Lauren Billys and Ballingowan Ginger, clear with time for 10th place
Barb Crabo and her Swedish Warmblood Over Easy – what a scopey and game little mare she is, and they have such a great rapport together. They occupy the 11 spot after adding just time to their dressage score.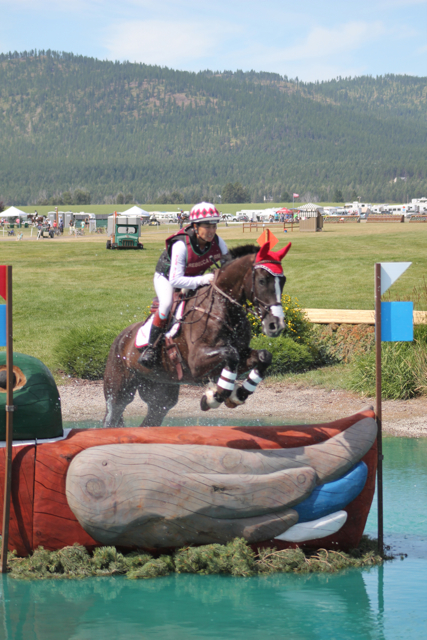 Jennifer McFall and High Times – 11.2 time for 12th place
Taboo and Jennifer Taxay Kelly, 20.8 time for 14th place
Jolie Wentworth and Good Knight picked up a stop but came home with only ten time penalties to finish in 15th place
Avery Klunick and In It To Win It moved up to 16th place with just time penalties to add to their first day score
Andrea Baxter and Indy 500 complete with a stop and time for 17th place
The overnight leader Phillip Dutton and Ben a couple of fences before their fall at the big picnic table after the water at fence 12. I haven't had a chance to talk to Phillip yet but saw both horse and rider walking back to the stables which is always a huge relief.
Kevin Baumgardner and Jefferson D'Aurois sailing over the picnic table (that was Ben's downfall) before a fall in the second water later on course.  More later after the press conference and I'm going to try and catch up with the people I didn't see.  Thanks as always to all the volunteers who were out here long before the 8am start, directing traffic and spectators and keeping the whole shebang running like clockwork. Thank you for reading, and Go Rebecca Farm!
Comments