The weather might be less than inspiring at the Kentucky Horse Park today, but the line-up most certainly is not – we're heading into day two with some some seriously hot contenders to come, including last year's winners Oliver Townend and Cooley Master Class.
Who will hold the lead after today's competition? Well, if yesterday taught us anything, it's that you can only guarantee one thing in this sport, and that's curveballs. But there are some telling stats to back up some of today's contenders – to find out more about the strongest first-phase competitors today, check out Maggie Deatrick's piece on the dressage powerhouses who'll be entering at A in this second day of pony prancing.
Our leader – and the only sub-30 scorer – from yesterday's dressage is Switzerland's Felix Vogg, who posted a 28 with Colero. A very impressive score, but there's certainly space at the top. Can he be overtaken? LET'S FIND OUT.
#LRK3DE: Website, Schedule, Entries & Drawn Order, Live Scores, How to Watch Live, USEF Network, Horse & Country TV, EN's Coverage, EN's Instagram, EN's Twitter
11.54 a.m.
11.53 a.m.
11.52 a.m.
11.50 a.m.
From this morning's sessions, Quarrycrest Echo, Paddy the Caddy, and Qorry Blue d'Argouges all join the 5* PB club. @Piggy_French @KyThreeDayEvent #dressagedaytwo

— Eventing Nation (@eventingnation) April 26, 2019
11.48 a.m.
That's a wrap for this morning's session! Here's your leaderboard as it stands:
Join us at 1.00 p.m. for the final session, which sees our defending champion come forward to try to take the lead.
11.39 a.m. 
Apologies for the radio silence, folks – some technical difficulties. We've got a score of 39 for Andrea Baxter and Indy 500.
11.28 a.m.
34 for Colleen and Qorry Blue d'Argouges – another five-star PB! Last in the ring before the lunch break is Andrea Baxter with Indy 500.
11.25 a.m.
Colleen Loach and Qorry Blue d'Argouges in now for Canada. This is another seriously smart looking horse.
11.24 a.m.
42.4 for Ariel and Leamore Master Plan. Onwards! Upwards! And check out this gorgeous horse!
11.22 a.m.
Well done to Ariel for getting the job done in the ring. It's clear to see that there's a very good test to come from this exciting duo!
11.17 a.m. 
Wow, what a stunner Leamore Master Plan is! Currently looking a bit fresh and fussy – though we're seeing a lot of tongue flapping, so it's possible he has his tongue over the bit.
11.16 a.m.
Now we've got one of our five-star debutantes – it's Ariel Grald with Leamore Master Plan.
11.14 a.m. 
That 32.2 for Paddy the Caddy is a five-star PB. Leslie Law and Voltaire de Tre, meanwhile, finish their test – Leslie's wealth of experience allows him to score a 36.9 despite the green moments. Voltaire de Tre looks very excited leaving the ring!
11.10 a.m.
This is one of the youngest horses in the field – Voltaire de Tre is only a ten-year-old. As such, we're seeing some slightly green moments, particularly in the halt and rein-back.
11.08 a.m.
"I think I probably appreciate it now more than ever. It's great to be back," says Leslie Law. He's starting now with Voltaire de Tre.
11.07 a.m.
32.2 for Erin and Paddy the Caddy! They jump into fifth place, just behind Buck Davidson and Park Trader
11.04 a.m. 
A tiny break in the canter before the half-pass, but Erin and Paddy the Caddy quickly get back to work. This is becoming a bit of a masterclass in how to get the work out of a hot, clever horse.
11.02 a.m.
One for the Thoroughbred fans here – Paddy the Caddy is a stunning stamp of a horse. So much pizzazz in his movement.
11.00 a.m.
Aaaaaand we're back! Erin Sylvester and Paddy the Caddy will be starting shortly.
10.47 a.m.
10.46 a.m.
10.43 a.m.
Score confirmed for Will Coleman and Tight Lines – they're on 36. That takes us to the first coffee break – our next rider in the ring will be Paddy the Caddy, ridden by Erin Sylvester. They start at 11.00 a.m.
10.40 a.m.
10.39 a.m. 
We have confirmation of that 27.1 for Piggy and Red! That means we're…
#GETTINPIGGYWITHIT
10.38 a.m.
Some very nice work by – and a huge cheer for – Will Coleman and Tight Lines. Will is such a soft, kind rider.
10.37 a.m.
If this 27.1 score for Piggy and Red is accurate, then that's a five-star personal best for the horse. Noiiiice.
10.36 a.m.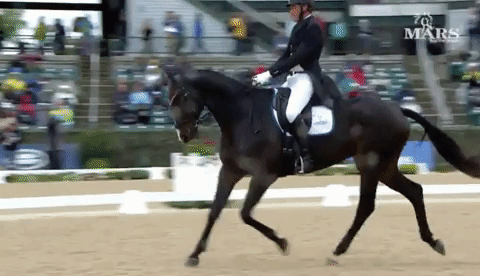 Lovely, leggy Glenfly. 41 be damned, I'd take him!
10.35 a.m.
Scores have changed again! Piggy now leads on 27.1. Maybe her mark will just keep dropping throughout the day.
10.34 a.m.
Will Coleman and his WEG mount Tight Lines are in now. Someone has been working hard to make this horse sparkly. #unicornmode
10.33 a.m.
10.32 a.m.
Piggy goes into second on a 29.1 with Quarrycrest Echo, and it's a 41 for Marcelo Tosi and Glenfly.
10.30 a.m.
Still dodgy scores coming through for Piggy – one judge apparently gave her a 0 for overall impression. Ruuuuuuude.
10.29 a.m.
An erroneous change behind in the canter might be a bit expensive – it happened right in front of the judge at C, so it won't have been missed.
10.27 a.m.
Glenfly takes a good look at the crowd and comes above the bit for a moment in the walk, but quickly gets back to business.
10.25 a.m.
Dom Schramm and Bolytair B get a 38 – but still no score for Piggy. We're getting numbers from 25-31.9.
Marcelo Tosi now in the ring for Brazil – he rides the super-classy Glenfly.
10.22 a.m.
Scores are all over the place right now after a leaderboard malfunction. In the meantime, this from Piggy:
"I'm delighted, really – I'm very relieved, to be honest," she says. "He came back out of his box and felt like he got a little bit cold walking up here…he felt a bit stiff and uninspired. He found the cameramen and flapping things really spooky. I thought, 'gosh, I've not got this right today at all.' But I'm really proud of him, he's become so professional. I'm really proud of what he's done today."
10.21 a.m.
Some pretty flamboyant changes, but Dom's doing really well to manage all this energy. Horses, eh – who'd have 'em?
10.20 a.m.
Bolytair B is FULL of beans. This is a level debut for both horse and rider, so they won't be trying to win the dressage this week – hopefully all this positive energy will be a real asset tomorrow.
10.18 a.m.
An early spook on the centreline for Bolytair B, but Dom Schramm recovers well.
10.16 a.m.
Into the lead for Piggy and Quarrycrest Echo! Stand by for their final score.
10.13 a.m.
Four good changes and a lovely stretchy circle – Red's nose was practically on the floor!
10.11 a.m.
'Red' is really flicking his toes for Piggy – hopefully a tiny bit of very early tension won't have a big impact on his score. This pair is looking seriously professional.
10.08 a.m.
A huge favourite heading in now! It's Piggy French and Quarrycrest Echo, riding for Great Britain.
10.06 a.m.
It's a 34.4 for Lauren Kieffer and Paramount Importance! That'll put them sixth for now.
10.05 a.m. 
Lauren really committed to that stretchy circle, and it paid off! This is quite a short-backed horse, and because he can be a bit tense, it's not necessarily very easy to show a lot of swing through the back. But they nailed it!
10.03 a.m. 
Lauren and Paramount Importance are looking very relaxed in this huge atmosphere. This big grey was formerly piloted by Sweden's Ludwig Svennerstal.
10.00 a.m.
Our first combination in the ring this morning will be Lauren Kieffer and Paramount Importance. They're heading in now!
9.58 a.m.
Snickers candy bars were named after a horse! Marvellous fun fact. Poor Jenni looks like she might blow away.
9.55 a.m.
Love this from Buck Davidson, who rides his third horse today! #BusyBuck
9.54 a.m.
9.28 a.m.
A bit damp out there.
Comments