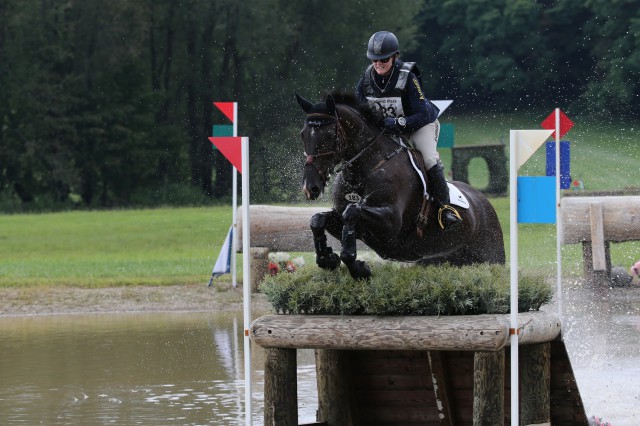 A whiz kid can have all the talent in the world but it takes a special teacher to develop those gifts to their highest potential. Cooley Cross Border was lucky enough to find a mentor in one of America's best event riders, Kim Severson.
After Cross won the dressage on Thursday we recapped his coming-of-age story. The synopsis: Under Kim's tutelage the now 8-year-old ISH gelding has gone from being a Young Event Horse Champion to the capable, confident competitor he showed himself to be this weekend, handily winning his Advanced-level debut. There have been some bobbles along the way, of course, but Kim recognized his potential early and has worked diligently and patiently to shape him into an athlete with international potential.
Just as Kim has challenged Cross, the horse has challenged her. Adapting to Cross's power and physique, for example, has been a process.
"He is very different for me, and I often times think that I don't ride him very well," continued Severson. "He has a big step, and he is harder for me to ride, but he is such a lovely horse and he is genuine and we know each other very well."
It all came together for the pair this weekend, when they added just one show jumping time fault to their dressage score of 30.90. Today's cross-country track wasn't easy but Cooley looked super where I saw him, eating up each new riddle he encountered.
"I knew that he could jump the jumps, it was just a matter of whether he was going to put it all together," Kim says. "He was terrific — out of the sunken road he was especially good and he was great everywhere. No complaints… he is such a nice horse."
As with the CIC3*, the Advanced division was dominated by clear rounds. Time became the "sorting hat," with only two out of the 22 finishers posting a double clear. The top five were reshuffled as follows:
Holly Payne Caravella and Santino moved from 6th to 2nd…
Matt Brown and Super Socks BCF moved from 7th to 3rd…
Lillian Heard and Share Option moved from a tie for 2nd to 4th…
Holly Payne Caravella and Never Outfoxed, having posted the only other double-clear trip besides Kim and Cross, jumped from 12th to 5th.
On a side note, Kim also won Open Prelim on Michelle Parker's Hope Cove on their dressage score of 22.70. You can watch a video of their show jumping round here.
Advanced Top 15: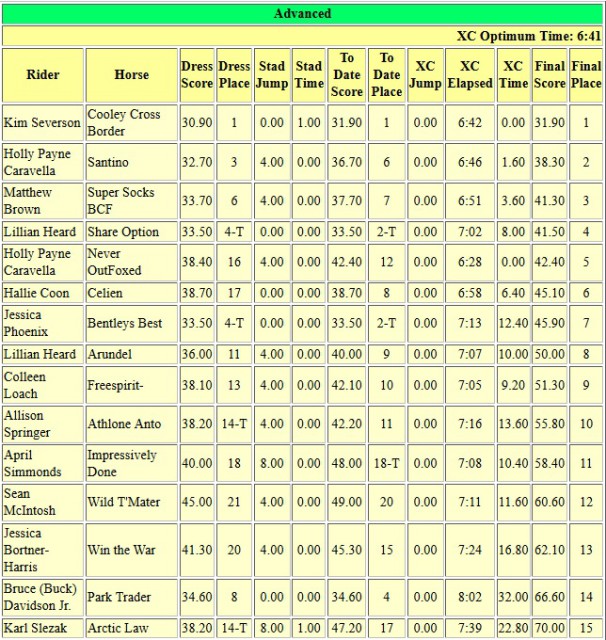 CCI2*, CIC2* and CIC1* Results
Coincidentally, the winners of three out of four of the FEI divisions led from start to finish: Buck Davidson and Ballynoe Castle RM in the CIC3*, Clayton Fredericks and FE Bowman in the CCI2* (you've got to watch this horse trot!), and Alexander O'Neal and Rendezvous with Charly in the CIC1* (check out a video of their show jumping round here).
The CIC2* was won by Jennie Brannigan riding Catalina, who has competed through the CCI2* level with owner Candace Kircher.
"It is my second event with that horse," Jennie says. "It is my best friend's horses so it is a great honor to get to ride her, and it is one thing to say 'I think this mare is really special and I think I can do some great things with her' and it's another thing to actually go out there and it to actually be true. So we are pretty excited for the future."
Top 5 in each FEI division:
Go Eventing.
Richland Park: Website, Ride Times, Results, Schedule, EN's Coverage, Twitter, Instagram