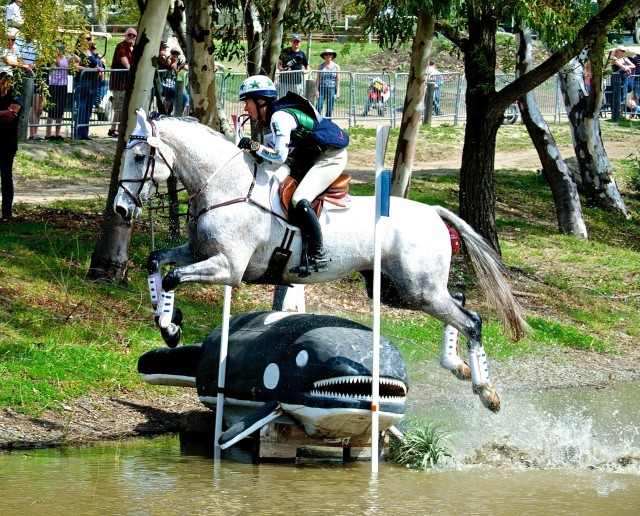 Broken thumb be damned, Kristi Nunnink and R-Star romped on cross country today at Galway Downs to win the CIC3*. Kristi and Rosie never let go of the lead from start to finish, and added 5.6 time penalties to their overall score to finish on a 57.5. "Usually I kind of start off a bit slow, but today I went fast enough early that I could take time to set her up for the last two combinations," Kristi said, according to a press release from the Galway press office. "I think that was the best round I've ever had on her. I was very happy with her ability to go forward and come back to me today." Kristi had a rough start to 2014, losing her promising horse Astro and breaking her thumb in a mishap with a tractor, so I couldn't be more sincerely pleased for Kristi and Rosie, who have firmly stamped their ticket to Kentucky in a few weeks time. Well deserved, Kristi.
The course claimed a few victims, but the majority of the riders came home clean with time. Two riders turned in double clear rides: Hawley Bennett-Awad and Gin & Juice and Emilee Libby and Nonsensical. Hawley moved up from fifth overnight to take third place, and Emilee moved up a couple spots to finish fifth.
Debbie Rosen and The Alchemyst sadly picked up a Mandatory Retirement on course, and Lauren Billys and Ballingowan Ginger picked up 20 a fence 4 before retiring. Avery Klunick fell from In It to Win It at fence 9, and we are sending all of the chinchilla jingles her way and hoping both she and In It to Win It are ok. Sitting in second overnight, Jolie Wentworth withdrew Goodknight and did not run cross country.
John Michael Durr and Espirit de la Danse picked up .8 time penalties to finish second for the weekend. This appears to be this horse's three-star debut, so the performance this weekend should make John quite pleased.
As noted earlier, Hawley Bennett-Awad and Gin & Juice moved up to third after posting a double clear round today. Hawley said that Ginny was full of run yesterday, so it comes as no surprise that the little pocket rocket made the time look easy today. This pair will head to Rolex next, and I'm sure Hawley is pleased with this final prep for the mare.
Comments