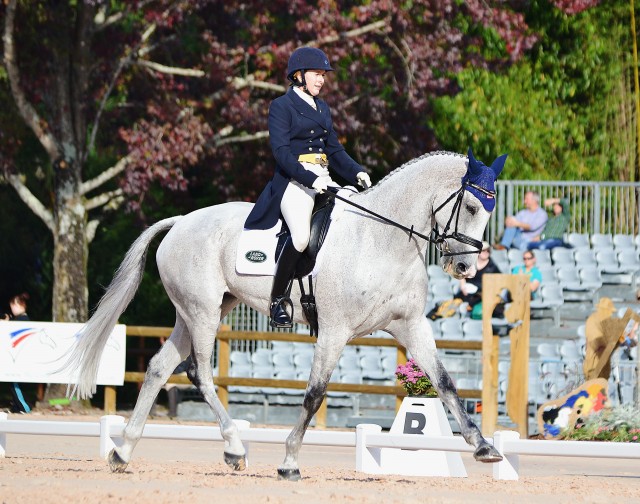 In a shocking announcement, Kristi Nunnink has retired R-Star due to an irregular heartbeat just days before the mare was set to compete at Rolex. Kristi said Rosie has had a mild heart condition that never caused issues before, and the mare had never had an irregular heartbeat until recently when she brought the mare to Pennsylvania to begin their prep for Rolex. Suddenly Rosie began struggling with her training gallops up Nelson's Hill in Unionville.
"All of a sudden she started having an irregular heartbeat when she gallops," Kristi said. "New Bolton came out and ran a bunch of tests. They said she could maybe still compete, but it's just not worth the risk. If her heart started beating irregularly while she was running cross country, she could collapse. I just love her so much, and I wouldn't be able to live with myself if anything happened to her."
This new development comes as a huge shock, as the mare had been coping fine with the heart condition. Kristi and Rosie won the Galway Downs CIC3* just a few weeks ago and were looking poised to improve on their 8th place finish at Rolex last year. "It's tough because she's so sound for her age," Kristi said. "I feel like all of a sudden all the pieces were coming together. Her dressage has been phenomenal lately. But it's more important that her heart keeps beating."
Kristi had always planned to breed Rosie at some point. Now that timeline has been sped up, and she'll be looking for a Thoroughbred stallion to do the honors. In the meantime, she's trying to cope with the shock. Her husband Randy is flying in to Pennsylvania tonight, and Kristi said she still plans to go to Rolex despite withdrawing. "Every time I do Rolex, I never have time to go to the shops or enjoy everything the event has to offer. I have a bunch of supporters who are planning to be there."
The eventing community specializes in rallying around our own in times of need. Please join us in sending love to Kristi and Randy and everyone who loves Rosie as they process this very unexpected news. And if you're going to Rolex and see Kristi there, be sure to give her a huge hug. Even though this is very sad news, what matters is Rosie is sound and healthy, and Kristi has absolutely made the best decision for her. Go Rosie.