After the Land Rover Kentucky Three-Day Event ran behind closed doors in 2021, I think it's safe to say that we were all anticipating the official start of competition this week. Thursdays here are traditionally quieter as more people begin to arrive on Friday, but there was still enough atmosphere in Rolex Stadium as the day went on to remind us that Kentucky is BACK, baby.
Tamie Smith has been partnered with Judith McSwain's Fleeceworks Royal (Riverman – Mariso, by Corofino) since the 13-year-old Holsteiner mare was three. ""She had a great test, super rideable, had really good positive tension, I'm thrilled with her," Tamie commented after her test, which scored a 32.9 for the day one lead.
The blessing, and perhaps a shade of a curse, of having a string of elite horses all competing at the top levels is that sometimes the schedule of one — say, a horse designated as a traveling reserve for the Olympic team in Tokyo — takes priority.
"It probably would've been sooner [that the mare debuted at the 5* level], but last year I wasn't even home because of Tokyo so she kind of got put on the back burner and I didn't want to prepare her too soon and do something in the fall when she hadn't been able to compete really," Tamie said, noting that her travels to Tokyo with Badminton-bound Mai Baum — the road to which ran through Great Meadow, followed by pre-export quarantine in Germany, followed by the great journey to Japan and back — necessitated lighter schedules for her other horses. "I compete my own horses as they go up the levels," she commented. "I have people who help me with the younger horses, but once they're at Prelim and above, especially a mare, I have a really good partnership with them and the owners are super understanding. It's a journey and it's a process and I always err on the side of caution and making sure we're really 110 percent ready and not leaving anything on the table, so it just takes awhile."
Tamie would've been keen to have some movements marked more competitively, noting in particular her flying changes and extended trot but that's the sport for you. "I have to say I'm disappointed with the score, but that's the way it is. That's our sport. I don't think she had a bad test. But hopefully it's just the same for everybody and they're just not handing them out." This was consistent with remarks from several other riders, that the judging panel of Gretchen Butts, Nick Burton and Christian Steiner were judging pretty tough today.
We're thrilled to see all three horses in the early lead were all bred here in the U.S. Fleeceworks Royal was bred in California by Charlotte Wrather and went on to be the 2016 recipient of the Holekamp/Turner Young Event Horse Le Lion d'Angers Grant, competing as a 7-year-old championships and finishing in the top 25.
Two very experienced horses complete the day one top three in Colleen Rutledge's homebred, Covert Rights (BFF Incognito – Let's Get it Right xx, by Covert Operation xx), who earned a 33.8 to sit second in his fourth appearance here at Kentucky. Doug Payne will be in third overnight on a 34.9 with Debi and John Crowley's Vandiver (Windfall II – Visions of Grandeur, by Mystic Replica xx), who at the age of 18 continues to perform at his best in his twelfth season competing at at least the Advanced level.
"I am probably my harshest critic," Colleen reflected. "There was multiple places that I definitely let left points on the board, one of which was our inability to halt after the walk. And then I blew our second change, but he's such a good, consistent creature. My whole goal was to just play and have a good time…he actually almost relaxed too much in the arena, which you can't really get upset with."
Covert Rights is a horse Colleen bred out of her first Advanced mare, Let's Get It Right, and also carries some Clydesdale in his blood. "This feels amazing," she said. "Sitting up here on my personal homebred, who's out of my first Advanced. He's just a blast to ride every day. No matter what."
It's a sixth appearance here in the Bluegrass for Vandiver, made all the more special by the fact that his breeders and owners, Debi and John Crowley, are here to support. "Frankly, at this stage I think we're just having fun," Doug said in the press conference.
"I've been working really hard to get him supple, loose, relaxed and this is by far the best he's ever been," Doug said. "He put in a huge effort and he was great."
Elisa Wallace was over the moon with her off-track Thoroughbred, Donna Biggs' and Rosemarie Spillane's Let It Be Lee (Bernstein xx – Sugaree xx, by Broad Brush xx), who raced "twelve times and made $12,000" she recounted in the mixed zone. This pair is making their first 5* start together — Elisa has had the ride on 14-year-old Thoroughbred since 2019 after he was first bought as a three-year-old by Suzy Elliott, then campaigned through 3* by Kyle Carter.
It was actually Kyle Carter who put Lee on Elisa's radar, calling her up one day to let her know he had "a black horse [Simply Priceless], and he's like your black horse," she recalled. He was right, and now he's earned a very respectable 35.2 to sit in fourth place overnight. "It's always hard bringing another one up after you've had your lifetime horse, but I think Lee is going to be another lifetime horse," she said.
"There's always an adjustment period, for sure," she reflected, referring to the fact that Lee had already competed through 3* with another rider. "And there's no shortcuts in building a partnership, it doesn't matter if it's a wild mustang or your event horse. It's just takes time." Elisa works with Lee in the same way she does her mustangs, which helps solidify her partnership. "It's just building that trust," she explained. "That's part of my program and that's what I like to do. A horse I can hop on bareback with a neck rope and I can hold a line, I can do it out there [on cross country]."
Completing the day one top five are local pair Allie Knowles, who brings forward Katherine O'Brien's 14-year-old Irish Sport Horse gelding, Morswood (Ricardo Z – Princess in Arms, by Present Arms xx) for his second 5* start after finishing 11th in his debut at Maryland last fall.
"I thought he actually put in a great test," Allie commented after her ride. "This is only the second time he's been in this ring, and both times he feels different than any other time I've ridden him, and that's just the atmosphere and lack of experience. I was very happy that he didn't stop trying, he didn't let the nerves get the best of him. There's always room for improvement, but I think this is a good starting spot for the weekend."
Morswood was previously campaigned by Great Britain's Piggy March as well as Ireland's Susannah Berry, and it was Allie's longtime coach Buck Davidson who called Allie about the gelding while on a shopping trip for another rider. "He called me and said 'this is your horse', there wasn't even a question," she said. "Buck hasn't done me wrong yet — he's had a hit on almost every horse, so when he said that you have to take it seriously. He's been my coach for over ten years, he knows my riding, he knows my mental game. He rode the horse and said 'this is it'."
Allie says it's Morswood's laidback attitude and aggressive attitude on cross country is a good mix for her, noting she'd be stronger on the flat and more timid on cross country. "Him being nervous in here and bold out there is a nice offset," she explained. "And I love small horses, and he is very small. I think it's a bit of his pony attitude. All of my best horses are basically ponies."
Bits & Bobs:
It's thrilling to have British legend Pippa Funnell back here at Kentucky for the first time since the FEI World Equestrian Games in 2010 — before that, she was only here in 2003 en route to winning the Rolex Grand Slam. For her part, Pippa's happy to be here with two of her rather strong string (she's also got two horses — Billy Walk On and MGH Grafton Street — entered at Badminton next week). "It's lovely to be back," she said. "For sure at my age, you can question is it the right thing to keep going? But the horses I've got are sort of part of my family. They keep me motivated and they've made me decide to keep going because I know if I stopped they'd go to other riders, and then I'd lose them as my family. I've only got five now eventing and I've had them for a long time and I just sort of made the decision. It would've been very easy through Covid to make the decision to say no after two years not doing it."
It was an emotional debut at the 5* level for New York-based Booli Selmayr and Millfield Lancado (Lancer II – Fancy II, by Langata Express xx), who overcame some tension in the warm-up with "Lance", who she said tried extremely hard in the big, imposing Rolex Stadium. Once the ride was over, Booli said, she was able to take a moment to absorb where she was and soak it in. She's riding in black and blue in honor of her best friend, Jessica Halliday, who passed away after a valiant cancer battle in the fall. "She always wanted me to get to this level, and these are her colors so she could be at Kentucky with me."
While perhaps not the ideal test Woods Baughman, the second of our 5* first-timers this weekend, the Kentucky native is looking forward to letting his tall son of Contendro loose on cross country come Saturday. Some traffic in the warm-up caused C'est la Vie 135 (Contendro – Aneke, by Aarking xx) to lose his cool just before the pair had to go down the ramp, and that tension stayed with them throughout their test. In the end, they'll take a 39.5 into cross country, and Woods is staying practical about it. "I know we didn't come here to win it, but I would've liked to score a little better," he commented. "But it is what it is, and I'm looking forward to getting out there on Saturday."
Our third debutant, full-time veterinarian Alex MacLeod was also pleased with her horse, Newmarket Jack (Newmarket Jewel – Newmarket Chantepie, by Newmarket Venture), in the first phase today. This pair traveled from California for this event after a whirlwind prep tour in southern California that was truncated by the EHV-1 outbreak. "It's a dream to be here," Alex said. "Honestly, he went in there and he did his best. We did a good test for us. We're not a dressage pair, we're both fairly green at it and he went in there and was as rideable as he was anywhere."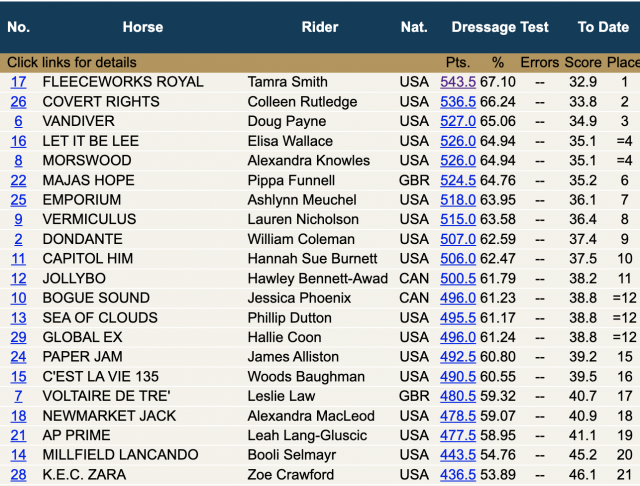 Liz Halliday-Sharp in Top Two Places After Day One in Kentucky 4*-S
Liz Halliday-Sharp made a big splash in the CCI4*-S, taking first and second place with The Monster Partnership's Cooley Quicksilver and Cooley Moonshine, respectively.
The 11-year-old Irish Sport Horse (Womanizer x Kylemore Crystal), who is lovingly called "Monster,", was the very first horse of the day in front of judges Peter Gray and Bea di Grazia, but his score of 25.7 remained untouched on the first day of dressage for this division.
A big fan of Derek di Grazia's, Liz is looking for a strong preparatory run ahead of Luhmuhlen this summer. "I think that's a track that will really suit him, he's a horse that loves to travel, and I thought since he's done Kentucky and Pau, it would be great for him to go to Luhmuhlen. It's been a long-time decision. He's a quite quirky, wiggly, goofy type of horse. But, he was very professional in the ring. He tried hard for me today, and I couldn't be more proud of him," she said.
Stablemate Cooley Monshine, a 10-year-old Irish Sport Horse (Cobra x Kilpatrick Duchess), sits just a hair behind in second on a score of 26.8.
California's Helen Alliston captured third with her own Ebay (Escudo x Komtessa). Will Coleman piloted Hyperion Stud's Chin Tonic HS (Chin Champ x Wildera) into fourth on 28.9, and Dan Kreitl is fifth with Carmango (Chirivell x Taramanga).
>Robin Walker and SBT Barolo (Loughehoe Guy x Tentore Flight) are sixth on 29.3. Seventh place goes to Natalia Neneman and Electric Lux (Lux Z x Kilnamac Sue) with a score of 30.8, and Phillip Dutton is eighth on 31 aboard Quasi Cool (Quo Vados x B-Estelle).
Canada's Colleen Loach is 9th with FE Golden Eye (Goldfever 3 x Cascade), and Jennie Brannigan rounds out the top ten with Twilightslastgleam (National Anthem x Royal Child).
The four-star continued with dressage Friday morning at 8:00 a.m., followed by the final 5* dressage groups beginning at 1 p.m. EST. If you need more info on what's happening and when, be sure to check out our Ultimate Guide to Kentucky here.
#LRK3DE: Website, CCI5* Ride Times, CC4*-S Ride Times, Live Scoring, Live Stream (North America), Live Stream (Outside of North America) Tickets, EN's Coverage, EN's Ultimate Guide, EN's Twitter, EN's Instagram