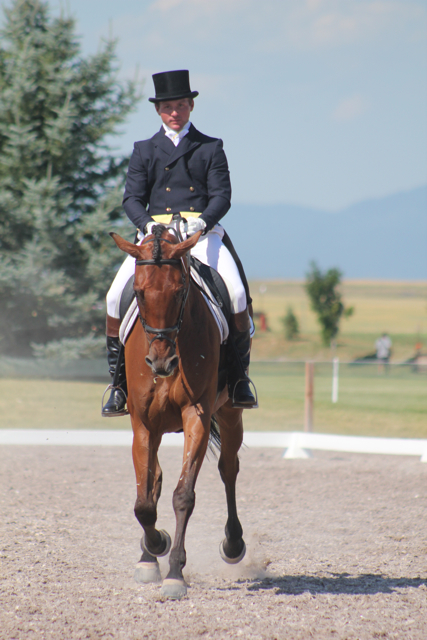 Marc Grandia hails from Washington State and is riding Fernhill Eagle in the CCI* here at Rebecca Farm in only their second competition together.  With a cowboy father and dressage rider mother Marc was practically born to event, and indeed he has a sister also competing at Rebecca this weekend and another who rides pure dressage. Previously campaigned to four star level by Phillip Dutton, Eagle completed Rolex with him three times but in their short time together he and Marc seem to have struck up a nice partnership already. Marc kindly stopped to chat after a lovely dressage test that scored 45.2, good enough for second place overnight behind Matthew Brown.
)
Marc added that it was such an enormous privilege not only to be able to ride a horse of the calibre of Eagle, but that it was especially rewarding because he enjoys being around the horse and spending time with him so much.  Marc has ridden one other horse to Advanced, and has a couple of intermediate level horses to compete as well and credits John Camlin for a lot of his success, "I work for John in Washington –  he does a lot of lessons and coaching in the area and I basically work as his right hand man; I do a lot of riding, and teaching where I can. My riding is the most important thing to me so I like to focus on that and everything else has to fit in around it so that I'm not compromising my riding in order to make money, and that's how I've tried to build a business."
Marc explained that John grew up riding with Jack LeGoff so he's found it very easy to transition to working with David, and has really enjoyed and benefited from the U25 training sessions with him. Wishing Marc the very best of luck both this weekend and in the future, and I can't wait to see him and Eagle do lots of exciting things together. Thank you to Marc for his time, and Go Washington State Eventing!
Comments