Sun sets on dressage at the beautiful MARS Bromont International, happening this weekend just north of the Canadian border in Quebec and playing host to divisions from 2*-L through 4*-L. Mother Nature has ensured the grounds are, er, well-irrigated this weekend with ample amounts of precipitation making for a gray week thus far. Tomorrow's forecast looks less wet, but the general feel coming out of the camps is that Derek di Grazia's 10 minute 5 second cross country course will be a proper endurance test, made even more so by the conditions.
Liz Halliday-Sharp has the good fortune of being well-sat after phase one, leading the 4*-L with The Monster Partnership's Cooley Moonshine, the 3*-L with Ocala Horse Properties' Shanroe Cooley, and the 2*-L with Miks Master C, also owned by Ocala Horse Properties. In the 3*-L, Liz is also in third after dressage with the Calmaria Partnership's Cooley HHS Calmaria.
As Liz sat down to make her plan for the season, Bromont was one she had her eye on, never having made a trip north of the border prior to this. The return of the Canadian international event after three years was a welcome addition back to the spring calendar, and when you've got as many horses as Liz does, options are vital. "I physically can't run them all at one event!" she told me. Liz prefers to space her horses out — making things more manageable on not just her but also her team — at competitions to avoid overdoing it at one show with too much happening. "It allows me to focus more and to do a good job when I am not doing so much in one weekend. But it does make for many weeks on the road."
That road warrior schedule saw a new addition to it just a few weeks ago: former Maya Black ride Miks Master C joined Liz's string earlier this year, originally to be sold. But once Liz had a chance to ride the 10-year-old Swedish gelding by Mighty Magic, she went to work to add him to her burgeoning string. The fact that Liz brought him here to Bromont for a "get to know you" run around the 2*-L was necessitated by Liz's intense schedule — "my thinking was, I'm on the road so much and I had the opportunity to bring him up here," she explained. "It's all about the big picture, just a chance to get to know him better and get in a good run."
Missing from the Halliday-Sharp roster this weekend, though he was originally entered in the 4*-S, is Deniro Z, the 14-year-old Dutch gelding who had been tapped in 2021 to be Liz's partner at the Tokyo Olympics. An injury before the Olympics sidelined Deniro for the remainder of 2021, and Liz brought him back out at Virginia Horse Trials last month for a light Advanced/Intermediate run. Liz says she felt Deniro's fitness wasn't quite where it needed to be to come up to Canada and make a competitive run — "he was a good boy at Virginia and had a great run, he did all the things. But I know my horse and I know I would have had to ask a lot to come here and go inside the time," she elaborated.
This weekend is the final North American qualifier for the FEI World Championships in Pratoni this fall — while the team and individual spots up for grabs are still very much anyone's game, you have to feel for but also respect Liz for making a tough call for a horse that could well have stamped his ticket to Italy this weekend. "I wanted to come here one hundred and ten percent ready to give it our best shot," Liz said. "And there's no point to coming here and doing a substandard job and not looking out for my horse. At that point it's a simple decision to look out for the horse."
Best of day two in the 4*-L at Bromont was West Virginia-based Sharon White with Claus 63, a 10-year-old Holsteiner gelding by Catoo who scored a 29.7 this morning and will be in second overnight. This is another step on the developmental ladder for Claus, who Sharon says can get emotional but who this year has stepped out showing more poise, confidence, and maturity than past years. In fact, despite the fact she labeled his test in the Lexington 4*-S in April as his best, she now gives that accolade to the test today.
"I'm beyond thrilled with him," Sharon said. Claus 63, like most of Sharon's horses, was originally sourced in Germany by Dirk Schrade, and Sharon's also enlisted the routine help of Bettina Hoy on the flat. Typically, you're likely to see Sharon getting in a remote lesson via FaceTime with Bettina at major competitions; that dedication to continued development, not just of her horses but of herself, pays off as Claus' scores continue to cement and become consistently competitive.
"This is probably his best test to date," Sharon continued. "He tends to be a little emotional and tense and he was so with me today, so soft in his back. I just floated around and was calm the whole time. Kentucky was definitely a specific plan, I wanted to get him into atmosphere and he was brilliant there. And this test was even so much better than that. Obviously the atmosphere is different — everything is so welcoming here, where Kentucky is very electric, so it's quite different but the pattern worked really well in my training thought process for him. He went in there today and was just like, 'I got this'."
Sharon will go out of the box wanting to deliver a proper test to her rising star, as this is the major spring goal she's eyed all season. "I just think it's spectacular," she said. "The terrain here is such a good step for a horse. It's so much more than it is at any other venue in North America — this is, I think, the best terrain we have. So it really puts a base on your horse, it really shows you where they're at, it helps them turn into five-star horses. That's why I brought him specifically, for the endurance of the course tomorrow. And the course is always beyond lovely, Derek does a great job but it's always a test of endurance."
Watch Sharon and Claus' test below:
View this post on Instagram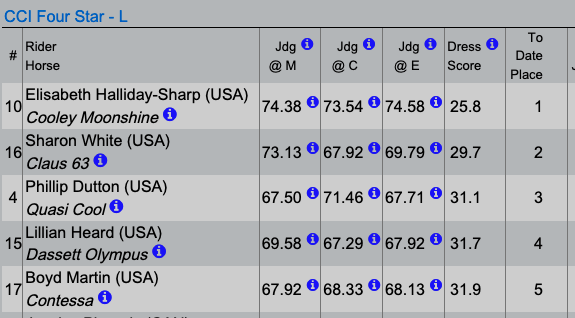 The 4*-S also began competition today, and it will be Virginia rider Sara Kozumplik and her two-time Devon Arena Eventing champion Rubens d'Ysieux leading the way ahead of cross country after scoring a 29.1.
Bromont holds a special place for Sara, who did her first three-day event here in 1997 with the mare HRH, and that's just one reason why she brought her trio of top horses up north with her (she's also in the top 10 after leading early in the 2*-L with Otta B Quality and as well as the top 10 with her newest ride, Rock Phantom, in the 3*-L). It will be good for Rubens to get to jump a big, proper track like what Derek has put together for tomorrow, and for her other two this weekend is all about information gathering.
Rock Phantom, a horse brought over by Edy Rameika, who along with The Unicorn Group owns the trio of horses here with Sara, from former rider Nilson Moreira da Silva, is one Sara's still getting to know, and this weekend is a way to learn more about what the 11-year-old Irish gelding needs from her. "Rock Phantom has never been here, and he hasn't done many Derek courses," Sara explained. "I have him in the three-star to get to know him. I think I'll learn a lot about him around a proper big track without jumping a four-star that he doesn't need to jump yet."
Sara also puts the spotlight on longtime event organizer here at Bromont, Sue Ockendon, who has worked inexhaustibly throughout her tenure to build this event up to be one of the most beloved and most competitive international events on the continent. "There were many years that Bromont ran because of the efforts Sue put in," Sara said. "She always ensures the best courses and brings in top judges each year. This is the only Olympic venue continuously in use and that's from Sue. She's built it up and hasn't given up."
I did a slight double take when I saw Bolytair B sitting second after dressage in the 4*-S with Dom Schramm. Dom and Bolytair B partnered up for their first trip around Badminton in May, but Dom wound up easing off the gas and putting in a slow, steady ride after his brakes and adjustability went a bit by the wayside on cross country. Dom's got his eye on Pratoni for the Aussies this year, and he knew he needed to work on not just the technical elements of rideability, but the mental aspect as well.
Three weeks in the field, followed by a week of hacking and a few light practices led Dom back up to Canada and one of his perennial favorite events — and he says it's the one place where Bolytair B will step off the trailer and take a deep breath. In fact, it's the absence of relaxation that would ultimately undo the 16-year-old Dutch gelding in the Badminton warm-up with its close crowds and fishbowl feeling.
"I think that warm-up was poor Bolytair B's worst nightmare," Dom recalled. "I'm kind of at this crossroads right now that I need to figure out. He's a very good cross country horse but it's difficult to go fast when you go fast and you can't come back. Unlike a lot of horses, nothing really backs him off and you can go to a place where it gets a bit sketchy — I just know that about him."
And it's not just about bitting. Dom says he felt he had the right setup for Badminton, but of course nothing can replicate the conditions of a big 5* event, and besides — there's the mental component to consider, too. "I think he was just cooking from the inside at Badminton," he explained. "If you can kind of help with the mental, then the control sort of comes with that. So I've got this balance of what does it take to have him go out of the box not completely frazzled and anticipatory and ready to get really stressed, and the other piece is much like if you're driving a Lamborghini, it's one thing to have a powerful engine, but you also have to have the ability to slow down and steer and then go fast again."
It's the eternal puzzle every horseman and horsewoman is trying to figure out at any given point, and Dom thinks he's close to cracking the code. Tomorrow will be an opportunity for Dom to try some new things with the absence of pressure. After that, he'll set his sights on returning to Europe in early August, either to eventually be named to the Australian team for WEG or head to Burghley in early September.
The 4*-L will be the first division to see across the country tomorrow beginning at 9 a.m. EST; Jessica Phoenix and Mighty Mouse will be the first to see. Abby Powell will be along first thing in the morning with the course preview (if you want an early peek, click here to see the CrossCountryApp map) as well as a full report at the end of the day. There is no live stream from Bromont, so watch this space for more.
MARS Bromont International (Quebec, Canada): [Website] [Entries] [XC Ride Times] [Volunteers] [Scoring] [EN's Coverage] [EN's Instagram]
Enjoy a few more scenes from Bromont on day two: