Dressage day two at the Millbrook Horse Trials was a battle for the top spot as new leaders took over the top three placings in the Advanced going into cross country tomorrow. Competitors weren't just battling for their lowest possible scores, they were also battling Mother Nature as serious thunderstorms took over throughout the afternoon.
Taking the new lead in the advanced is Lynn Symansky and The Donner Syndicate's Donner. This 14-year-old off-track Thoroughbred scored a very impressive 27.7. Donner is looking in top form as he prepares to take his second crack at Burghley in a few weeks.
In case you missed it, we pegged Lynn and Donner as our predicted winners. With his impressive cross country record, if Lynn is riding for the time she'll be very hard to beat tomorrow.
Emily Beshear and Silver Night Lady, an 11-year-old Irish Sport Horse owned by Deep Purple Eventing. move into second on a 28.5. Emily deserves a sportsmanship of the year award after riding in the worst conditions of the day, while still maintaining a lovely test.
She was then sent back to the barns mid-test for around an hour until the storms cleared and then came back to re-do the end of her test which was just as beautiful as the first. Way to go Emily!
Taking third is Phillip Dutton aboard Bridget Colman, Annie Jones, Caroline Moran, and Tom Tierney's Mr. Candyman. The 10-year-old Holsteiner settled on a mark of  29.6. Phillip currently has three of his horses in the top ten after dressage. Kristine and John Norton's I'm Sew Ready is in 6th on a 30.7. The Revelation Group's Fernhill Revelation sits in eighth with a 32.2.
Yesterday's leaders Sara Kozumplik Murphy and The Rubens D'Ysieux Syndicate's Rubense D'Ysieux finish the first phase in fourth place on their 29.7, and Kurt Martin is currently sitting in fifth on a 30.0 with his and Caroljean Martin's Delux Z.
Led by Allison Springer and the Lord Willing Syndicate's Lord Willing, the Intermediate A division finished dressage yesterday, click here to read more about this group.
Leading the Intermediate B is Lynn Symansky and The Donner Syndicate's RF Cool Play on a 26.0. while Kristin Schmolze and her own and Janet Geiler's Ballylaffin Bracken sit in second with a 27.9. In third is Kylie Lyman and Joan Nichols' Lup the Loop on a 30.4.
It will be interesting to see how tomorrow pans out with more storms in the forecast. There is a lot of terrain here, and the time is tough to make. The footing still felt great out walking the course today, so hopefully the storms hold off for both competitors and spectators.
#Millbrook: Website, Ride Times, Live Scores, EN's Coverage, EN's Instagram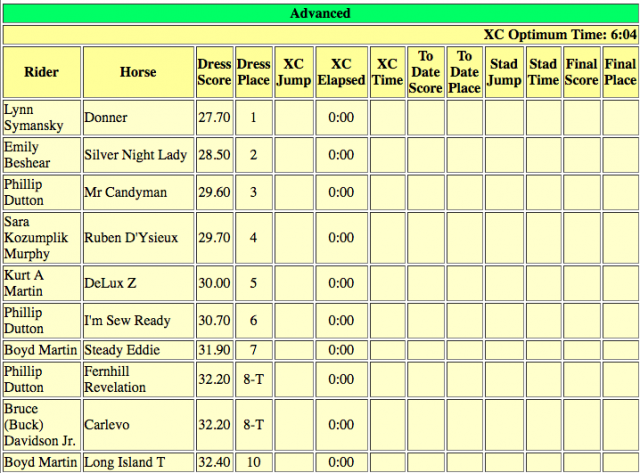 Comments