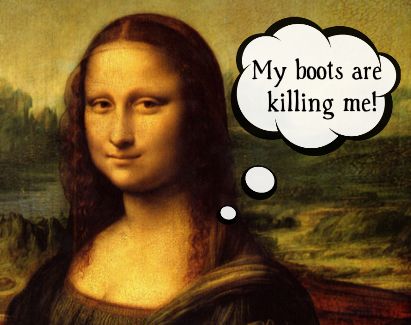 Know what would make Mona bust out her dimples?
Tall boots that don't require painful breaking in!
Introducing the brand new Tredstep Ireland Da Vinci Stretch Field Boots, a masterpiece by Irishman Aidan Keogh that features Italian leather and secret stretch panels that promise a fit that is magnifico!
What else would make Mona smile? Your most hilarious horse-related photo – so send it to us and you could be smiling about a new pair of Tredstep boots!
And swing by for some smiles, refreshments, excellent views and a chance to WIN MORE BOOTS (among other things!) on Saturday as we tailgate with Tredstep on the cross country course. Keep an eye out for the tent flagged like a cross country jump: Red on right, white on left and insanity – and refreshments – in the middle!
Make the Mona Lisa Smile Contest Details:
Email your photo to: [email protected] with the subject line: "Mona Lisa's Hysterical"
Deadline: May 1, 12 PM EST.

Comments