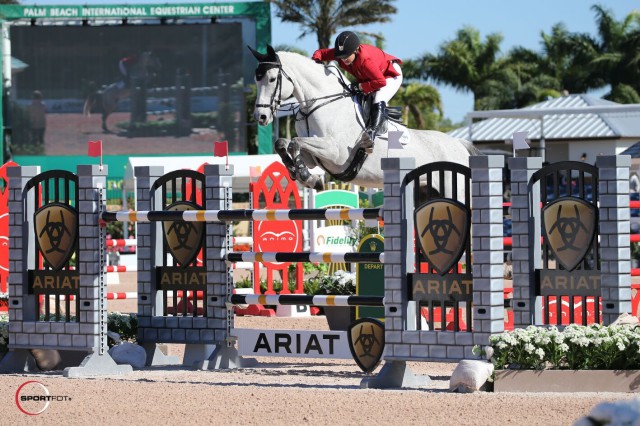 The weekend wasn't over for Marilyn Little even after she turned in a great performance in the Wellington Eventing Showcase on Saturday. The Grand Prix jump rider turned eventer revisited her roots on Sunday, turning in one of only three double-clear rounds in the Winter Equestrian Festival $216,000 Ariat® Grand Prix CSI 4*.
Forty pairs tackled the Guilherme Jorge designed course, with five advancing to the jump-off. Canadian Olympian Eric Lamaze and Check Picobello Z won the class in 43.65 seconds, with Great Britain's  Nick Skelton and Untouched finishing second in 45.52 seconds followed by Marilyn and Corona 93 for third in 46.20 seconds. Margie Engle and Georgina Bloomberg dropped a rail apiece over the short course to finish fourth and fifth respectively.
Fresh off a seventh place finish in the Eventing Showcase (you check out Eventing Nation's complete coverage of the event here), Marilyn threw her hat in the Grand Prix ring aboard Raylyn Farms' Corona 93, a 12-year-old Hanoverian mare (Cordalme Z x Lenz XX) she has owned for one year.
"I have had a wonderful group of people behind her," Little said. "Andrea King, Angel Karolyi, Christina Kelly, and my mother Lynn Little have all helped to bring her along at the shows when I could not be there. I got to step onto a very lovely horse in December and take my time getting to know her. She is an experienced horse and certainly has more scope than I have ever had the privilege to ride. It has been a dream out there."
The course was described as difficult by several competitors, featuring several tall verticals and a combination with a challenging approach. Marilyn recounted what it was like to step back into the Grand Prix ring after the weekend's eventing.
"The jumps looked very big today – less solid, but very big," she said. "It was really exciting for me to be here. I have not jumped in a Grand Prix in quite a few years now. I have been eventing and focusing on that. The Pan American Games were a very big push last year and I would not trade the experience at eventing for anything, but I also would not trade the feeling out there for anything either. It was such a thrill."
Racing against the clock on a cross-country course is quite different than racing against the clock over a jump-of, but Marilyn proved that she's quite adept at both.
"I was proud that she went so well, and to be part of a jump-off with names like the ones that were all coming behind me… If Nick felt like he could not be fast enough, you can imagine how I felt," Little laughed. "I was hoping to go clear. I do not know the horse so well; she is a new ride for me in the last three weeks. I was hoping for a double clear, and she did the job. Then I got to watch Nick and Eric show me how to do it."
Marilyn also added to her successful week by garnering the title of Rider of the Week from prominent show jumping outlet Noelle Floyd. Well done, Marilyn!
Check out Jumper Nation's complete report on the $216,000 Ariat® Grand Prix CSI 4* here.
Final Results: $216,000 Ariat® Grand Prix CSI 4*
1. CHECK PICOBELLO Z: 2006 Zangersheide gelding by Cardento x Orlando
ERIC LAMAZE (CAN), Artisan Farms, LLC & Torrey Pines: 0/0/43.65
2. UNTOUCHED: 2007 Westphalian stallion by Untouchable x Capitol I
NICK SKELTON (GBR), Poden Farms: 0/0/45.52
3. CORONA 93: 2004 Hanoverian mare by Cordalme Z x Lenz XX
MARILYN LITTLE (USA), Raylyn Farms, Inc: 0/0/46.20
4. INDIGO: 2000 KWPN gelding by Indoctro x Unknown
MARGIE ENGLE (USA), Griese, Garber, Hidden Creek & Gladewinds: 0/4/44.10
5. LILLI: 2004 Brandenburg mare by Lefevre x Diamir
GEORGINA BLOOMBERG (USA), Gotham Enterprizes LLC: 0/4/45.55
6. BABALOU 41: 2005 Oldenburg mare by Balou du Rouet x Silvio I
TODD MINIKUS (USA), Two Swans Farm: 4/75.52
7. BEEZIE: 2006 KWPN mare by by Cardento x Canabis Z
HAYLEY BARNHILL (USA), The ISB Group: 4/78.15
8. SOUTHWIND VDL: 1999 KWPN gelding by Baloubet du Rouet x Ahorn
TIFFANY FOSTER (CAN), Artisan Farms, LLC: 4/78.45
9. EREGAST VAN'T KIEZELHOF: 2004 Belgian Warmblood gelding by Thunder van de Zuuthoeve x Latano
SHANE SWEETNAM (IRL), Spy Coast Farm, LLC: 4/78.83
10. ZEREMONIE: 2007 Holsteiner mare by Cero II x Quick Star
LAURA KRAUT (USA), Old Willow Farms, LLC: 4/78.99
11. APSARA: 2006 Holsteiner mare by Ephebe For Ever x Calido I
MEREDITH MICHAELS-BEERBAUM (GER), Artemis Equestrian Farm LLC: 4/79.03
12. SAM DU CHALLOIS: 2006 Selle Francais stallion by Quaprice Boimargot Quincy x Adam IV
CIAN O'CONNOR (IRL), Ronnoco Jump Ltd & Jean-Claude Jobin: 4/79.28