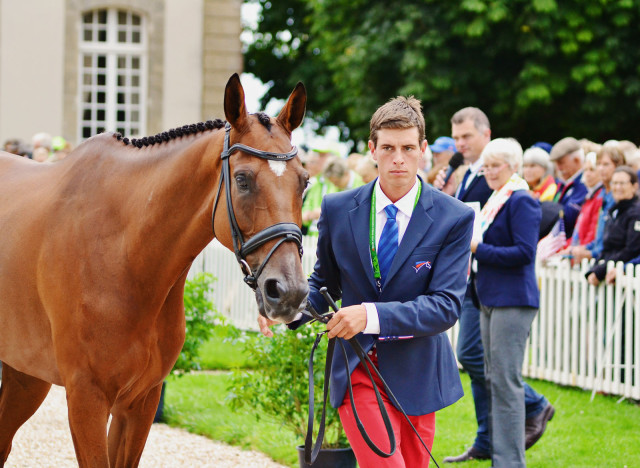 Maxime Livio has received a suspension from the FEI on new doping allegations while awaiting a ruling on Qalao de Mers' positive test for the controlled substance acepromazine at last year's World Equestrian Games in Normandy.
Bingo S, a 9-year-old Dutch gelding owned by the Thailand Equestrian Federation, tested positive for the banned substance testosterone after Maxime competed the horse one time as a catch ride on Nov. 30, 2014, at the Pattaya CSI*-W show jumping competition in Thailand.
An FEI suspension for both Maxime and the horse began this past Monday, Feb. 16. The suspension for Bingo S is scheduled to go through April 15. No end date is currently listed for Maxime's suspension.
Maxime, who coached the Thai team in preparation for last year's Asian Games in Incheon, South Korea, told Cavadeos that he had been invited to compete at Pattaya with his students, and riding the horse was a one-time thing:
"I was invited with my students by the federation to participate in this contest, and I rode this horse off the cuff," he said. "I was stunned when I learned that doping suspicion yesterday. Especially since I have every confidence in the federation and that after what had happened at the World Games, we even enhanced precautions by making such preventive blood tests to all horses before the Asian Games."
Col. Fuangvich Aniruth-Deva, secretary general of the Thailand Equestrian Federation, sent a letter to the FEI legal department earlier this week, saying Maxime "is completely independent of this situation. He has been invited to our competition for a public relationship operation," the letter reads.
"It is our Federation which has supplied the horse to Maxime Livio for the jumping sessions. Maxime Livio had no relationship with the horse, nor before or during the jumping sessions. So he is totally foreign to the causes of this positive test."
Sophie Dubourg, France's national technical director, told Cavadeos this new case will not affect the outcome of the FEI tribunal's ruling on Qalao de Mers' positive test for acepromazine at WEG; they will be ruled on as two separate issues.
If the FEI tribunal finds Maxime guilty in this newest case, he faces a suspension of up to two years, as testosterone is a banned substance. Hearing dates have not yet been set in either case.
The first case involving the positive test for acepromazine at WEG is of particular interest to the North American eventing scene, as the FEI tribunal can rule to disqualify Maxime or the entire French team from the Games.
That would move Canada into sixth place in the WEG standings, qualifying the team for the 2016 Olympic Games in Rio de Janeiro and opening the door for the U.S. to qualify for the Olympics at this summer's Pan American Games in Toronto.
Maxime maintains his innocence in both cases, and he released a statement last year that he believed Qalao de Mers' positive test for acepromazine at WEG to be an act of sabotage.
[Maxime Livio: "It's an unfortunate combination of circumstances"]
[Thailand Equestrian Federation letter to the FEI Legal Department]
[FEI Case Table Status for Horse Suspensions]
[FEI Case Table Status for Suspensions]
Comments