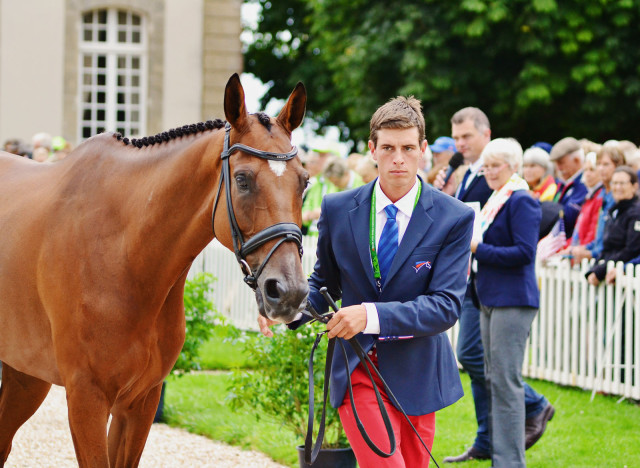 The FEI announced this morning that Qalao de Mers, who placed fifth individually in eventing at WEG with French rider Maxime Livio, tested positive for the controlled substance Acepromazine, a sedative, on Aug. 29, the second day of dressage.

While testing positive for a controlled medication does not result in an automatically provisional suspension under the FEI's Clean Sport policy, the case will go before the FEI Tribunal at a date not yet decided to determine if sanctions will be given.
As is the case with the Olympics, a positive result for one team member can lead to the disqualification of the entire team. If the FEI Tribunal rules against Maxime, it would mean the disqualification of the fourth-placed French eventing team, as well as the loss of their qualification for the 2016 Olympic Games in Rio.
That creates an interesting scenario, in that seventh-placed Canada would then move up to sixth place in the team standings, giving the Cannucks an automatic ticket to Rio, which opens the door for Team USA to qualify for the Olympics by winning the Pan American Games in Toronto next year.
A second controlled medication violation also occurred at the Games, as Tra Flama, an endurance horse ridden by South African Giliese de Villers, tested positive for Phenylbutazone and its metabolite Oxyphenbutazone on Aug. 28.
"It is the first duty of a regulator to ensure clean sport and a level playing field, and we do this by conducting an ongoing and very comprehensive testing programme," FEI Secretary General Ingmar De Vos said in a press release.
"We had clean World Equestrian Games in 2010 in Kentucky and at the Olympic and Paralympic Games in 2012. Our system works and sends out a strong message to our athletes and their entourage that clean sport is our absolute top priority.
"We carried out an intensive awareness campaign prior to the Games and also offered pre-arrival testing to all participants, so it is very disappointing that we have two positives for Controlled Medication substances at the Games, especially when it is well known and well accepted that both these substances are not permitted in competition. Although these are Controlled Medication not doping substances, we take this very seriously."
Stay tuned as the date of the FEI Tribunal hearing is set.
[FEI Announces Two Controlled Medication Cases at World Equestrian Games]
Comments