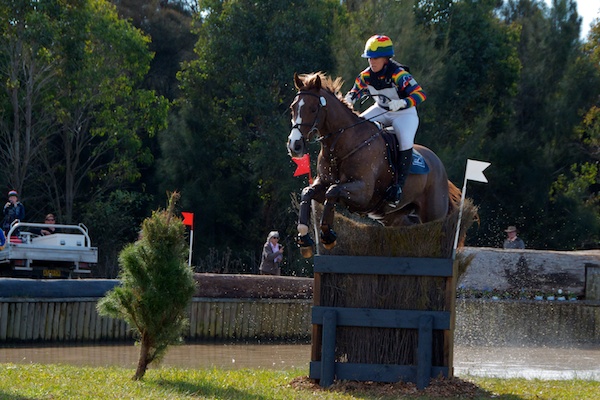 Well, this year's Eventing Equestriad has been run and won. The top four pairs had less than a rail between them so the show jumping was tense, when the fourth placed Christine Bates with Adelaide Hill entered the arena only one combination had gone clear, Alex Townsend with Parodie.
Unfortunately Christine dropped a rail which allowed them the hold at least fourth place, then John Twomey (the smiling assassin) entered the ring on Wade Equine Highly Recommended. This pair looked faultless on the cross country only two hours earlier and completed a picture perfect fast round, 14 seconds under time on a course where there were plenty of time faults. John was just 0.1 behind the second placed Megan Jones on Kirby Park Allofasudden and 2.7 behind the leader Shane Rose on Statford Neo.
Megan Jones is a jumping machine and also provided a perfect round, never even looking like they were going to drop a rail. Finally the leader, and one of the key organisers behind the event, Shane Rose entered the ring on Statford Neo. Neo is still quite green and throughout the first part of the course Shane rode him on beautiful lines and they looked so clean.
Unfortunately Neo's inexperience showed in the treble and they picked up a single rail dropping them to third place. Shane was very pleased with Neo's performance and is looking forward to a bright future on this young horse.
So the winner was Megan Jones and Kirby Park Allofasudden who added just 3.2 time to their dressage score. John Twomey and Wade Equine Highly Recommended finished just 0.1 behind and were the only combination to finish on their dressage score with the only cross country round under time.
It was a fabulous event, 630 entries were received and about 600 horses took part, for such a big event (especially by Aussie standards) it ran like clockwork. I based myself out of the scorers office and I commented at the end of the weekend it was the most stress free scoring room I had ever experienced. Congratulation to all of the combinations who competed, to all of the massive number of volunteers that helped make the event possible you  were awesome, and to the committee, Eventing Equestriad is a BRILLIANT event.
There are a number of implications to come out of this weekend and the concurrent event being held at Houghton in the UK. I will be back in a couple of days to reflect on what this may mean for the Aussie Olympic team. I will leave with only one comment, I think that Megan and Allofasudden will be on the plane.
Full results are here for all of the classes.
Here is a video of the day one action.
Yours in Eventing
ESJ, many more pics on my website esjphoto.com.au