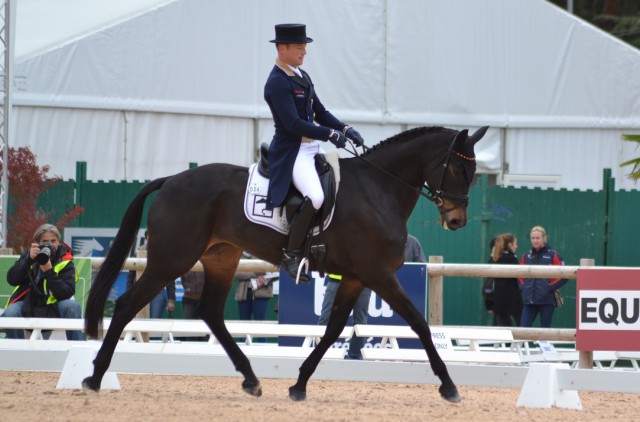 The North American contingent got down to business early here at Pau, with a Rebecca Howard-Lillian Heard double header in the first block of 49 four-star starters.
Rebecca and Blithe Hill Farm's Riddle Master had a hard act to follow, with Michael Jung and fischerRocana FST laying down a 35.4 for a landslide lead just two rides before them. The mare's score is on par with her other two four-star scores of the year, a 34.1 at Luhmühlen and a 34.2 at Burghley; unfortunately, both were  undermined on cross-country day by weirdly identical scuba diving expeditions. The pair will be looking for redemption this weekend and they're off to another good start — no more seahorse imitations, fischerRocana!
Rebecca and Rupert's summer outings have included a super top 10 finish at Luhmühlen followed by an 18th at the Aachen CICO3* in August. Their score of 48.6 today is higher than their 42.5 at Luhmühlen but Rebecca said afterward that it felt "smoother… our test at Luhmühlen was a bit more dramatic in areas, so it's still progressing. I had a more solid plan and more confidence that I could execute that plan than I did at Luhmühlen."
Rupert looks more relaxed and seasoned with every venture into the sandbox, and Rebecca's penchant for perfectionism means she's never satisfied to leave a single point on the table. We caught up with her after their test, which secured them 7th place at the end of day one dressage, to recap their ride and hear her thoughts on Pierre Michelet's cross-country track.
Lillian and Share Option were next up. Lillian must be running on adrenaline at this point, having just piloted three horses around the Dutta Corp Fair Hill International CCI3* last weekend before jumping on a plane to France. Lillian and "Whitey" have two Rolex four-stars under their belt and are looking to add their first overseas outing to the collection this week at Pau.
Their test today collected a score of 53.5 for 16th place, with their marks steadily improving as the test went along.
"He got a little bit tense in there at the beginning and our trot work suffered some for that," Lillian said after her test. "When he gets tense he gets a little bit stuck but then he did really well in his canter work so I was happy to get some of my score back there."
Lillian's post-test reflections and initial impressions of the cross-country course:
Michael and Rocana currently possess a plush armchair of a 7.5 point lead over William Levett and Shannondale Titan (AUS). The leaderboard tightens up below that, with Sarah Bullimore and Reve du Rouet (GBR) in 3rd on a 43.0…
…Claas Hermann Romeike and Cato 60 (GBR) in 4th on a 44.1
… Sarah Bullimore and Valentino V (GBR) in 5th on a 45.8
…and Jonelle Price and Fairie Dianimo (NZL) in 6th on a 47.7. I could watch this mare for hours — she positively floats in the dressage ring and is a gazelle over jumps. I saw them go at Luhmühlen, where they finished 2nd to Ingrid Klimke and FRH Escada JS, and I wouldn't be surprised to see them inch their way up the leaderboard this weekend.
So much spring, she jumped right out of my photo! Watch your head, Jonelle!
Top 15 at conclusion of day 1 dressage:
Still to come on Friday:
Jennie Brannigan and Cambalda: 9:35 local time (3:35 a.m. EST)
Katie Rupel and Houdini: 10:20 local time (4:20 a.m. EST)
Barbara Crabo and Eveready: 10:55 a.m. (4:55 a.m. EST)
Go Eventing!
Pau Links: Website, Entry List, Dressage Order of Go, Schedule, Live Scores, Live Stream, FEI TV, Facebook, @eventingnation, EN's Instagram
Comments