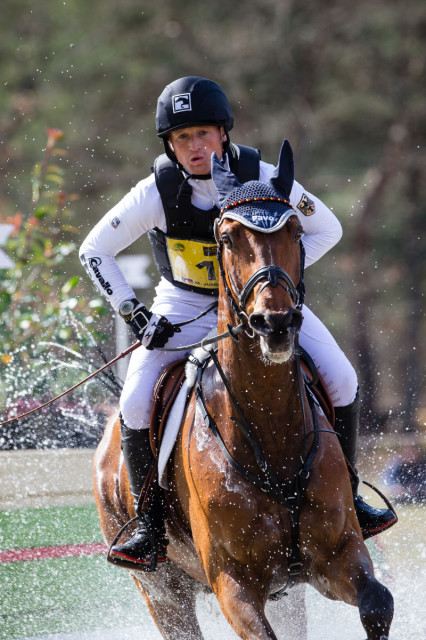 Michael Jung proved defending Olympic champion La Biosthetique Sam FBW is in top form ahead of the 2016 Games in Rio de Janeiro, winning the first FEI Nations Cup of the year at Fontainebleau in France this past weekend on a final score of 40.1. That's the fourth time in the last six years Michael and Sam have won the CICO3*. Over achievers much?
If the 16-year-old Baden-Württemberger gelding is getting better with age, we're all in trouble. With a Burghley win and two more top three-finishes at Rolex and Luhmühlen last year, Michael and Sam are just as much of a world-beating combination as they always have been, and we'll be watching them closely as we count down to Rio.
Not content simply to win, Michael also took second place on 40.3 with fischerRocana FST, last year's Rolex winner who also finished second at Pau. The 11-year-old German Sport Horse mare is also firmly on the radar for Rio. With 2014 World Champions Sandra Auffarth and Opgun Louvo finishing third on 45.9, it's clear the German contingent is on top of the game in this all-important Olympic year.
Germany also took the team win in the Nations Cup, finishing on a final team score of 161.2 penalties, with the home country of France finishing in second with 167.1 time penalties. Nicolas Touzaint and Crocket 30, an 11-year-old Holsteiner gelding (Cassini II x Esteban), were the highest-placed French pair, finishing in fourth on 51.6.
Ireland took third place in the team competition on 197.3 total penalties. After the first of nine Nations Cup events this year, here's a look at how the standings sit so far: Germany, 100 points; France, 90; Ireland 80; Australia, 70; Sweden, 60; Great Britain, 55; Italy, 50; Netherlands, 45; and Belgium, 40.
Our friends at EquiRatings also crunched out these interesting statistics from Fontainebleau:
The FEI Nations Cup series next heads to Ballindenisk in Ireland, where horses and riders will tackle a big, bold track designed by Peter Fell, on the weekend of April 22-24. Of course, here at EN we're super pumped for the first ever U.S. Nations Cup leg at Great Meadow on July 8-10. Click here for the latest on #2016GMI.
Click here to view final results from Fontainebleau, and scroll down for the final team standings.
Results
1 Germany 161.2 penalties
Michael Jung/La Biosthetique Sam, 40.1; Sandra Auffarth/Opgun Louvo, 45.9; Jorg Kurbel/Brookfield Bouncer, 75.2 (Andreas Ostholt/So Is Et, 78.7)
2 France 167.1
Nicolas Touzaint/Crocket 30, 51.6; Thomas Carlile/Sirocco Du Gers, 51.6; Arnaud Boiteau/Quoriano 'ENE HN', 63.9 (Gwendolen Fer/Romantic Love, EL XC)
3 Ireland 197.3
Jonty Evans/Cooley Rorkes Drift, 60.7; Cathal Daniels/Rioghan Rua, 67.1; Austin O'Connor/Kilpatrick Knight, 69.5 (Clare Abbot/Euro Prince, 77.7)
4 Australia 204.6
Bill Levett/Improvise, 55.0; Christopher Burton/Haruzac, 63.4; Andrew Hoy/Cheeky Calimbo, 86.2
5 Sweden, 246.9
Sara Algotsson Ostholt/Reality 39, 66.8; Frida Andersen/Herta, 77.3; Jonna Friman/Lady-Grey, 102.8
6 Great Britain, 286.8
Izzy Taylor/Allercombe Ellie, 63.5; Gemma Tattersall/Quicklook V, 93.3; Dani Evans/Smart Time, 130.0 (Laura Collett/Pamero 4, EL XC)
7 Italy, 317.3
Arianna Schivo/Quefira de L'Ormeau, 73.6; Cielia Casiraghi/Verdi, 109.1; Rebecca Chiappero/Quilando Z, 134.6
8 Netherlands, 1,204.5
Merel Blom/Rumour Has It N.O.P., 90.3; Alice Naber-Lozeman/Harry Belafonte, 114.2;
Elaine Pen/Vira N.O.P, EL XC (Tim Lips/Concrex Bayro N.O.P, WD HI2)
9 Belgium, 2,084
Giel Vanhouche/Figaro de Verby, 70.3; Lara de Liederkerke-Meier/Ducati Van Dem Overdam, EL XC; Julien Despontin/Waldano 36, EL HI2