Winning at show jumping CSI5* and an indoor derby in one night? Just another day at the office for Michael Jung.
He kicked off a brilliant weekend in Bordeaux by sailing around a 1.40m course with fischerDaily Impressed to top the Congres et Expositions de Bordeaux CSI5*W. The 11-year-old KWPN posted a time of 61.93 seconds that remained untouched in the 39-horse division. You can find the scores for that class at this link.
He then cemented himself a back-to-back winner of the Devoucoux Indoor Derby aboard Maria Stein's Corazon, a 9-year-old Hanoverian. The two finished with seven penalties in 123.86 seconds.
"I am very happy with the performance of my mare, Corazon. Thank you to my owner, Maria Stein, for her confidence, but also to this incredible public," he said.
"It's really fantastic to ride here. This year, the win was tighter and I had a little luck too, but it's part of the game. If I finished second or third, I would have been just as happy because this course with my mare was a great moment of happiness."
Aside from the German victor the remainder of the top ten sings with French pride. Karim Florent Laghouag gave Michael a run for his money, finishing second with Agnes Celerier's Punch de l'Esques. This French duo clocked around in the fastest time of 117.79 seconds but also picked up 9 penalties. Maxime Livio and Boleybawn Prince were third with 14 penalties and 122.91 seconds. Also on 14 penalties was Rodolphe Scherer and Coeur de Crack, but just a hair slower on a time of 130.46.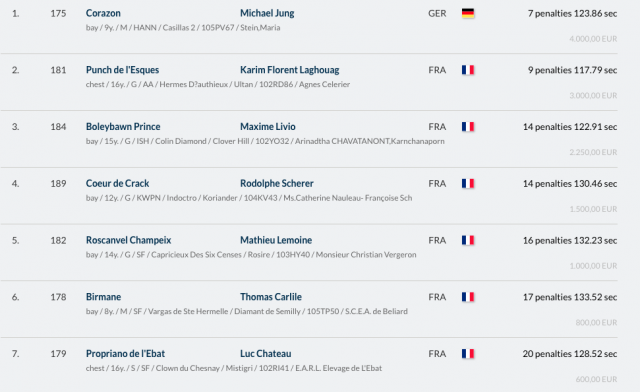 Tonight all eyes will be on the Longines FEI World Cup™ qualifier. You can watch live on FEI TV beginning at 2:20 EST. The FEI World Cup™ Driving Final will follow at 5:10 EST.
International Jumping de Bordeaux: Website, Startlists & Results, FEI TV
Comments