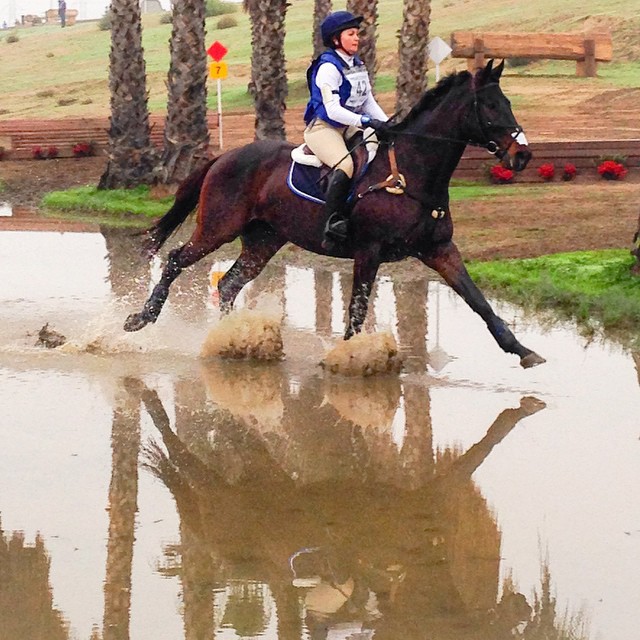 All I have to say is WOW. What an interesting weekend. I normally associate the last event of the season with plenty of double clears, some happy move ups, and the occasional first show out for some young kids or newer competitors. Training level and below at Fresno County Horse Park this weekend was described with a number of colorful terms by a number of people.
I overheard one mom remark to another: "There usually isn't this much … carnage." At my hotel, I had a conversation with one parent and her daughter who was competing Beginner Novice. The three riders who set out before her daughter on Saturday all had stops or fell on cross country. I'm wondering if it's just end of season exhaustion or the afternoon light that was to blame; the courses weren't that different from last month's. Wild times.
North American Weekend Results:
Full Moon Farms H.T. [Website] [Scores]
River Glen Fall H.T.  [Website] [Scores]
Ocala Horse Properties Fall H.T. [Website] [Scores]
Fresno County Horse Park H.T. [Website] [Scores]
Las Cruces H.T. [Website] [Scores]
FEI Global Weekend Info:
Adelaide CCI4*: [Website] [Final Scores]
Le Pouget (FRA) CCI1*, CIC2*  [Website] [Results]
Monday News and Notes:
World Horse Welfare and British charity Retraining of Racehorses are banding together to evaluate a pilot program that would allow the charity to retrain race horses at WHW's Hall Farm Rescue and Rehoming Center. The intent is to hopefully develop the program further and expand out to four other facilities. [More from thehorse.com]
One of the most famous horses of late is "Joey," the mechanical puppet-horse from War Horse. When the play was taken to the silver screen, 14 different horses took their turn at playing Joey. Even though we've been able to enjoy the film for a while now on cable, it's finally airing on the BBC for our friends in the UK. [More from radio times.com]
A California horse rescue is in trouble with the county regarding the care of their charges. High Sierra Wild Horse Sanctuary has been in operation for 14 years and currently is home to 66 horse. Recently local animal services has contacted the rescue with concerns about six complaints regarding horses who had no access to shade. [More from bakersfieldnow.com]
It's a sad thing when any horse dies unexpectedly. Scooter, a horse from North Carolina, has died under mysterious circumstances. The horse went though a 4-foot pasture fence, went underneath a deck and ultimately collapsed in a dog run where he died. His owners think that someone may have shot at him. [More from newsobserver.com]
Hold on to your manure pile, folks; it could be medically valuable. Antimicrobial resistant bacteria is a threat that the World Health Organization and the CDC have been keeping an eye on for some time. Researchers in Switzerland and Germany have discovered that mushrooms that often grow out of horse poo may be the key to tackling this issue. [More from medcitynews.com]
Horses being transported illegally for slaughter isn't just an American problem. Princess Anne is demanding that something is done about the illegal export of live horses from Britain to slaughterhouses in Europe. Dealers are getting around the ban by claiming the horses are being sent over as pets, work or riding horses. [More from dailymail.co.uk]
Monday Video: Let's not go to work today; let's stay inside and clean more tack.