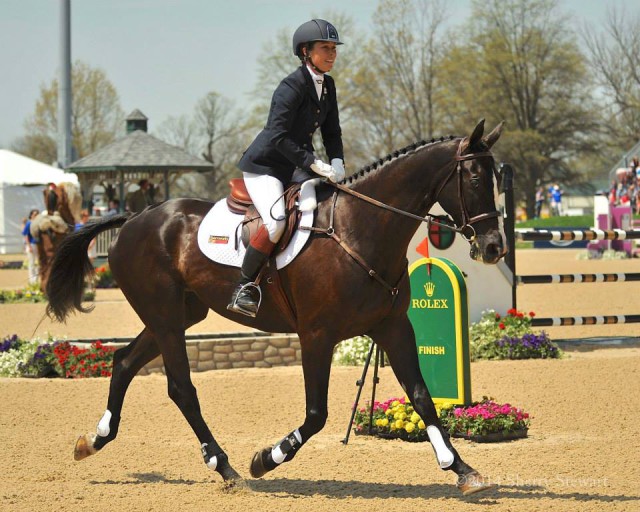 Rolex is a wrap! Congratulations to William Fox Pitt on his third win. One of these days we'll see an American victor, but Bay My Hero was stunning to watch all weekend long and the win was well earned. I found myself fantasizing while I was watching the live stream about how it must be nice to go home with a swanky new watch and wondering if the thrill of winning a 4* ever really wears off. I eventually came to the realization that the biggest victory really belongs to those who are heading home with freshly minted 4* horses in their trailers and those who can now proudly call themselves 4* competitors. What a beautiful sport.
Rolex Links:
[EN Rolex 2014 Page] [USEF Network Coverage]
[RK3DE Website]  [Official Facebook Page]
Weekend Events:
Fresno County Horse Park H.T. [Website] [Ride Times] [Live Scores]
Loudoun Hunt Pony Club Spring H.T. [Website] [Ride Times] [Live Scores]
University of New Hampshire Spring H.T. [Website] [Ride Times] [Live Scores]
Monday News and Notes: 
The next big thing in Kentucky is right around the corner! The Kentucky Derby is fast approaching. I prefer to call it "That Race That My Coworkers Assume I Am Training My Fat Morgan Pony For". Lots of great stories are starting to emerge about the horses. Uncle Sigh hails from Florida and is one of the starters you can expect to see this year. [More from news-press.com]
If you haven't been following the current crop of runners and want some information before you throw down an exacta on Derby weekend, you'll want to check out this next link. I'm still struggling to pick a favorite. I may go with California Chrome for the California connection, but that's not a sure thing. I love a list of pros and cons like no one else and found this one handy. [More from courier-journal.com]
Cynthia Royal was the trainer of Blanco, one of the horses that played Shadowfax in the Lord Of The Rings films. The 55 year old trainer recently spoke about her career as a trainer and her relationship with Blanco. Blanco died at the end of March after spending some time hospitalized. Cynthia is still struggling to cover the $18,500 bill that resulted. [More from utsandiego.com]
Wild horses are gaining more attention for a multitude of reasons. Much of that attention is due to the challenges the BLM is facing when trying to manage the wild horse population. Moffat County in Colorado is home to a large herd of wild horses. The BLM is taking advantage of social media to raise awareness and encourage tourism in the area. [More from craigdailypress.com]
There are two bills related to the soring of Tennessee Walking Horses making their way through congress at present. The bill in the Senate is being pushed by Kelly Ayotte of New Hampshire, while the bill in the House is being offered by Ed Whitfield of Kentucky. Ayote's bill has been moving along well. Currently, it has 50 co sponsors. Whitfield's bill has 268. Both are seen as more aggressive about government regulation of the Tennessee Walking Horse business than the counter proposal that Marsha Blackburn has proposed. [More from tennessean.com]
The Godfather movie has an iconic scene where a man finds a horse's head in his bed. In a rather disturbing turn of events, a man in Australia has had something similar happen. He awoke to find a horse's head dumped on the hood of his car. Police believe it is in relation to a drug deal gone wrong. The man insists it was done by a vindictive ex girlfriend. Either way, it's scary and gross! [More from nydailynews.com]
Monday Video: Your Rolex 2k14 Winner!