How are you enjoying your Rolex weekend so far, EN? It certainly is an exciting weekend so far, and currently the riders wearing the red, white, and blue are throwing down in the sandbox. There are several breaks in competition, though, and there is plenty of other options for entertainment while you are wandering the grounds.
1. Catch some demonstrations.
There are so many exhibitions going on in the Walnut Ring each day, from Fresians to Mustangs and everything in between. Elisa Wallace and her mustangs, Fledge and Rune, are here showing off their mad skills. These mustangs are so well-trained that they can even perform bridleless, so be sure to check out Elisa's demos.
Elisa will be performing on Saturday at 1:45 pm so don't forget to stop by!
2. The chinchilla wants you to go to college.
A few area colleges are scattered about throughout the trade fair, and for all of you college-bound folk this would be a great opportunity to chat with some potential schools. Many of them even have equine programs and teams, so what better place to go to school? The chinchilla agrees, as indicated by the photobomb above.
3. Horse shop.
The Maker's Mark Secretariat Center, New Vocations, the Retired Racehorse Training Project, and other adoption agencies are all here representing the wonderful OTTB. I've been trying very hard to not look at the listings too hard lest I fall in love with some handsome bay out there, but there are plenty of horses to go around, so give one a great eventing home if you are looking!
4. Shops on shops on shops.
We all know there is a ton of shopping to do here, so it goes without saying that the wallet is going to get a decent workout this weekend. It's been a bit sketchy with the weather today, but don't forget there are plenty of booths inside in the trade fair as well as outside.
5. Grab a refreshment.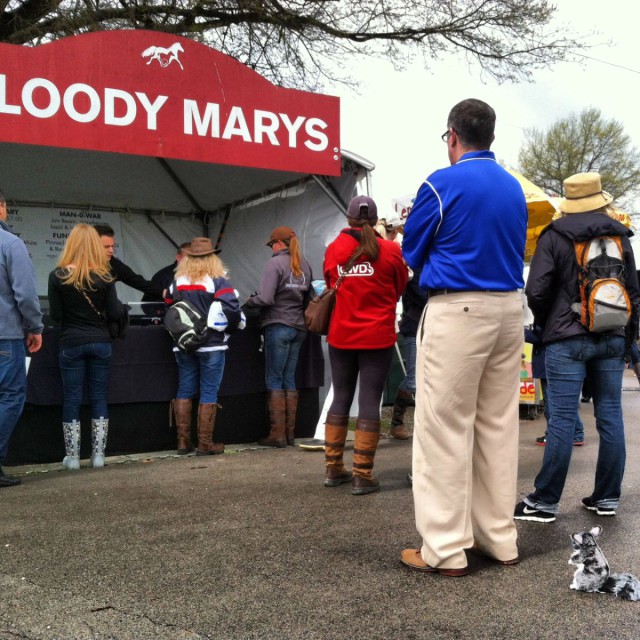 The food here is plentiful, as are the beverages. I've been gorging myself on gyros all weekend, but the occasional Bloody Mary doesn't hurt either. Mr. Chinchilla definitely needed one this morning after spending the night plugging away to make sure the site runs smoothly. Well deserved, Chinch, well deserved.
Comments