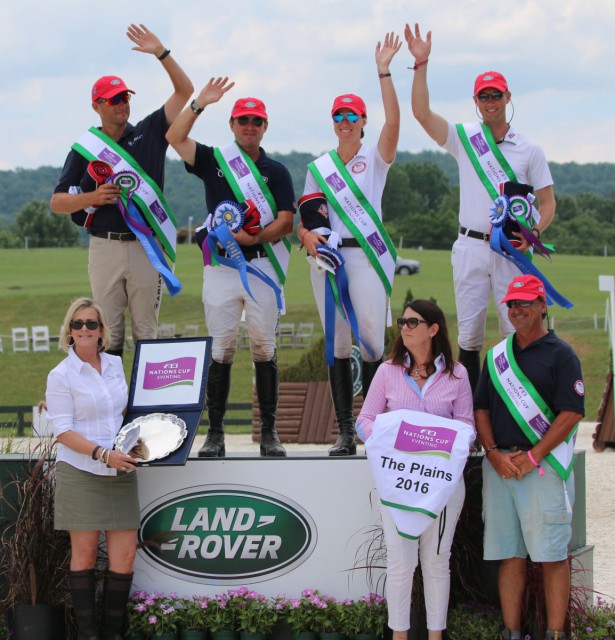 Clark Montgomery, winner of the Land Rover Great Meadow International, presented by Adequan®, and a representative from each of the Nations Cup teams gathered for a press conference following the awards ceremony.
Clark of course had a cracking round with Loughan Glen, owned by Jess Montgomery and Holly and Bill Becker and Kathryn Kraft, to clinch a wire-to-wire win in their first Stateside FEI event since they relocated to the UK two years ago.
While they added only 1.2 time penalties to their score, Clark said Loughan Glen, whom he affectionately called "Beastie," left the box ready to roll. "I had a couple of hairy moments actually on course today," he said. "I think because I've been riding him quite fast all year he was a little bit unadjustable for me."
Of course, it's better to have disagreements at Great Meadow rather than the Olympics in a few weeks and Clark said this was definitely a wake up call. "I had to argue with him a little bit but he's such an honest horse and wants to jump the fences."
The Beverly Equestrian Brush Corners caused the most trouble on course and while most of the USA Nations Cup and Olympic Team riders took the left hand option, Clark opted not to take the chance and opted to take the right hand option, which he timed on earlier rides to only take about two seconds longer.
Clark and Loughan Glen certainly met our expectations as the predicted winner of the CICO3* at Great Meadow, finishing on a score in the 30s with three solid phases. However, there now may be even more pressure now to produce a medal performance at Rio. Clark says the key is to "rely on your training and believe you prepared correctly."
Boyd Martin, who had a fantastic round with his Nations Cup horse Welcome Shadow, who won the Irish Draught Sport Horse Award, and a surprising disappointing round with his Olympic horse Blackfoot Mystery. They were one of six horse and rider combinations to pick up penalties at the brush corners in the arena, feels that Team USA is looking strong before Rio.
"Each rider and each horse have got to polish up bits and pieces of their performance, but Coach David O'Connor is making sure we're going for it, and I think we have a good chance," Boyd said.
In response to Blackfoot Mystery's two refusals at the brush combination he said, "I've been working so hard at the dressage and show jumping and assumed that he's a cross country machine. It was obviously very very disappointing but at the same time I'm glad it happened this weekend rather than our next outing."
"You'll be sure I'll have a nice brush corner at my farm in Pennsylvania come tomorrow!" he added.
It was a race for second place in the Nations Cup team competition, and Canada ultimately finished ahead of Great Britain when their final horse and rider combination parted ways at the first water. The Canadian Olympic team will be officially announced on Thursday. "The team is feeling really strong and very united and we're super excited to have the chance to represent Canada at Rio," Selena O'Hanlon said.
We were thrilled to have Great Britain competing in the first Stateside Nations Cup thanks to the generosity of Great Meadow. Jodie Amos produced one of four double clear rounds today with Wise Crack  to finish third. She said, "It's been a big trip for us but it's been incredible and everyone's been massively welcoming. It's serious experience, lovely services and a lovely venue. Going forward to the future this is going to be a place to watch so we're really grateful to be here."
Congratulations to all the competitors and thank you so much to Great Meadow for a superb competition and excellent prep for our Rio riders. Catch up on all our coverage from Great Meadow at this link and thanks for reading!
Go Eventing.
Comments