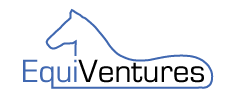 Hot on the heels of a thrilling weekend in Florida, Eventing Nation is excited to add another Sunshine State sponsor to our amazing team: Equiventures, the hardworking people who organize all the USEA competitions at the Florida Horse Park in Ocala. The final event of the series, which begins in November, will be the The Ocala Horse Properties International 3-Day Event, will be run April 10-13. (Yep, it's those Ocala Horse Properties guys doing even more to support eventers!).
Founded by Olympian Peter Gray and international four-star eventer Jon Holling, the company's focused not only on putting on a spectacular eventing series, they're hoping to shine the spotlight on Ocala as an eventing hotspot (literally) in general. To further both efforts, they've hired Brit Richard Trayford. Trayford has an extensive background in the international eventing community. He runs Exmoor Eventing with his wife, pro rider Daisy Trayford (who's coached Madonna).
"We're committed to making Ocala a global center of excellence for the sport of eventing," Richard said. He's working to involve the community more in the eventing like it is in full tropical force in Red Hills. "We're going to work to raise awareness of eventing in Ocala,where all the thunder is taken by H.I.T.S.," he said.
Richard's also working to raise Ocala's profile among eventers in general, a profile that's already growing. "Eventers are buying farms here because they have the confidence that the eventing community here is well rooted," Chris Desino of Ocala Horse Properties told EN in February. "With both the Canadian and U.S. team coaches committed to being in Ocala for six months of the year, we're starting to see a lot of eventers who would normally go to Aiken go to Ocala instead."
"We want to help the greater eventing community recognize our series as bona fide competitions in their own right," Richars said. "There's been a bit of a feeling that people come down here to escape the weather as much as anything."
No more, says Richard. If the Equiventures crew has anything to do with it, riders (and sponsors) will be flocking to Ocala like blue hairs to the Early Bird Special in Boca — or eventers to an open bar competitors' party.
The Ocala Horse Properties International 3-Day Event awards $20,000 in prizes and features competitors from seven countries. Entries close March 25. The series beings in November, and includes a CCI * and FEI** competitions. Check out pictures and a wrap-up of last year's April event.
Follow Equiventures on Facebook and Twitter for the latest details and the countdown to April's event.
Go Eventing in Ocala!
Comments