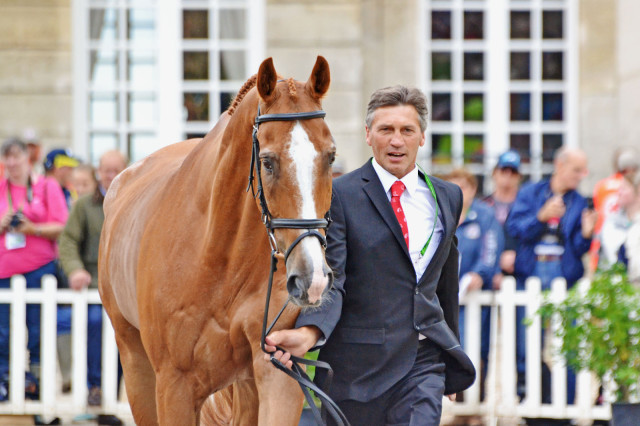 The trouble between Andrew Nicholson and the New Zealand National Federation (ESNZ) continues. A statement on the ESNZ website last week explained that six-time Olympian Andrew had made demands to ESNZ as a condition of his return to New Zealand High Performance, and ESNZ has refused those demands.
According to the statement, the demands include "not working with some members of the team management and being allowed to operate outside the team as an individual. This is not feasible in a team environment where all the riders must work closely together with team management to get the best results, and consequently this leaves no way to go forward with him in the squad at present."
While ESNZ says they were less than impressed with Andrew's behavior at the 2014 World Equestrian Games, where a physical and verbal altercation with the team's vet took place, "the door remains open" for him to return to High Performance.
"There is no question that Andrew is an outstanding rider, but our role is to look out for the whole team," said ESNZ Chief Executive Vicki Glynn. "No one member is more important than the whole, no matter who that person is or what their track record is in the sport."
Andrew had been dissatisfied with his horse Nereo's treatment after cross country at the 2014 World Equestrian Games in Normandy, when the horse was reportedly left unattended while on a routine IV drip. Andrew withdrew himself from the High Performance squad in October 2014. In December, he went back to ESNZ and said he'd changed his mind.
"If I don't put myself forward it's sort of a dead end, isn't it? I feel like it's only right that I take that positive attitude because they have been happy to listen to me," he told the press at the time.
Vicki confirmed in January that they felt Andrew "officially withdrew" in October and could not be considered for the 2015 squad as a result, meaning he will not participate in training sessions this year and he can't receive his 2015 Performance Enhancement Grant, tax payer funded money awarded to New Zealand's Olympic medalists.
The Federation had told Andrew that same month that he must agree to good behavior to get back on the squad. Andrew told the NZ Herald, "I'd very much like to [return] but I have got to feel like I'm wanted back in there as well."
The NZ High Performance squad will be reevaluated in June, and more riders can be added at that time, but if ESNZ and Andrew can't reach an agreement on "terms," he may be looking for a new flag to fly.
What do you think of the conditions set by Andrew? Would this be fair to other members of the High Performance squad? Is ESNZ doing the right thing by refusing to accept his demands?
[ESNZ Statement Regarding Andrew Nicholson]
Catch up on EN's coverage of the situation at the links below.
[Andrew Nicholson Steps Down from New Zealand High Performance]
[Andrew Nicholson Makes Nice with New Zealand High Performance]
[ESNZ Confirms Andrew Nicholson Intentionally Dropped from Squad]
[Andrew Nicholson Must Agree to 'Good Behavior' to Get Back on Squad]