The Monart Select Elite Event Horse Sale, held in Co. Wexford, Ireland, Nov. 5-7, is among the equestrian world's most well curated auctions. Every horse in the catalogue has been selected by a panel of four-star event riders — Polly Jackson (GB), Niall Griffin (IRL) and Bill Levett (AUS) — and vetted by former Team Ireland vet Marcus Swail.
Previous sale graduates have gone on to big things, one U.S. import example being Charlie Tango, a 9-year-old Irish Sport Horse (Shannondale Sarco St Ghyvan x Our Queen Bee, by Ricardo Z) purchased at the 2011 sale, who has had wins and top finishes at the three-star level with Heather Morris. Others include Bill Levett's 2018 WEG mount Lassban Diamond Lift, Paul Tapner's long-listed 2016 Rio Olympic mount Prince Mayo, Jonty Evans' top 10 2016 Rio Olympic finisher Cooley Rorkes Drift, among many accomplished eventers and show jumpers.
This year being a clearinghouse for top-notch prospects, the auction was well attended by a who's-who of European eventers. Among the 2018 shoppers: Michael Jung, Oliver Townend, Astier Nicolas, Caroline Powell, Mary and Emily King, Austin O' Connor, Sam Watson, Kevin and Emma McNab, Sam Ecroyd, J.P. Sheffield, Bill Levett, Tom Rowland, Lauren Blades, Michael and Trish Ryan, Richard Jones, Kathryn Robinson and the list goes on.
This year saw a clearance rate of 75% of the 109 horses that came forward to auction with an average price of €10,850. We were excited to see several North Americans in the mix as well!
Johan Westerberg (USA) purchased Joeys Reward (video):
Kathryn Robinson (CAN) purchased this unnamed 3-year-old (video):
Nicola Sainz-Xatzis (USA) purchased RNG Q E Two (video):
Katlyn Hewson-Slezak (CAN) purchased Vandan (video):
Karl Slezak (CAN) purchased First Venture (video) …
… Poynstown Jaguar (video) …
… and Lassban Royal Minstrel (video).
Caroline Teich (USA) purchased Emperors Clover (video):
Missy Miller (USA) purchased Shirsheen Fun Time (video):
Peachstone Syndicate (USA) purchased Gran Torino (video):
Clasing Equestrian (USA) purchased this unnamed 3-year-old (video):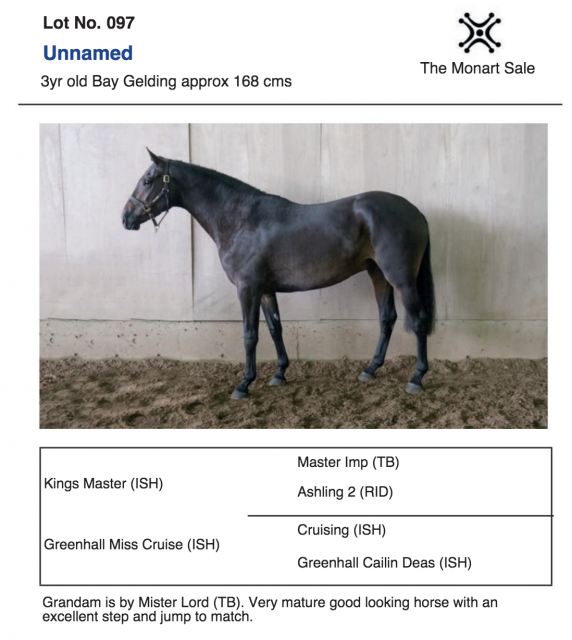 Tiana Coudray/Jatial Ltd. (USA) purchased Boleybawn Genevieve (video):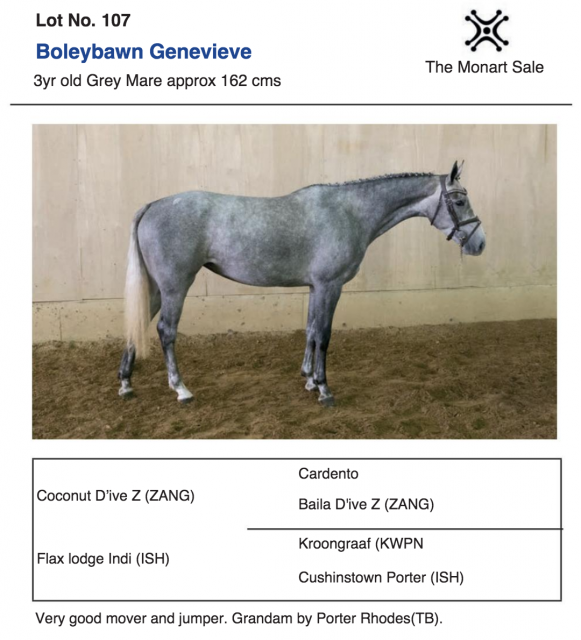 Sharon King (USA) purchased this unnamed 3-year-old (video):
Oaks Farm (USA) purchased OSH Dream On (video):
Looking forward to following all of their careers, whether stateside or abroad! Click here for complete sale results.
Another major auction, the Goresbridge Go For Gold Select Event Horse Sale, is set to take place Nov. 12-13, also in Co Wexford, Ireland.
Comments