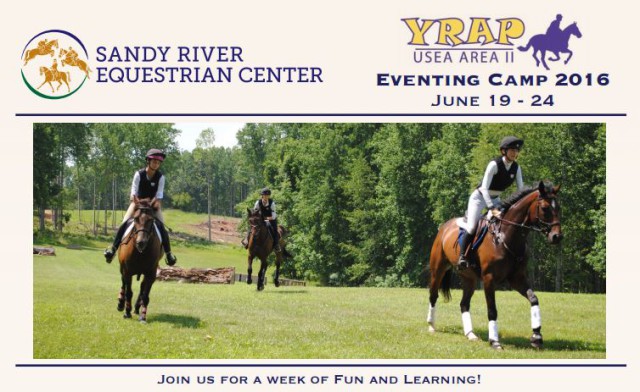 If you are an Area II young'un with nothing to do next week, start packing your tack box! It's not too late to sign up for the Young Rider Advancement Camp at Sandy River Equestrian Center in Axton, Virginia, and the price has been dropped to just $1,000 for the all-inclusive experience.
Camp begins on Sunday afternoon, June 19, and the camp includes on-site stabling, housing, meals, and new best friends after a week of eventing camp together.
Each rider gets two sessions of training each day, and will get top notch instruction in all three phases, including around Sandy River's stunning cross country facilities. There will also be unmounted instruction on the subjects of equine care, management, show prep and presentation.
Last but not least, every camper gets a tote filled with sweet swag from the camp's numerous sponsors. If you're reading this and you're eligible to go, I'm telling you as a grown woman totally ineligible for young rider eventing camp, I will absolutely hold this against you forever that you didn't go when you had the chance.
Meet Your Instructors
Suzanne Lacy is a teacher by education and equestrian through heartfelt passion. She started her career with horses at a very early age. Suzanne shares her knowledge of horses with students of all ages through lessons, eventing, coaching, and caring for animals. Suzanne is the owner of Sandy River Equestrian Center and has trained with Jim Wofford, Karen O'Connor, Betsy Steiner, Peter Grey, and Virginia Wiseman.
Samantha Burton Henley is the Head Trainer and Facility Manager at Sandy River Equestrian Center. Sam came to Sandy River Equestrian Center approximately 10 years ago from the O'Connor Event Team, where she was the Competition Manager for the O'Connors and David O'Connor's Head Groom. In that capacity, she has traveled all over the world caring for four-star and Olympic level horses. In addition to the experience with the O'Connors, Sam has been a Head Groom for the 2004-2006 Area II NAYRC Teams and the Head Groom for the 2006 Canadian WEG Team. She assists Suzanne in creating a world class training center at SREC which hosts YRAP and O'Connor Event Camps.
Registration Information
Vicky Williams is your personal registration contact. You may phone 434-489-6414, and she will complete your registration form and take your payment information. Credit cards are accepted. You may download the flyer and registration forms from Sandy River's website.