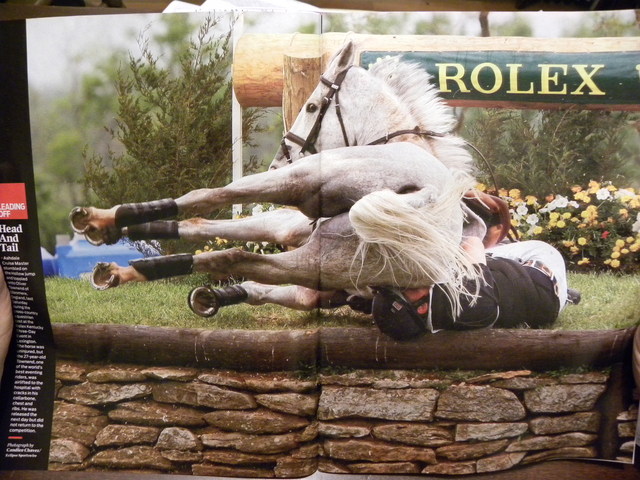 from the May 3rd issue of Sports Illustrated
A few people sent me emails asking about the Sport's Illustrated photo, and I just had a chance to pick up a copy of SI this weekend. Sports Illustrated published this photo of Oliver's fall from Ashdale Cruise Master in their "Leading Off" photo section, right along side Luke Walton of the Lakers falling on an OKC Thunder player and a baseball player breaking his bat.
Last week, Kim made a comment about Oli's photo in Sports Illustrated and pondered "aren't we happy to see eventing in the mainstream press…errr…maybe not." Right now, it seems to me that eventing is not mainstream enough to receive consistent major coverage, but it is just mainstream enough to receive attention when things go wrong.
Every time I watch the video, I am reminded of what I said after seeing the live feed: it would be a miracle if he wasn't dead or paralyzed. It's simply astounding that he walked away from the hospital the next day.
Oliver's fall — Warning: not for the faint of heart