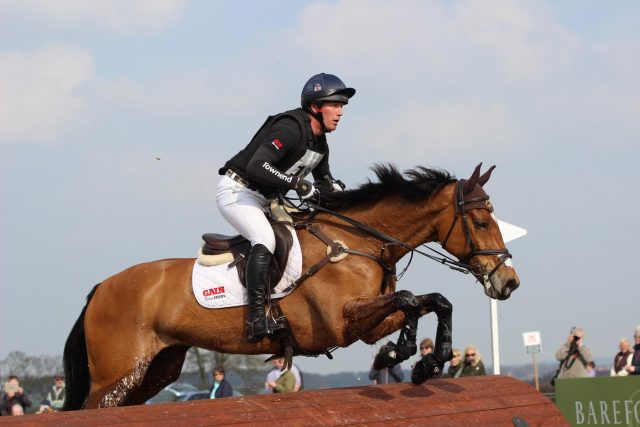 In the second leg of the Shearwater Insurance Tri-Star Grand Slam, Oliver Townend and Cooley Master Class were the CIC3* winners at the Barefoot Estates Burnham Market International.
The Shearwater Insurance Tri-Star Grand Slam is a winner take-all concept running over five events. The grand slam winner would need to win three out of five of the events for a total prize of £50,000.
This was also a big weekend for Oliver on a personal record level, as this is his fifth consecutive CIC3* at Burnham since 2014.
'One man. One venue, FIVE CIC3* titles in four years' #Domination #Townend #BurnhamMarket #MasterClass

oh….and well done @CooleyHorses #5 pic.twitter.com/IzhL4IN5If

— EquiRatings (@EquiRatings) April 16, 2017
The first competition for the Grand Slam this year was Belton International, which was won by Izzy Taylor and KBIS Starburst. This weekend, it was Oliver Townend with the 12-year-old Irish Sport Horse owned by Angela Hislop who took home the top honors in the CIC3* on a final score of 40.2.
"Burnham Market is always the first event of the year where I really aim to be competitive," Oliver said. "I trust the ground, I trust the course designer, I trust everything about the place. I think running here sets my horses up for what's to come later in the season."
It was a top weekend for Oliver, not just in the CIC3* but also the Advanced, Intermediate and one of the Novice divisions, all of which he took home first place.
Oliver was closely followed by Piggy French and Vanir Kamira, second on a final score of 42.8. Andrew Nicholson brought up third place aboard Byrnesgrove First Diamond, a 9-year-old Irish horse who improved on his first CIC3* start at Belton by over 20 points.
The next leg of the Grand Slam will be Houghton International at the end of May, which will also play host of a Nations Cup event. Look for much more from Houghton as some of our U.S. team members will be traveling to compete, including Caroline Martin and Mackenna Shea on the first stop of their Karen Stives European tour.
Shearwater Insurance Tri-Star Grand Slam: [Website]
Barefoot Estates Burnham Market Horse Trials: [Website][Final Scores]