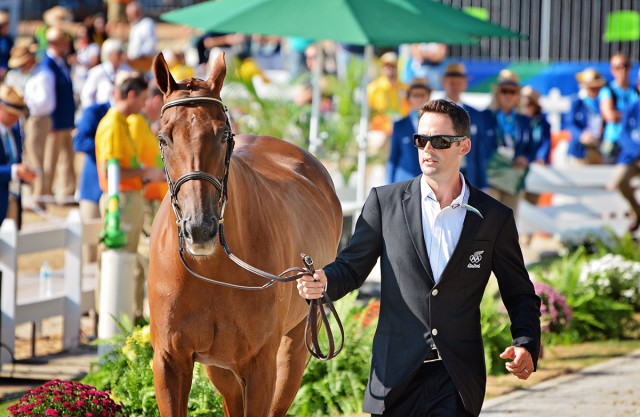 Our thoughts are with Jock Paget and his team today as they bid farewell to Clifton Lush, a favorite horse in the Paget Eventing yard.
Lush, an 18-year-old New Zealand Thoroughbred, retired from eventing last year after an illustrious career. He was produced from the one-star to four-star level by Joe Meyer, with whom he finished just outside the top 10 at Pau in 2009 and Luhmühlen in 2010.
Jock took over the ride in 2011 with great success, accumulating several top finishes at major three- and four-star events in the following years. They twice placed 5th at Burghley and were 3rd, 6th and 14th in their three Badminton starts. Lush and Jock traveled to the 2016 Rio Olympic Games with the New Zealand team but withdrew after Lush suffered a minor but poorly timed injury outside his stable.
Paget Eventing announced Lush's passing this morning:
"It is absolutely devastating that we say goodbye to Clifton Lush. He was flying around his paddock as he sometimes likes to do and suffered an injury that he won't recover from to have a comfortable enough retirement.
"This is obviously a major blow to anyone who had the pleasure of meeting him. He was such a legend and he was living proof that with enough heart you can do anything. I had the pleasure of working with Lush for six years and I am hugely grateful for everything he taught me and how he gave everything and then some when I needed him to, he made the biggest of tracks feel like nothing but he would never give anything away in the warm up. He was a true warrior and loved his job.
"Huge condolences to his owners Lucy and Shaun Allison and Frances Stead and Russell Hall. He was retired last year with the greatest intentions and it's a crying shame that this little legend won't get the retirement he deserves. He is being cremated and the ashes will be spread in Lucy and Shaun's orchard. RIP buddy."
Go Lush. Go Eventing.